Original Link: http://www.anandtech.com/show/6989/intel-z87-motherboard-review-with-haswell-gigabyte-msi-asrock-and-asus-at-200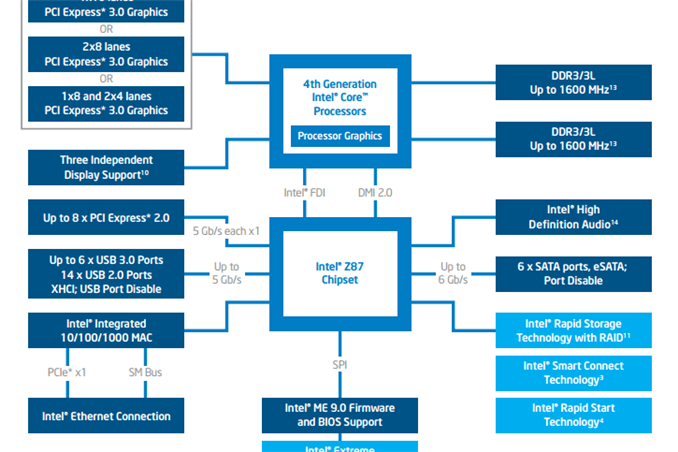 While Anand deals with the detailed analysis of the Haswell CPU architecture and performance, a CPU is almost nothing without an accompanying chipset to provide connectivity and an interface with which to interact with the CPU. For our Z87 launch article all the major manufacturers sent us a motherboard to test, around the $200 mark, in order to showcase what we as users can expect from them in a reasonable price bracket. We also have managed to get hold of more of the nitty-gritty behind the Z87 platform, which has several features worth noting and talking about.
The Z87 Chipset
As consolidation occurs with parts of the system into the CPU, there could potentially be fewer and fewer opportunities for motherboard manufacturers to express their own individual take on each motherboard. Nonetheless, this has not stopped them coming up with gaming ranges, overclocking ranges, and using any number of controllers to provide additional functionality above and beyond the native Z87 chipset. Here is the chipset diagram for Z87 in a nutshell: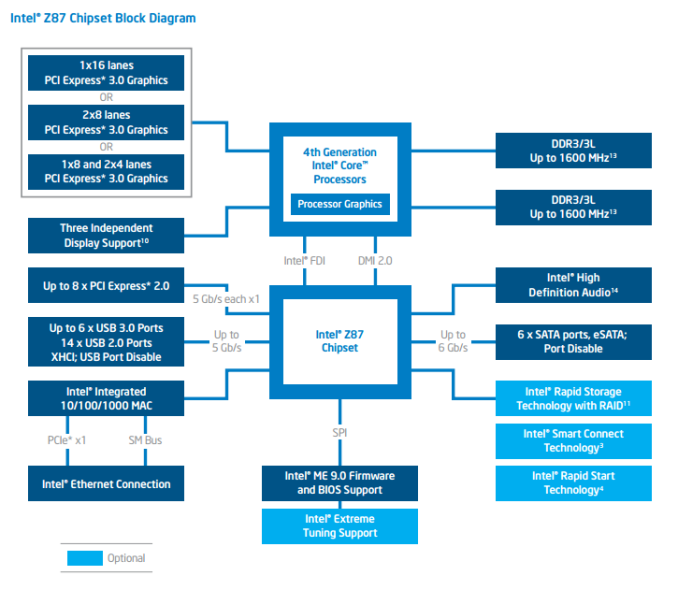 The first things to note are the lane allocations – we have a similar layout to Panther Point (Ivy Bridge) for 1x16, 2x8 or 1x8+2x4. The processor now takes control of the digital display outputs rather than the PCH, and can also deal with DDR3L memory. Natively the processor is set at 1333/1600 MHz, however from internal testing and from manufacturers almost every K-series SKU should handle DDR3-2400 at stock CPU speeds with ease.
On the chipset itself, we have a few new features – it is worth noting that it says 'up to 8x PCIe 2.0, up to 6x USB 3.0 and up to 6x SATA 6 Gbps ports. This is a feature new to the consumer chipset range called Flex I/O.
Flex IO
Typically with a motherboard chipset we have a fixed number of SATA ports, a fixed number of PCIe lanes and a fixed number of USB ports. This is due to the fact that the PCH has them automatically wired in, and it is up to the motherboard manufacturer to connect the traces up within the Intel specified tolerances. Flex IO changes all this, into a mini-FPGA style arrangement, where several of the ports available can be configured to SATA 6 Gbps, PCIe or USB 3.0.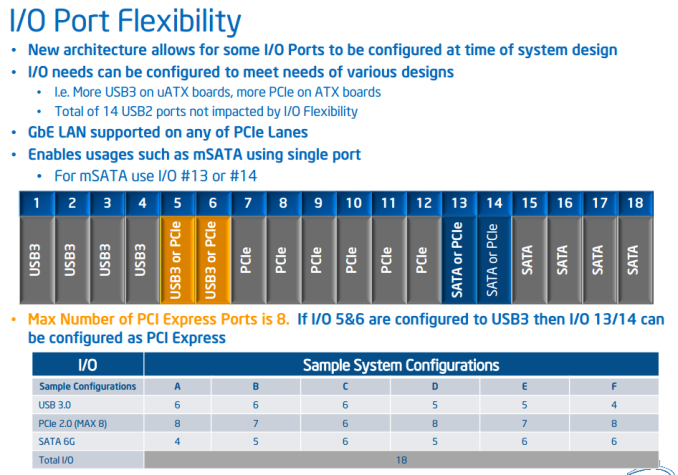 We get a total of 18 points in the architecture, of which four are USB 3.0, six are PCIe and four are SATA 6 Gbps. That leaves two pairs of two – the first pair can be assigned to USB 3.0 or PCIe, and the second pair can be assigned to SATA 6 Gbps or PCIe. The only limitation is that there can only be a maximum of eight PCIe 2.0 slots.
This allows motherboard manufacturers to position their SKUs very nicely – the PCIe 2.0 lanes can be split into extra USB 3.0 or SATA 6 Gbps controllers as well, meaning that on high storage platforms the manufacturer can go full out SATA 6 Gbps with controllers. There also remains the possibility that a motherboard manufacturer could assign all eight PCIe 2.0 lanes into a PCIe slot, giving that slot better bandwidth for multi-GPU scaling (at the expense of not being able to use those lanes for anything else such as PCIe x1).
The Intel Z87 Motherboard
Intel is still in the motherboard business for a couple of years, despite announcing their intention to leave the consumer motherboard market space. Like AMD, when it comes to media preview kits, they may call upon one of the motherboard manufacturers to supply the motherboard to send out of reviews. Until that day, we still get motherboards from Intel. Our Intel motherboard sample is in Anand's hands right now for the CPU and IGP end of our motherboard coverage, but it looks a little something like this: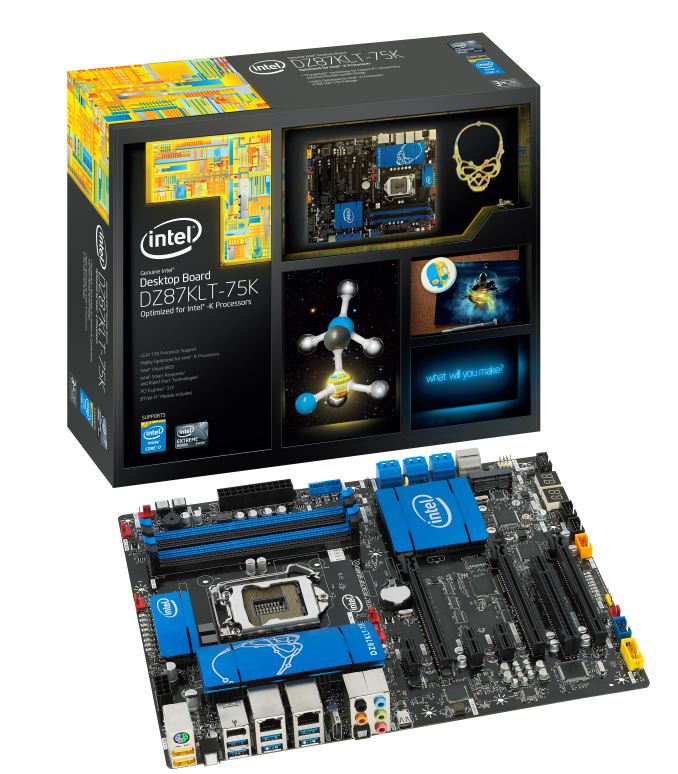 The reason why I bring up the Intel DZ87KLT-75K is that we have access directly to its chipset diagram: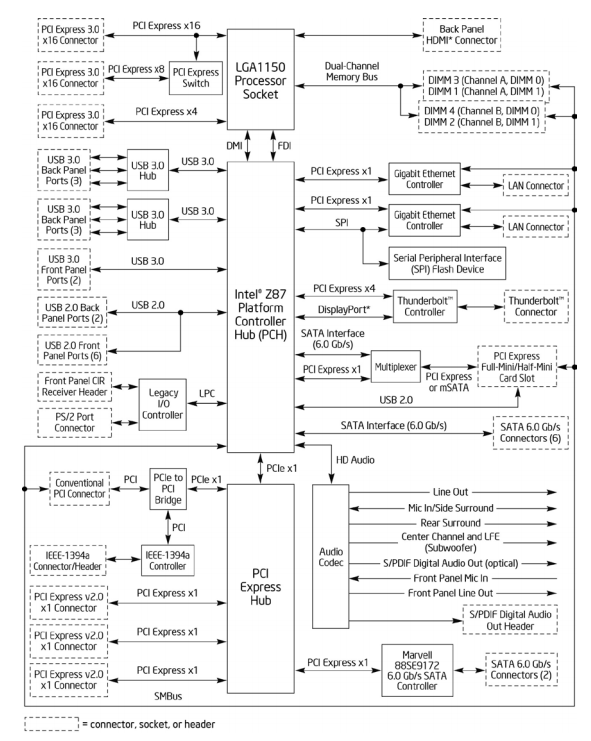 Perhaps annoyingly, this is a little misleading – the chipset diagram suggests that we have a 20 PCIe lane processor when in actual fact the motherboard is an x8/x4/x4 layout. We can tell this because the PCH has all the 8x lanes being used – four for a Thunderbolt controller, two for Gigabit Ethernet, and one each for a USB 3.0 controller and a SATA 6 Gbps. This allows the motherboard to have a total of eight USB 3.0 and eight SATA 6 Gbps, which from what we have seen in our Z87 motherboard preview, is not too far-fetched.
What about H87 and others?
Intel is launching several chipset variations for Haswell processors, including H- for consumers as well as B- and Q- variants for business. The salient comparisons are as follows: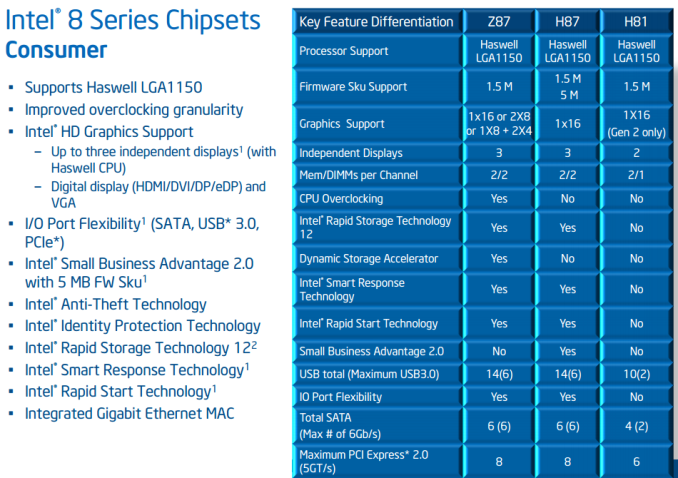 With H87 we lose CPU multiplier overclocking and multiple GPU configurations from the PEG lanes on the CPU. H81 takes it a little further, restricting displays, limiting the PCIe to Gen 2, and removing features such as RST, SRT and Flex IO.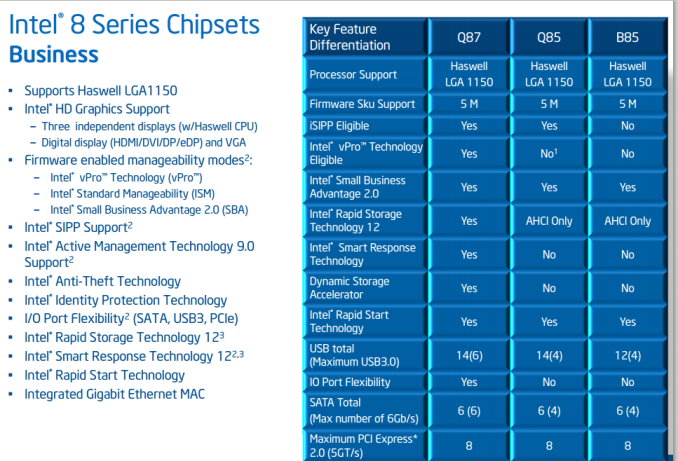 Business chipsets follow on from the H87 chipset in terms of overclocking/GPU allocations, but typically come with business level features and support. For example, vPro needs a Q87 chipset, and B85 has fewer USB ports in total as well as not being iSIPP (Intel Stable Image Platform Program) eligible.
What about Display Configurations?
With "Shark Bay" (the platform combining a Haswell CPU and Lynx Point 8-series PCH), the ecosystem has moved the digital displays from the PCH to the CPU, leaving the VGA behind. This allows the system to integrate the S0ix power states a lot better than before, reducing idle power consumption and improving wake from sleep times (a main goal of Shark Bay). It also in some way allows Intel to have more control over the digital display allocations, especially dealing with WiDi. The platform now looks like: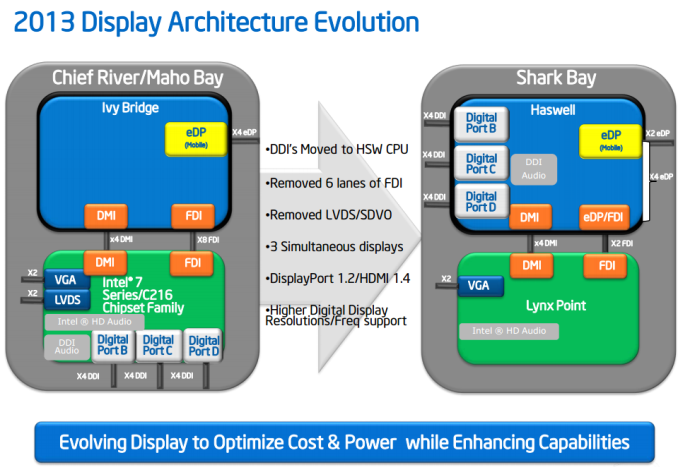 Arguably this may result in increased power consumption on the CPU, at the benefit of lower power consumption at the PCH (down 10%) which has to have a heatsink attached. But the digital ports, like with Panther Point, can be configured to a wide variety of digital outputs in a similar way to Flex IO.
This is all from the processor itself of course – users with discrete GPUs will have different options from the GPU side of the equation.
What Did I hear about an Integrated Voltage Regulator?
As part of the consolidation, Intel is moving the voltage regulators onto the CPU to deal with various parts of the system onto the CPU itself. This means from a user perspective there should be less variation from the motherboard aspect in dealing with voltage inputs and quality, as only voltage needs to be pushed into the CPU for all the CPU features. Nonetheless it still means users will have to negotiate the internal voltages such as VCore in order to provide good overclocks. For extreme overclock users, it adds another element into potential CPU variation, meaning that searching for a good CPU may be a little bit more difficult.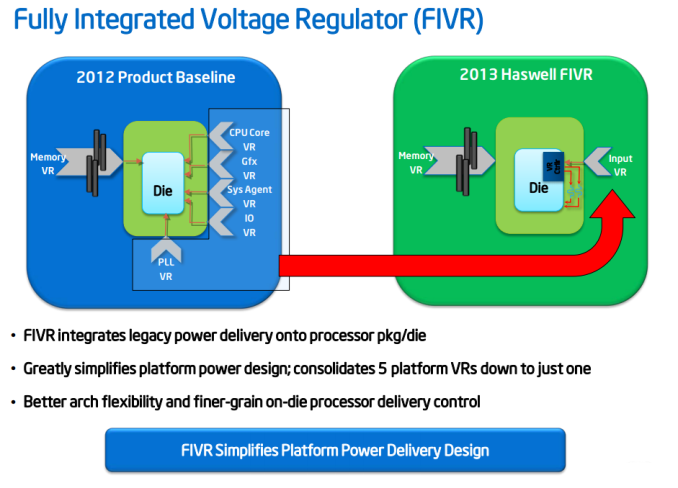 Anand has gone into greater detail in his Haswell coverage, but this also means that the integrated GPU can increase its speed and voltage without having to 'wake' the CPU part of the system up from a low power state unless needed.
Enough Already, Where Are The Motherboards?
For our first Haswell motherboard review, I asked the main manufacturers of such wondrous items to supply me with a motherboard around the $200 mark which would form the cornerstone of the high-end mainstream sales. Both our Sandy Bridge and Ivy Bridge initial coverage worked very well at this price point, and I begged the manufacturers to send samples to me as early as possible to we could pass more details on to our readers. While deadlines are tight, we managed to take on the following:
- Gigabyte Z87X-UD3H (MSRP $180, US Sale to $170)
- MSI Z87-GD65 Gaming (MSRP $190)
- ASRock Z87 Extreme6/AC (MSRP $220, US $20 Rebate for June)
- ASUS Z87-Pro (MSRP $210)
We also have another set of ASRock motherboards in to test, including the OC Formula and mini-ITX models, but unfortunately time to review these before launch day ran out, so they will be covered over the coverage.
First up to review is the motherboard that arrived in our offices first for testing – the Gigabyte Z87X-UD3H!
Gigabyte Z87X-UD3H Overview
In our review today, the Gigabyte Z87X-UD3H comes in under the radar. On the face of it we have a motherboard that does not to attempt to strike the user visually like some of the others; however it does run our gamut of benchmarks with very few issues.
In terms of connectivity we get an Intel NIC, a total of eight SATA 6 Gbps ports (6 Intel, 2 from controller), ten USB 3.0 ports (four Intel, six from controllers), a Realtek ALC898 audio codec, six fan headers and a PCIe 3.0 x8/x8 + PCIe 2.0 x4 layout of the GPU slots. All the motherboards in our review have variations on these numbers due to Flex IO, or decide to go with x8/x4/x4 PCIe layouts.
With the Z87X series from Gigabyte we also get a new visualization of the BIOS and a new version of EasyTune (hurrah!).
- We are out with the 3D BIOS which, at the beginning, suffered from sluggishness (it was admittedly getting better over time), and in with a new BIOS which allows customization. Users can fill up menus with their own options from the BIOS and then have easy access to what they need to control most (CPU settings, fan controls). Users with 1080p monitors also have a BIOS surround which gives plenty of detail about the system at hand. The older BIOS is still there (the new BIOS is essentially a skin) for users that prefer it.
- The new version of EasyTune aims for simplicity with a deep contrast ratio and a variety of options not too dissimilar from the BIOS. We get a new upgraded fan control system with internal testing of power-to-fan detection, as well as overclock options to suit almost every processor. While I initially tested a beta version of the software, it is continually being improved so expect to see better versions in the weeks after launch.
There were a couple of hiccups in the early beta BIOS I was testing with, which have all been forwarded to Gigabyte in order to be fixed in future public releases. Since then the DPC Latency, which fluctuates on the early BIOSes, is now fixed as of F5 to give 164 microseconds - also Software Update for installing system files works flawlessly, although it still does ask if you want to install Norton. One issue that Gigabyte and I are split on is whether automatic OC options should be translated in the BIOS options, and if EasyTune/BIOS should be in sync, but that ends up being a company choice. When manually overclocking, we had no issue getting to 4.6 GHz with our sample, and the automatic overclock options adjusted the memory unlike some others.
The sticking point of the UD3H is going to be that other motherboards in this review have a few exclusive features – the MSI has a Killer NIC, the ASRock has 802.11ac support, and the ASUS has Dual Intelligent Processors IV. Another kicker is that they all have an ALC1150 based audio system. In the end it comes down to the price-to-functionality ratio – the Gigabyte Z77X-UD3H is $20-$50 cheaper than the other motherboards reviewed today.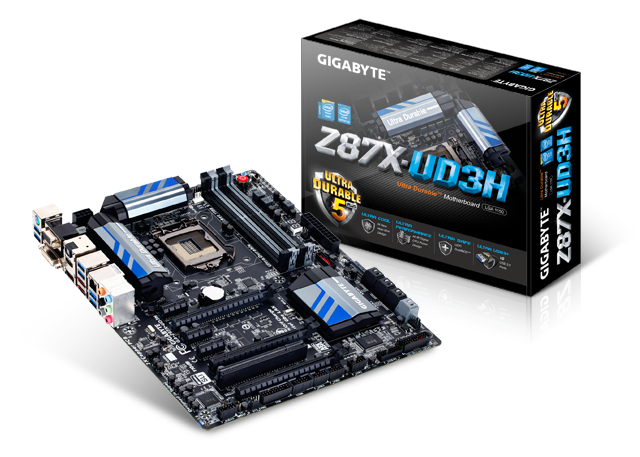 Gigabyte Z87X-UD3H Visual Inspection
At first glance the Z87X-UD3H looks like any regular motherboard. We have slightly new Gigabyte styling compared to the Z77 range of motherboards, with the VRM heatsinks getting a small facelift and making sure that Ultra Durable is the main advertising point. Being the middle of the range motherboard, it contains all the features that for Gigabyte are must-haves (such as Dual BIOS), with room for a few extra controllers, but nothing explosive near the high end gaming or OC boards. Gigabyte is now using the 40A PowIRStage ICs for the majority of the channel range, which should offer a greater longevity with respect to the power delivery over some cheaper variants.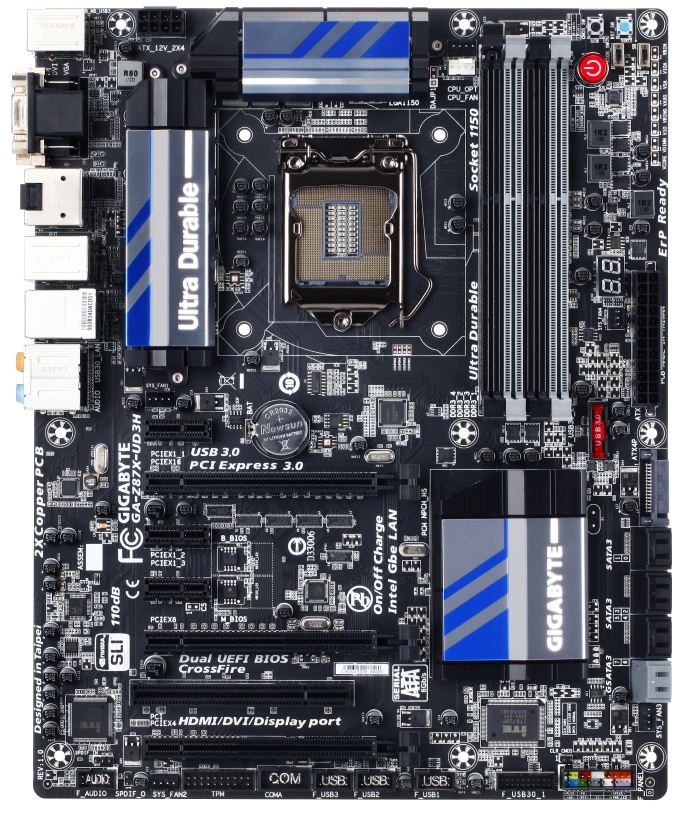 Starting with the socket area, the power delivery chokes and heatsink are right up against the Intel specification limits, as well as the memory slots, meaning that large coolers might reach over and not allow tall memory to be installed (such as G.Skill TridentX). The LGA1150 socket mechanism is exactly the same as 1155 and 1156 before it, meaning be careful when placing the CPU in and out – careful not to drop the CPU into the socket! The CPU is powered by a single 8-pin 12V CPU connector, which will be the most common type of connection in this price range. The socket area has access to four fan headers – two CPU headers to the top right of the socket, a 4-pin SYS header to the bottom left and a 3-pin SYS header next to the 24-pin ATX power connector. The other two headers on board are located under the SATA ports (SYS, 4-pin) and to the left of the TPM on the bottom of the board (SYS, 4-pin).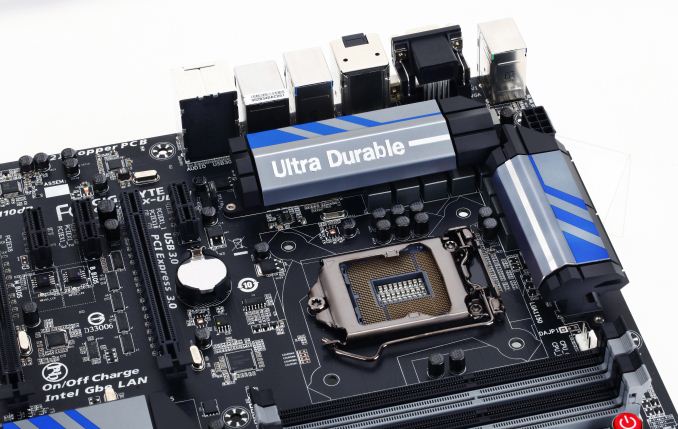 The DIMM slots used are double-sided latch, rather than the single-sided latch we are starting to see higher up the price range. To the top right of the DIMM slots are power/reset/Clear_CMOS buttons, all different colors and the power button is bigger to make sure you are pressing the right one. Beside these are a pair of switches for work on the DualBIOS – the one on the right tells the system to recognize either one BIOS or two (useful if one BIOS is corrupt and needs to be overwritten) and the switch on the left tells the system which BIOS to choose. It seems slightly odd given that the actual BIOS chips are in the middle of the board. Next to these switches are a set of voltage check points for users to monitor voltages themselves rather than rely on software.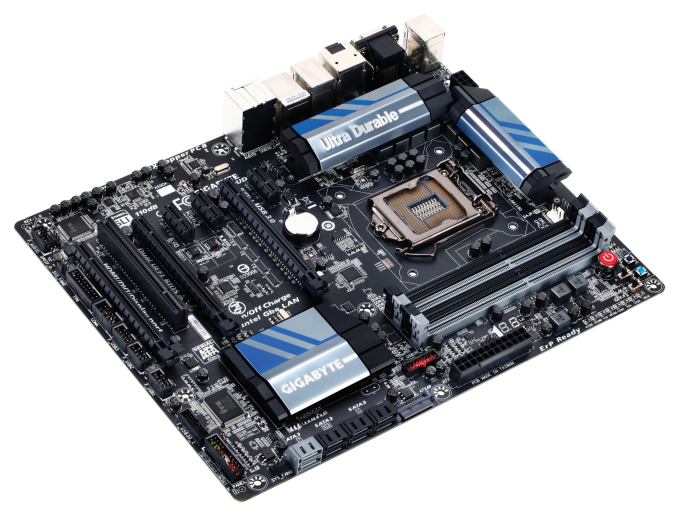 Going clockwise around the board we reach the two-digit debug display, which personally I find a must on any motherboard. This is next to a fan header and the 24-pin ATX power connector. Below we have a USB 3.0 port powered by the Intel chipset, and a SATA power connector to supply extra power to the PCIe slots. Of all the variations of possible VGA power additions (4-pin molex, SATA, 6-pin PCIe), I tend to prefer the SATA power connectors just because it tends to be out of the way compared to the others.
The chipset heatsink is of a reasonable size, and next to the SATA ports: Gigabyte are using six SATA 6 Gbps from the Flex IO of the chipset and then adding in an additional SATA 6 Gbps controller for a total of eight ports. Given that Gigabyte are using four Intel USB 3.0 ports on this motherboard, this would mean the Flex IO leans to eight PCIe 2.0 from the chipset to bring the total of SATA6/USB3/PCIe2 to 6+4+8=18, the magic number.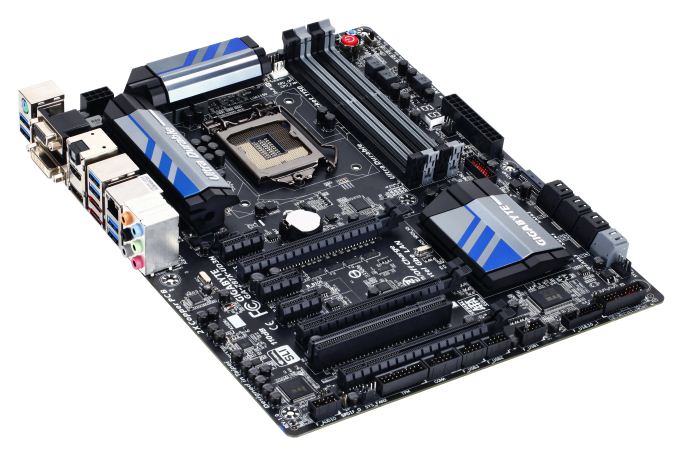 The bottom of the board contains our usual array of front panel audio, TPM, USB 2.0 ports, and front panel headers. We also get a second Intel USB 3.0 header, as well as a COM port. The audio on the Z87X-UD3H is the Realtek ALC898, compared to most of the other motherboards in this review which use an ALC1150 derivative.
The PCIe layout on the Z87X-UD3H is one that is going to crop up time and time again on the Z87 motherboard range, with three full length PCIe slots in an x16/-/x4 or x8/x8 + x4 configuration (meaning the final four lanes are from the chipset, and are CrossFireX compatible with questionable scaling onto a third GPU). Most manufacturers not using a PLX bridge chip have a choice between the PCIe 3.0 x8/x8 + PCIe 2.0 x4 or the PCIe 3.0 x8/x4/x4, with the latter being in general better for tri-GPU gaming but will disable two-way SLI with anything in the third slot due to the x8 limitation of SLI. The Gigabyte Z87X-UD3H can do two-way SLI when a non-GPU card is in the third slot, although AMD tri-GPU scaling is not as efficient as it could be due to the PCIe 2.0 x4 – this being the tradeoff.

The rear IO of the Z87X-UD3H points to video outputs and USB 3.0. From left to right we have a PS/2 port, two USB 3.0 (controller), D-Sub, DVI-D, SPDIF output, HDMI, DisplayPort, four more USB 3.0 (controller), two eSATA 6 Gbps, Intel GbE and audio outputs.
Gigabyte Z87X-UD3H Board Features
Gigabyte Z87X-UD3H
Price
Link
Size
ATX
CPU Interface
LGA-1150
Chipset
Intel Z87
Memory Slots
Four DDR3 DIMM slots supporting up to 32 GB
Up to Dual Channel, 1066-3000 MHz
Video Outputs
D-Sub
DVI-D
HDMI
DisplayPort
Onboard LAN
Intel
Onboard Audio
Realtek ALC898
Expansion Slots
2 x PCIe 3.0 x16 (x16/- or x8/x8)
1 x PCIe 2.0 x4
3 x PCIe 2.0 x1
1 x PCI
Onboard SATA/RAID
6 x SATA 6 Gbps (PCH), RAID 0, 1, 5, 10
2 x SATA 6 Gbps (Controller), RAID 0, 1
2 x eSATA 6 Gbps (Shared PCH)
USB
4 x USB 3.0 (PCH) [2 headers]
6 x USB 3.0 (Renesas) [6 rear panel]
6 x USB 2.0 (PCH)
Flex IO
x+y+z = 18

| | |
| --- | --- |
| SATA 6 Gbps | 6 |
| USB 3.0 | 4 |
| PCIe 2.0 | 8 |

Onboard
8 x SATA 6 Gbps
2 x USB 3.0 Headers
3 x USB 2.0 Headers
6 x Fan Headers
1 x TPM Header
1 x COM Header
Front Panel Header
Front Panel Audio Header
Power/Reset/Clear_CMOS Buttons
Two Digit LED Debug
Voltage Check Points
Power Connectors
1 x 24-pin ATX Power
1 x 8-pin CPU Power
1 x SATA VGA Power
Fan Headers
2 x CPU (4-pin)
4 x SYS (3 x 4-pin)
IO Panel
1 x PS/2 Port
6 x USB 3.0
D-Sub
DVI-D
HDMI
DisplayPort
SPDIF Output
2 x eSATA 6 Gbps
Intel NIC
Audio Jacks
Warranty Period
3 Years
Product Page
Link
In terms of our 18 port Flex IO, the Z87X-UD3H splits this for six SATA 6 Gbps, four USB 3.0 and eight PCIe 2.0 lanes. In terms of controllers on the board, while we do get a healthy number of USB 3.0 ports total (ten!) and SATA 6 Gbps ports (eight!), other motherboards in our test today in a similar price bracket are using Realtek ALC1150 audio and/or an EM shield to help improve SNR and quality. Nonetheless, the ALC898 does well in our tests by comparison.
Gigabyte Z87X-UD3H BIOS
Out with the old and in with the new - 3D BIOS from Gigabyte is gone. There was a lot of criticism coming from users with my point of view: the 3D BIOS at release was slow, but even when it was faster it failed to provide a sufficient level of detail to satisfy enthusiasts. We all moved into the advanced mode, and then had to shuffle around menus to get to multipliers and voltages. These days are now over, partly due to the fact that Gigabyte are now using 16 MB BIOS chips rather than the 8 MB chips that everyone used in the 7-series. This gives the BIOS engineers double the space to add in extra functionality (for a small BOM increase, which for Gigabyte is 2x for DualBIOS).
The new BIOS from Gigabyte uses a lot of common sense – for those with a 1080p monitor, the new BIOS gives us plenty of information around the BIOS screen itself. At hand we get the motherboard name, BIOS version, CPU installed, speed of the CPU, memory installed, memory speed, various voltages, temperatures and fan speeds. This is what we want in a BIOS, and I am glad we have it here! The only downside for me is that it unfortunately does not work with Korean 1440p monitors (!), but Gigabyte is looking into this.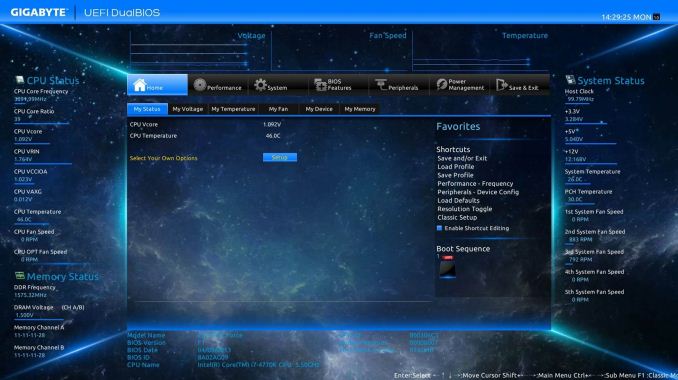 The BIOS looks visually nice – it is calm and collected. Unfortunately for me, as a member of the partially colorblind club, some of the blue text on the blue background is hard to read. This issue can be easily solved, as the older high contrast advanced mode is available at the press of a button.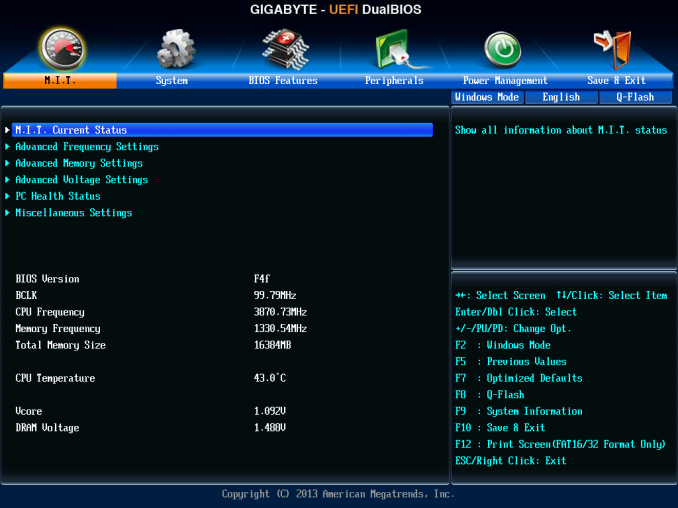 This brings me to a salient point – the new visual to Gigabyte's BIOS does not seem like a new BIOS from the ground up. It feels like a skin on top of the old advanced mode – this means Gigabyte has more leeway in making font and color changes as they need to. Personally I had to go back to the high contrast mode in order to make overclocking changes, but the Gigabyte frontage does offer a few nice features which will start to become commonplace.
The first thing to notice is the 'Performance/Standard/YourName1/YourName2' tabs just below the top row of icons. These tabs are here for user customizable menus and options. For any set of option in the BIOS, a user can add/remove options in these home screens (much like a smartphone home screen sort of) to make life easier. Gigabyte start the first home screen off by calling it 'Performance' and placing the majority of the manual overclock options in it. I like this, and can see it being used a lot by the enthusiasts that need this level of control.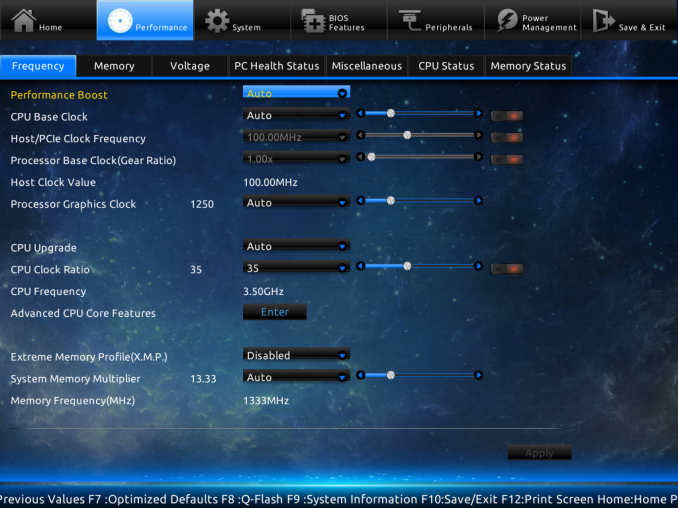 In terms of Gigabyte driven menu options, we start with the 'Performance' option along the top row, which contains a series of tabs (Frequency, Memory, Voltage, PC Health) more akin to a normal advanced mode. Here are our automatic overclock options in terms of 'Performance Boost' or 'CPU Upgrade', with the CPU and memory clocks accessible all in one screen.
I would like to point out that this is essentially the M.I.T. menus in the older BIOS advanced menus, now deemed 'Classic Mode (F3)'. So one of my gripes is potentially still here – having the CPU voltage options in a different menu to the CPU multiplier options is not my ideal scenario. However one could argue that this gripe is nullified by the customizable menus, now that the user can put all the options they want in the same menu.
As part of the performance package, Gigabyte's in-house overclocker, Hi-Cookie, has contributed some of his testing for high-end memory kits into the system: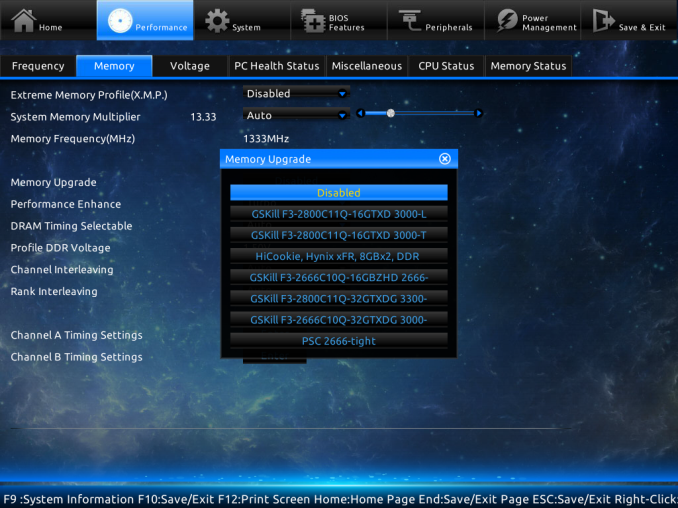 If you are lucky enough to own one of these insane MHz G.Skill or Hynix/PSC kits, here are some 'in-house' options for you.
The '3D' moniker is not completely gone from the BIOS, as Gigabyte retains it as part of its International Rectifier package of power control. In the Voltage->3D Power menu we get our load line calibration options, with a little image to let us know what LLC actually does: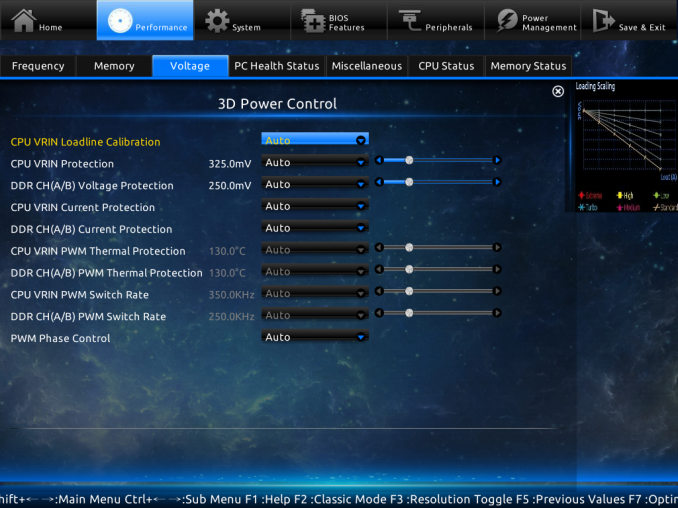 This had been a little request of mine since the start of graphical BIOSes, so I am glad that at least something is here to show (at least in a diagram) what is actually going on.
Our CPU voltage options come under the Voltage -> CPU Core Voltage Control, with the important ones (CPU VRIN, VCore, RING) ready to be adjusted. If I had one suggestion to make, it would be that on the right hand side in the black space, each option in the BIOS would have an explanation of what it does, along with min/max/recommended values. As far as I know this should be coming in a later BIOS update, which is good news.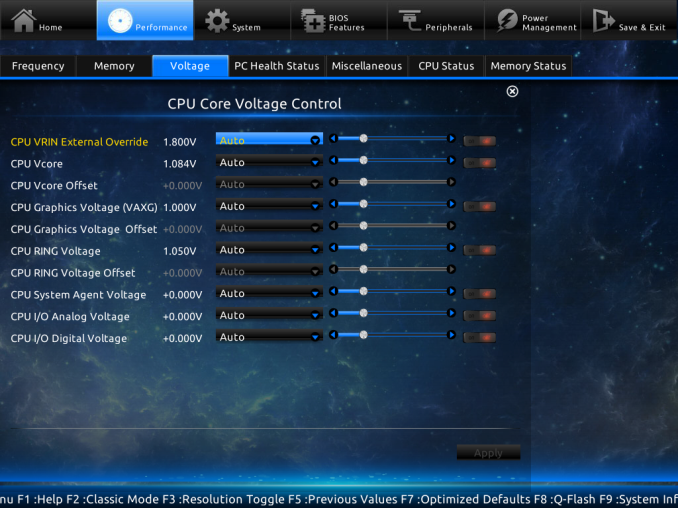 Fan controls are of course a hot topic in our small motherboard world. Over the past 12 months I have ranted and raved about poor fan controls, and BIOS/software options that have no relevance to the real world where fan RPM is not linear to power applied. Gigabyte has a solution in software, but the BIOS is still a little lacking: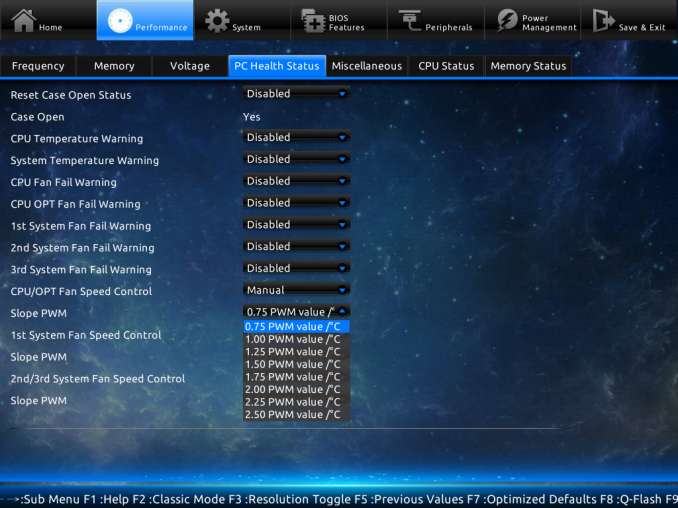 The rest of the BIOS options are relatively standard from previous BIOSes of Gigabyte, with the Save and Exit screen being the source for BIOS profiles and boot override: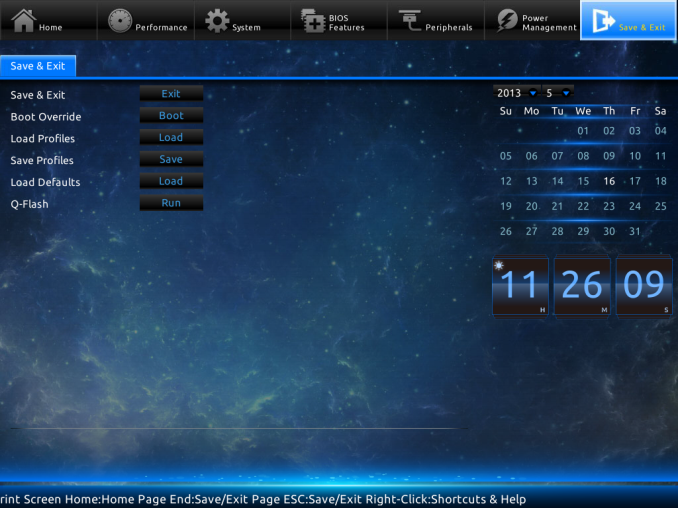 As mentioned before, we still have a high contrast 'classic' mode:
Gigabyte Z87X-UD3H Software
With the launch of the Shark Bay platform, Gigabyte is also upping the game in terms of the software package. The last iteration of their main program, EasyTune6, was looking very dated in comparison to the competition, as well as falling behind in terms of functionality, overclock options and fan controls. With a new dawn comes a new day, and we get a new version of EasyTune to play with.
But first, let us turn attention to the driver and software disk itself. This also gets a redesign, focusing on the new high contrast aesthetics which form the basis of the software: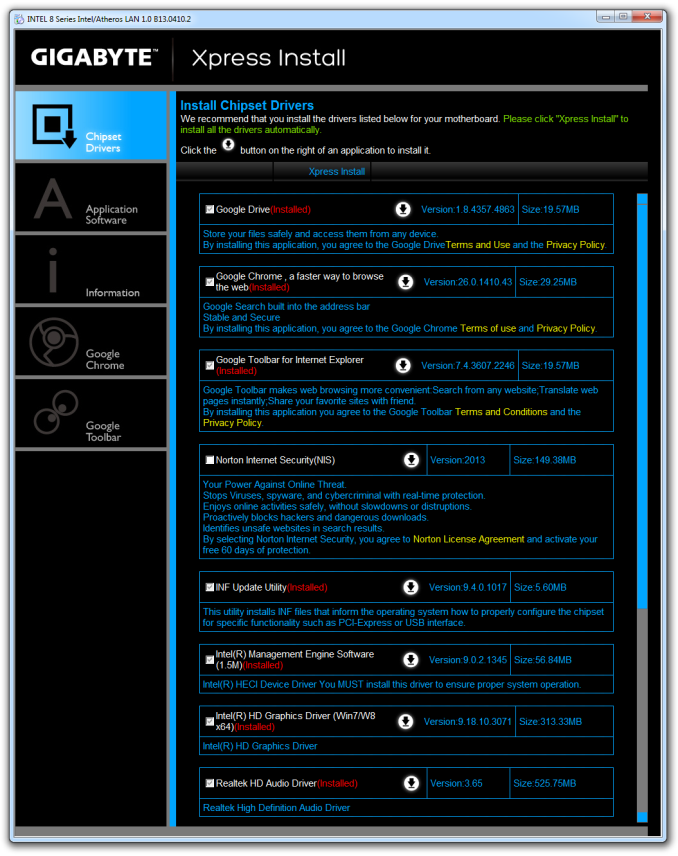 On the left are the main areas of install – Chipset Drivers, Applications, information, and also a bundling of Google Chrome and Google Toolbar. If we take a look at the chipset driver package above, we see that Gigabyte considers the installation of Norton Internet Security as a fundamental requirement to the smooth running of a PC. As you may imagine, I am not fond of this being an automatic install option – for third party software I would rather it be opt-in rather than opt-out. Note that companies like Norton may have an agreement with companies like Gigabyte – "put our free trials on your software disks and we'll pay you", which ultimately may bring the price of the motherboard down. I have no evidence that this is actually the case, though I could imagine it occurring.
The default utilities install applies only to the Gigabyte products, such as EasyTune, @BIOS, EZ Setup, USB Blocker and On/Off Charge. By switching through the menus, other software such as Intel's RST, SCT and cFosSpeed (network management software) can be installed individually.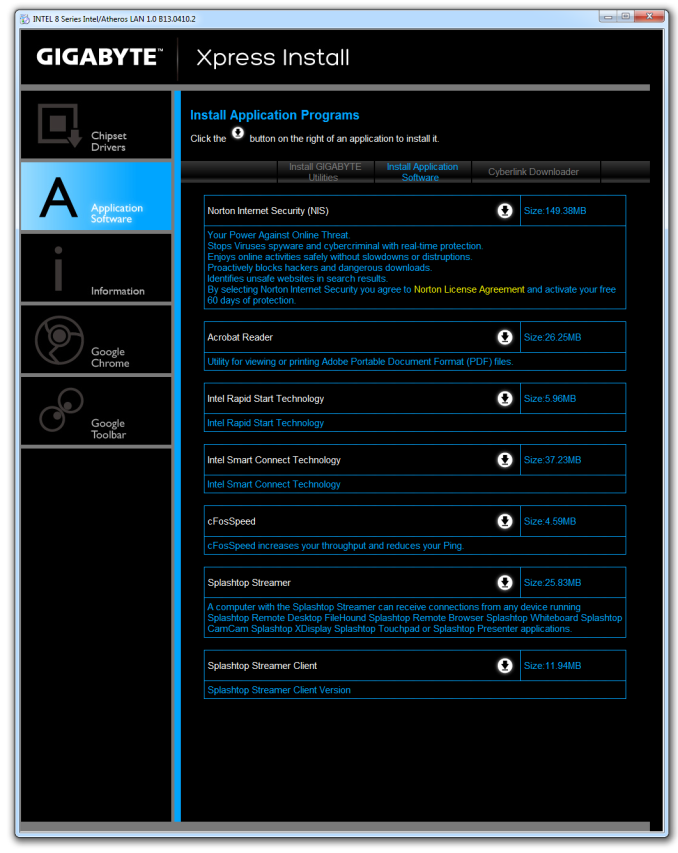 Gigabyte APP Center
The main entry point for the Gigabyte software is through the APP Center, which acts like other software we have seen in the past – a one-stop shop for all the programs at hand. For testing I had an earlier version of the software which had issues installing EasyTune on Windows 7 straight off the CD, but Gigabyte have released updates since which are worth downloading.

Gigabyte Live Update
One feature that is creeping into most of the motherboard ranges is the ability for the software to auto-update, or check the home server for updates to drivers and to the BIOS. Gigabyte's answer is their version of Live Update, which scans and shows what needs to be installed: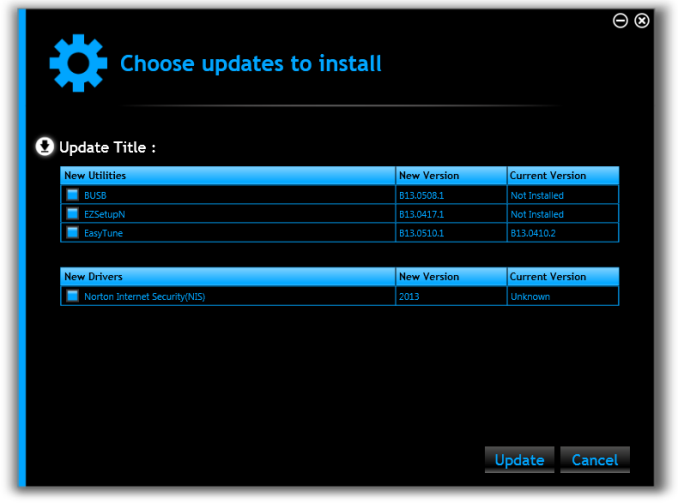 Again, this was another piece of software in which I tested the beta release, and I did come across several issues (which may be updated). Firstly it keeps showing Norton as an option, even when I deselected it from the disk. Next is that the software does not show the size of each download – if I have to update audio drivers at a cost of 175 MB, I would like to know before clicking the download and update button. I did have issues installing the newer version of EasyTune, but Gigabyte has told me this issue should be fixed with the latest edition of Live Update.
Gigabyte EasyTune
The new EasyTune is a much sleeker and optimized display than previous versions of EasyTune. We are still going with the high contrast of blue on black for the UD3H, and when we enter the software the system information showcasing the motherboard in use, BIOS versions, CPU installed, CPU speeds and memory installed.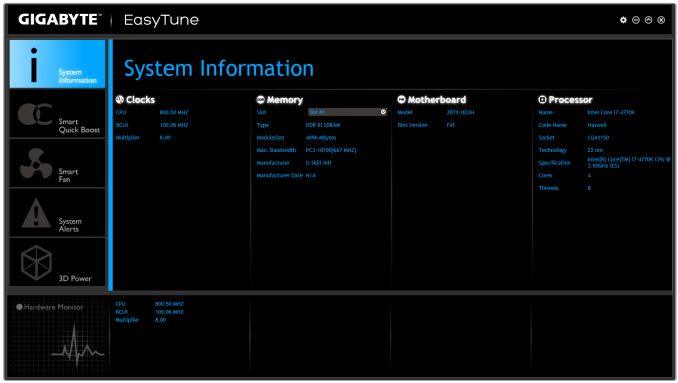 Overclocking happens in the Smart Quick Boost (SQB) menu, where we are offered four versions of overclock, a default setting, and an advanced mode for manual overclocks.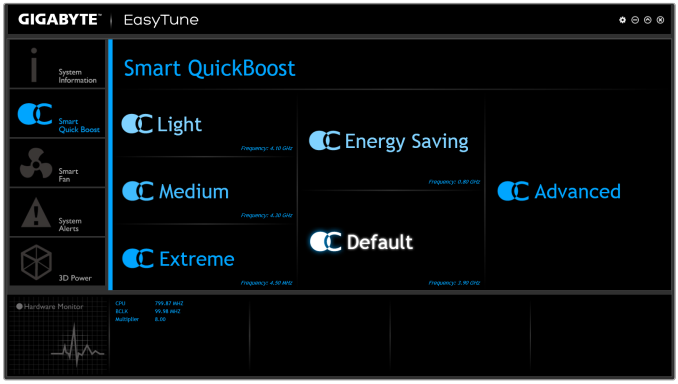 My main issue with SQB, like with the BIOS, is that if I select one of the preset overclocks, the software does not update with all the settings to which that option entails. The CPU speed and multiplier ratios change, but our voltages stay the same, as shown in this next screen shot while we are under the Light SQB setting: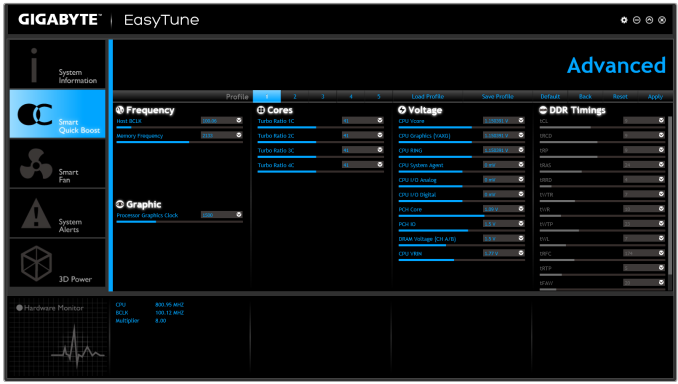 This is one issue which Gigabyte disagrees with me, such that they want the user to easily pull back to default if required. Personally I would like a large amount of synergy between what is being shown on my screen and what is actually being applied to my system, as well as a link between software and BIOS such that whatever I set in EasyTune is automatically transferred into the BIOS as well.
Next up is the rapid improvement from Gigabyte in terms of fan controls. On the face of it, we get much more option in terms of settings, with Gigabyte offering three fan control modes, and auto-calibrate option, and an advanced setting.
In the screenshot above, we see that the system has correctly polled my CPU fan and able to detect what RPM for what power is applied. We then get a customizable graph with multiple vertices so a user can apply their own fan profile. The only issue is the y-axis – it shows the wrong thing. Instead of Fan RPM (what we should have via software algorithm interpolation), we get Fan Duty Cycle, which means the user has to do the mathematics in their head. As shown by the fan test by the software, selecting between 0 and 20% with 'Fan Duty Cycle' does nothing to my RPM, but for whatever reason I still get it as a selectable area in the graph. So close, but only half way there in terms of proper fan controls.
Gigabyte are also including a System Alert section to EasyTune, allowing users to set limits for temperatures and fan speeds such that the software can provide notifications if they go above various values.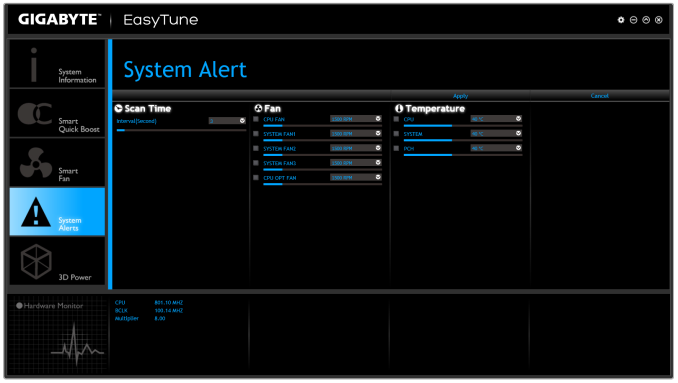 The last part of EasyTune is the 3D Power menu, which offers features such as Load Line Calibration and CPU Phase control. Voltages could also have been in this menu as well as the SQB Advanced menu.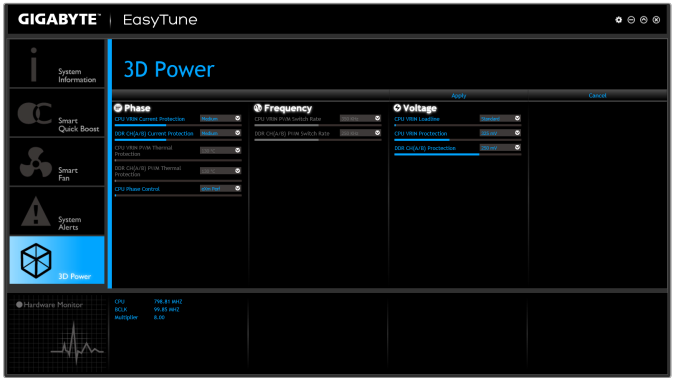 Gigabyte @BIOS
The BIOS updating tool from Gigabyte keeps the same name, but gets a facelift for the 2010s. @BIOS will probe various Gigabyte servers around the world for BIOS updates, download them and then install them. We also get options to update from a file, saving to file, and an option to change the POST image on startup.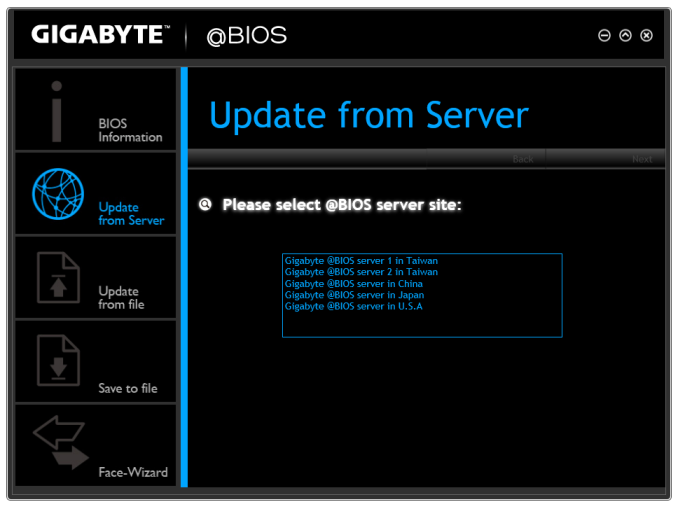 Gigabyte On/Off Charge 2
There are plenty of users wanting to charge devices via USB, and while the USB specifications allow for high current draw, this is usually kept low for data transfer. For charging, a system can eliminate the data lanes and improve the current draw, as long as the USB port is built (and programmed) to do so. This is where On/Off Charge comes in, detecting compatible devices and giving the option to quick charge.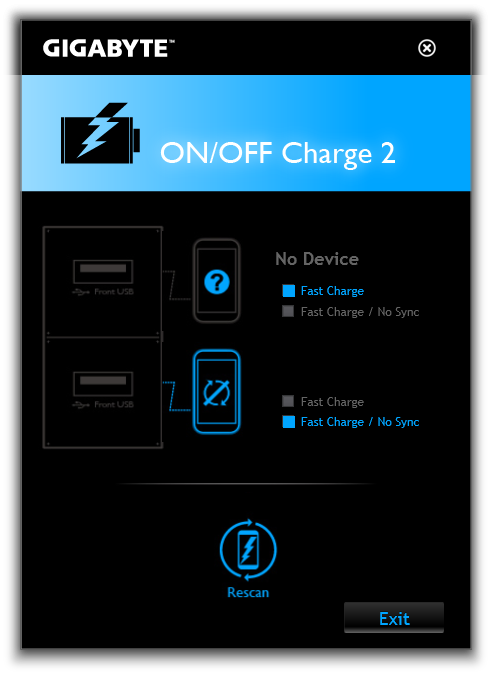 Gigabyte Smart TimeLock
Got things to do, but cannot draw yourself away from the computer? Or what if you want to limit the children from too much computer time? Smart TimeLock is the answer for both of these situations; the admin user can set a maximum amount of allowable time for weekdays and weekends.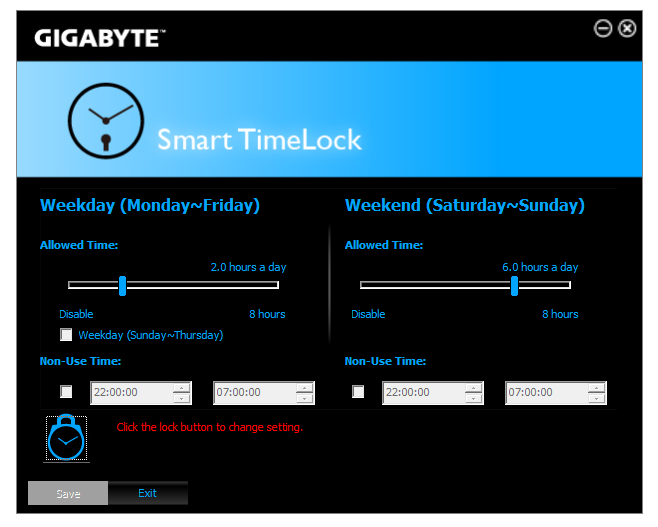 Gigabyte Z87X-UD3H In The Box
Box contents can be a very important part of the package, especially in terms of additional cables, or perhaps USB 3.0 brackets. Most modern cases come with a USB 3.0 header, meaning motherboards with one header will most likely not get an additional bracket, but those with two headers could get one in the box. This of course adds cost to the product as a whole (such as WiFi/USB 3.0 5.25" boxes), so a manufacturer has to decide whether to include the $5-$10 worth of kit, or just bundle in $1 of bulk-purchase SATA cables in order to drive the motherboard to a lower price point. The motherboard is the key thing, right? Personally I have seen some outstanding bundles ($140 motherboard with that USB 3.0 bracket, or something as simple as plastic standoffs for overclockers), and some not so much.
The big competition from the UD3H on this front is the fact that in the last generation, the Z77X-UD5H was $180, and that was stripped in terms of box contents to meet an awesome price point.
From the Z87X-UD3H, we get:
User Guide
Driver Disk
Rear IO Shield
Four SATA Cables
Flexi-SLI Bridge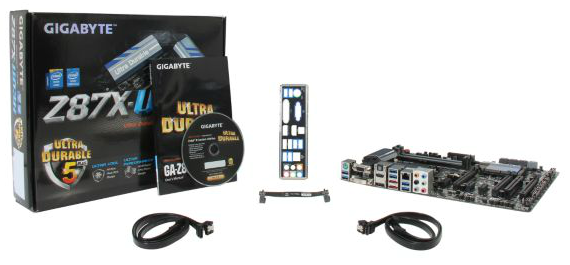 Gigabyte Z87X-UD3H Overclocking
Experience with Gigabyte Z87X-UD3H
As my first overclocking experience on Haswell, I think it went rather well. I have heard some horror stories to do with Haswell (processors falling over at 4.2 GHz), but luckily enough the CPU I had is actually a bit of a corker.
In terms of the Gigabyte motherboard itself, the automatic options in the EasyTune software worked well, and those in the BIOS also worked, apart from the Extreme (4.7 GHz) setting. My only point of contention is that when a user applies any of these settings, it does not update the text values in the BIOS relating to the voltages or CPU speeds. Personally I like to see what the system is doing with an automatic setting, but on speaking to Gigabyte they prefer it the other way to allow users to adjust voltages by offset if needed on the automatic settings.
The settings I was able to figure out helped in deciding our manual overclocking procedure. This meant a starting point of 4.0 GHz (40x multiplier) and 1.000 volts, testing for stability and then either upping voltage when unstable or multiplier when stable. Alongside this we also adjusted the Integrated Voltage Regulator (FIVR) voltage input to 1.65 V and Load Line Calibration to High. With these in place, we hit 4.6 GHz stable at 1.250 V in the BIOS, and 4.7 GHz was just about stable at a rather high 1.425 volts.
Methodology:
Our standard overclocking methodology is as follows. We select the automatic overclock options and test for stability with PovRay and OCCT to simulate high-end workloads. These stability tests aim to catch any immediate causes for memory or CPU errors.
For manual overclocks, based on the information gathered from previous testing, starts off at a nominal voltage and CPU multiplier, and the multiplier is increased until the stability tests are failed. The CPU voltage is increased gradually until the stability tests are passed, and the process repeated until the motherboard reduces the multiplier automatically (due to safety protocol) or the CPU temperature reaches a stupidly high level (100ºC+). Our test bed is not in a case, which should push overclocks higher with fresher (cooler) air.
Automatic Overclock:
For automatic overclock options, we can either decide whether to apply options in the OS via the EasyTune software or through the BIOS: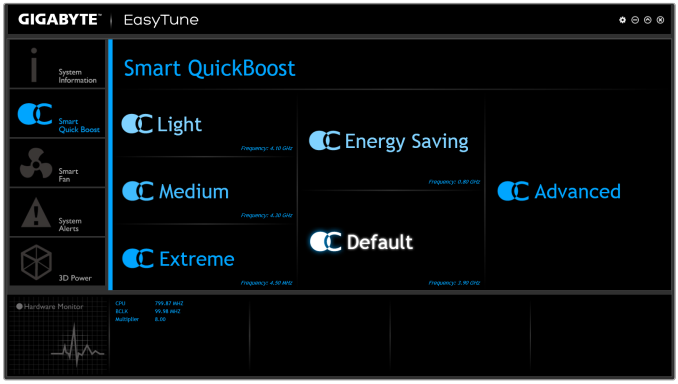 Starting with the OS, we tested EasyTune Light, Medium and Extreme:
- Light: Sets 41x100, 1.150 V CPU and 1.770 volts VRIN. Gives 1.087 volts at load, a PovRay score of 1677.97 and passes OCCT with 66C max temperature. Also sets memory to XMP minus one strap.
- Medium: Sets 43x100, 1.287 V CPU and 1.692 volts VRIN. Gives 1.280 volts at load, a PovRay score of 1739.42, and passes OCCT with 83C max temperature. Also sets memory to XMP minus one strap.
- Extreme: Sets 45x100, 1.287 V CPU and 1.692 volts VRIN. Gives 1.284 volts at load, a PovRay score of 1824.35, and passes OCCT with 79C max temperature. Also sets memory to XMP minus one strap.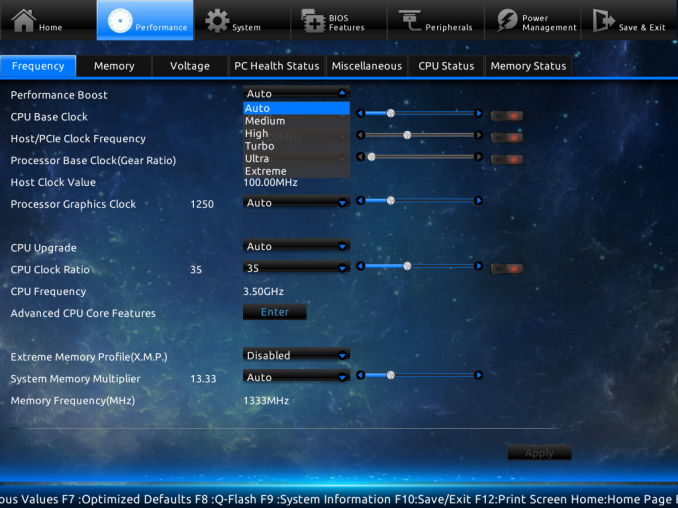 Through the BIOS, we tested Performance Boost levels from Medium to Extreme:
- Medium: 43x100, 1.752 volts VRIN. Gives 1.285 volts at load, PovRay of 1757.37 and OCCT passed at 82C.
- High: 44x100, 1.704 volts VRIN. Gives 1.280 volts at load, PovRay of 1785.38 and OCCT passed at 85C. Sets DRAM to 1600 10-11-11.
- Turbo: 45x100, 1.692 volts VRIN. Gives 1.284 volts at load, PovRay of 1839.53 and OCCT passed at 87C. Sets DRAM to 1866 10-13-13.
- Ultra: 46x100, 1.692 volts VRIN. Gives 1.284 volts at load, PovRay of 1857.82 and OCCT passed at 88C. Sets DRAM to 1866 10-13-13.
- Extreme: 47x100, 1.680 volts VRIN. Gives 1.344 volts at load, PovRay of 1898.45 but a BSOD with OCCT. Sets DRAM to 2133 10-14-14.
Manual Overclock:
With the information from the automatic overclock, we achieved the following manual overclock results:

MSI Z87-GD65 Gaming Overview
Right at the end of our Ivy Bridge / Z77 coverage, we took delivery and reviewed the MSI Z77A-GD65 Gaming, the first proponent of MSI's gaming philosophy being applied to motherboards. At the time, the Gaming series was a half-evolution; MSI had planned to introduce the Gaming range with Z87 and Haswell, but due to Haswell delays they felt it made sense to take some of what they wanted on Haswell and put it on a standard Z77A-GD65 to make the Z77A-GD65 Gaming.
At the time of that review, I criticized the Z77A-GD65 Gaming for being that half-evolution. Most of the motherboard was the standard channel Z77A-GD65, but with the Gaming heatsinks, logos, and a couple of feature changes (Killer NIC), and a significant step up in price which made the regular version seem better value. This time around with Z87, we get the Gaming edition before the channel model, and MSI are finally able to put the full range of functionality they wanted in the Gaming series onto the motherboard.
What this means is we still get a Killer NIC from Qualcomm Atheros, designed to make certain programs have higher priority and bypass the Windows network stack for lower latency, Audio Boost (an EM shielded Realtek ALC1150 audio codec with additional filter caps and 600Ω headphone amplifiers), an mSATA connector, a two-stage OC Genie, larger heatsinks and an all 4-pin fan header design. There is also the software and BIOS update too.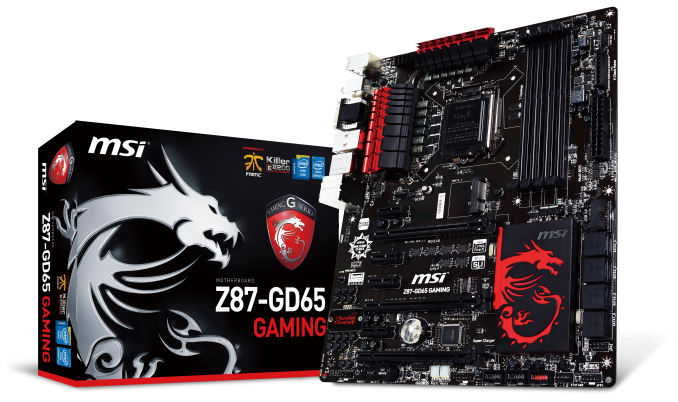 The BIOS is improved in terms of look and responsiveness, improving the overall user experience. The MSI BIOS now partitions part of the area off for explanations of various features, and the new Hardware Monitor/Board Explorer options help with both fan controls and diagnosing errors. We still have a small issue of the jumble of overclocking options, but as long as the user is careful overclocking should be easy enough. Software also gets an update, with a new version of Command Center.
Performance wise, the MSI Z87-GD65 Gaming does not throw up that many surprises, performing on par with other motherboards in our test due to implementing MultiCore Turbo by default. A couple of points for concern might be the DPC Latency, which is a fair bit higher than I would have expected (I ideally want sub 100-microseconds), and the audio test put the MSI behind the other ALC1150 enabled boards in this review. We get an x8/x4/x4 PCIe layout for GPUs, meaning our tri-AMD GPU tests are better than those with x8/x8 + x4 arrangements.
For out 18-port Flex IO, we get six SATA 6 Gbps from the PCH and six USB 3.0, leaving six PCIe 2.0 lanes to go between the PCIe 2.0 x1 slots and additional controllers. Aside from the Killer NIC and ALC1150 audio codec, the sole additional controller onboard is an ASMedia SATA 6 Gbps, giving another pair of ports.
In terms of overclocking, the Z87-GD65 Gaming performed very well in both automatic and manual mode with nice temperatures throughout. Despite the fact that users cannot set the VRIN voltage in the BIOS below 1.80 volts (something MSI may change in a later BIOS), the automatic load line calibration seemed to do its job and we hit 4.6 GHz with ease on our good CPU, pushing 4.7 GHz for 90C+ peak temperatures.
While MSI is going after the gaming crowd with its Killer NIC and Audio Boost features, the critical point on whether this will be a good buy is based on the hardware around the same price point. On the face of it we have a Z87 motherboard with an additional SATA 6 Gbps controller and a pair of high-end NIC/Audio controllers, along with features which are becoming commonplace at this price point (V-Check Points, two BIOSes, GoToBIOS). Can a knockout feature be worth it when other motherboards offer more USB 3.0 / SATA 6 Gbps / NICs? Time will tell.
MSI Z87-GD65 Gaming Visual Inspection
From the old Z87-GD65 Gaming the first element of the motherboard we notice is the size of the heatsinks. We still have the dragon motif of the chipset heatsink and the dragon shape of the VRM one, but on the Z87 platform MSI have kicked up the size a notch.
The heatsink area is pretty much on Intel specifications, meaning that large coolers may hinder memory with tall heatsinks, but the first GPU PCIe slot is far enough away to not have any issues. The power delivery heatsinks are connected via a heatpipe, and rather than a PLX chip in the middle of the motherboard we get an mSATA 6 Gbps port which shares bandwidth with one of the SATA ports. Within the region of the socket we have access to four fan headers – one CPU 4-pin between the heatsink and the memory slots, a CPU 4-pin the other side of the memory, a 4-pin SYS fan header above the V-Check points on the right hand side and a 4-pin SYS to the bottom left of the socket. The fifth fan header on board is on the bottom right next to the front panel header.
The memory slots at this price SKU are not using the single sided latch mechanism which I am rather fond of, but in that upper right hand corner we get a pair of the aforementioned fan headers, an array of voltage check points (V-Check), and our 24-pin ATX power connector above the multi-BIOS switch and a pair of BIOS chips.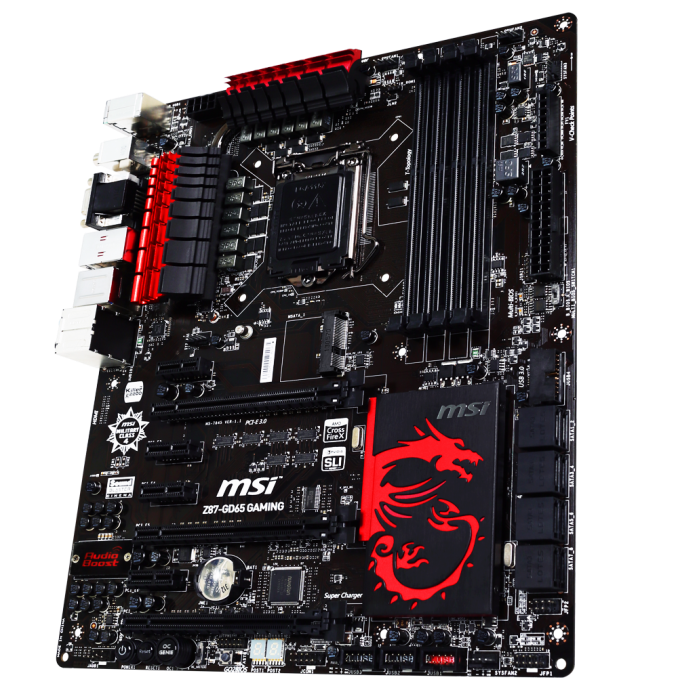 To the right of the chipset heatsink we get a USB 3.0 header at right angles to the motherboard, which is not the normal way of doing things but it does keep it out of the way of the first PCIe slot when a large GPU is installed. We have a total of eight SATA 6 Gbps ports – the top six from the PCH and the bottom pair from an ASMedia controller. Personally I would prefer these to be a different color to the rest, or at least an indication on the board which are which (such as SATA_E12, rather than SATA_78).
Along the bottom of the board are our front panel audio header (connected to Audio Boost), power/reset switches, the OC Genie switch which now has an accompanying DIP switch for two different levels of OC Genie, a Go2BIOS button for BIOS overclockers, a two-digit debug LED display, a COM port, three USB 2.0 headers and our front panel header.
Moving to the left hand side of the board we have MSI Audio Boost. As we see with most of the boards in this roundup, there is more of an emphasis on applying good quality audio on a motherboard rather than just a simple audio codec. ASUS have SupremeFX on their ROG range, ASRock has Purity Sound on their Z87, Gigabyte has Sound Core3D and now MSI have Audio Boost. Audio Boost follows roughly the same pattern as the others – a high end codec (Realtek ALC1150), an enclosed metal shield to protect the codec from EM interference, high quality Japanese capacitors for filtering, headphone amplifiers for both the rear and front audio to support high impedance headphones up to 600 ohm and Sound Blaster Cinema software. Variations of this theme across other motherboards might limit the headphone amp to one output, or limit the electrical traces of the audio to a single PCB layer. The whole goal of this is to push the audio codec to close to its specifications as possible, which for the ALC1150 is 115 dBA SNR output and 104 dBA SNR input. With a badly designed board, we can see this value drop to the mid-70s with a high level of harmonic distortion. All bodes well for the MSI though, except that in order to get our audio tests to run I had to disable the Sound Blaster Cinema software.
The PCIe layout on the Z87-GD65 Gaming is another typical example of what most of Z87 will apply – three full length PCIe lanes in an x1/x16/x1/x1/x8/x1/x4 layout. The full length slots all use PEG lanes from the CPU, giving a maximum of a PCIe 3.0 x8/x4/x4 configuration in CrossFireX and x8/x8 in SLI. It is worth noting that by placing ANY card into the final x4 slot this will force the second slot down to x4, therefore disabling two-way SLI which requires a minimum of x8 PCIe lanes (either 2.0 or 3.0, it just needs eight of them).

The rear IO of the board removes DisplayPort in favor of dual SPDIF outputs and a Clear_CMOS button. From left to right we get a PS/2 combination port, two USB 2.0 ports, the Clear_CMOS button, dual SPDIF outputs, D-Sub, DVI-D, HDMI, a Qualcomm Atheros Killer E2205 NIC, four USB 3.0 ports and the set of audio jacks.
MSI Z87-GD65 Gaming Features
MSI Z87-GD65 Gaming
Price
Link
Size
ATX
CPU Interface
LGA-1150
Chipset
Intel Z87
Memory Slots
Four DDR3 DIMM slots supporting up to 32 GB
Up to Dual Channel, 1066-3000 MHz
Video Outputs
D-Sub
DVI-D
HDMI
Onboard LAN
Killer E2205 NIC
Onboard Audio
Audio Boost (Realtek ALC1150)
Expansion Slots
3 x PCIe 3.0 x16 (x16, x8/x8, x8/x4/x4)
4 x PCIe 2.0 x1
Onboard SATA/RAID
6 x SATA 6 Gbps (PCH), RAID 0, 1, 5, 10
2 x SATA 6 Gbps (ASMedia 1041)
1 x mSATA 6 Gbps (Share with PCH)
USB
6 x USB 3.0 (PCH) [1 header, 4 IO ports]
8 x USB 2.0 (PCH) [3 headers, 2 IO ports]
Flex IO
x+y+z = 18

| | |
| --- | --- |
| SATA 6 Gbps | 6 |
| USB 3.0 | 6 |
| PCIe 2.0 | 6 |

Onboard
8 x SATA 6 Gbps Ports
1 x mSATA
1 x USB 3.0 Header
3 x USB 2.0 Headers
5 x Fan Headers
Power/Reset Butons
OC Genie Button
OC Genie Switch
Two Digit Debug
1 x COM Port
Front Panel Audio Header
Front Panel Header
Voltage Check Points
Go2BIOS Button
Power Connectors
1 x 24-pin ATX Power
1 x 8-pin CPU Power
Fan Headers
2 x CPU (4-pin)
3 x SYS (4-pin)
IO Panel
1 x PS/2 Port
2 x USB 2.0 Ports
4 x USB 3.0 Ports
Clear_CMOS Button
SPDIF Outputs
D-Sub
DVI-D
HDMI
Killer NIC
Audio Jacks
Warranty Period
3 Years
Product Page
Link
Motherboard manufacturers have two ways of marketing a board at a particular price point. They can either go all out on functionality, adding in as many ports and headers as they can within the budget (such as the UD3H), or they can shift that extra budget over the base in a single 'knockout' feature. MSI have tried to hit the middle of this attack, using a Killer E2205 network chip (which was arguably a $10 cost on the Z77 Gaming over the standard GD65), and an extra SATA 6 Gbps controller. But the heatsinks are bigger, and there is a two-stage OC Genie as well.
MSI Z87-GD65 Gaming BIOS
I am very glad to say that the MSI Z87 BIOS gets a couple of very important updates for the Z87 generation. On Z77 it was a dichotomous situation whereby MSI were very focused on giving users the motherboard information and plenty of options to play with – the downside was that almost no options were ever explained. This is one of the big changes with the MSI Z87 BIOS – the other comes in the form of their fan control tool. While the tool does not necessarily offer the depth of control we would like, it is perhaps one of the better ways of actually displaying the information, and I would like to offer kudos to MSI for the aesthetics.
The BIOS for the Z87-GD65 Gaming gets a gaming touch in order to separate it from the rest of the MSI range: we are talking red and we are talking dragons.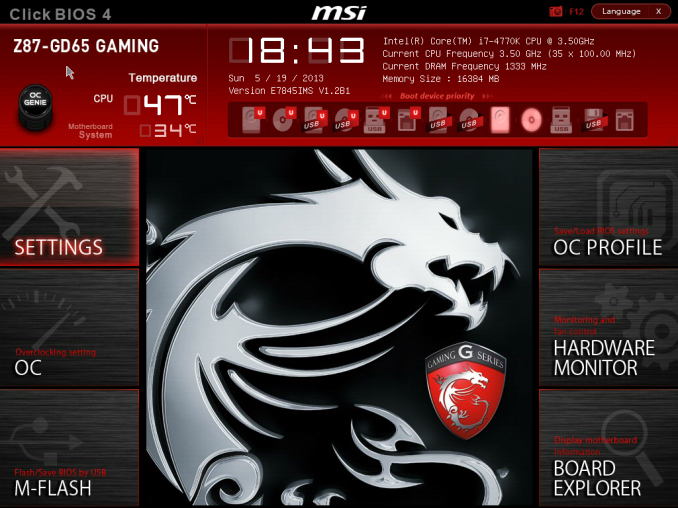 Like the Z77 BIOSes from MSI, the main selling point is the ribbon of information along the top – we get details of the motherboard being used, BIOS version, CPU installed, current speed, memory size and also memory speed. Ultimately all we are lacking is CPU voltages and fan speeds, but there is also perhaps another issue – this ribbon is quite big. Keeping it this size and keeping it a consistent part of the display means that everything else is squashed and it becomes an effort to fit everything in. A few manufacturers that are going down this route are keeping the ribbon small enough to make sure that the actual 'options' area of the BIOS have plenty of space.
Aside from the ribbon we have a standard MSI layout of six buttons around the edge and the main options in the middle. For Z87 the options have changed slightly, with the main two additions being Hardware Monitor and Board Explorer. Hardware Monitor is actually an awesome way to organize your fan controls from the BIOS: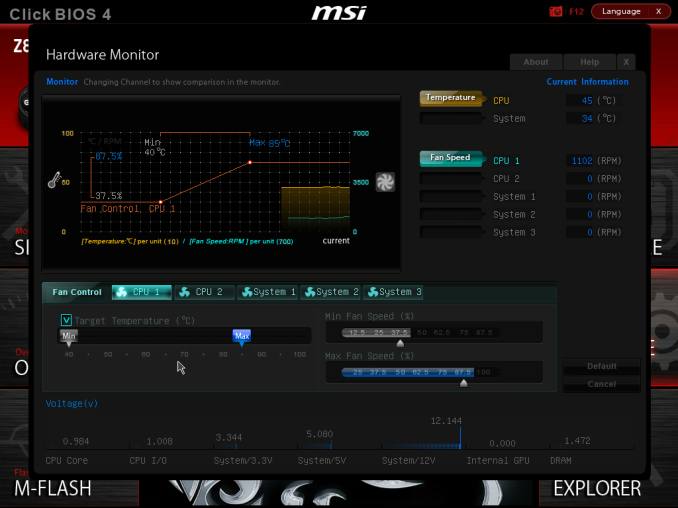 While the level of control is quite small (a two point gradient, no hysteresis, BIOS engineers horrendously confusing power applied to the fans as directly proportional with the actual RPM), the execution of visually showing the fan controls is one of the best we have seen. By moving the sliders in the 'fan control' section around the graph changes to show what is actually happening. Aside from the power-to-RPM issue (which should be inexcusable in 2013), what we need here is more control – more points in the gradient to deal with, as well as hysteresis and manual control over the points on the graph. Then perhaps MSI would be onto on overall fan control success.
The second new feature of the BIOS is Board Explorer, which mimics features we originally came across in ASRock BIOSes: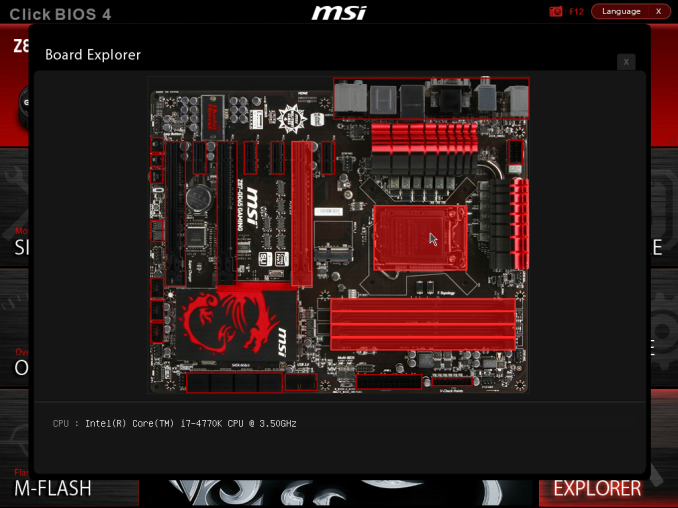 Here is a visual representation of the motherboard, and everything on board which has something plugged in comes up red. My moving the mouse over an area we get an explanation of the hardware plugged in with the hardware string assigned by the manufacturer. Moving to the SATA ports or IO panel and clicking brings up an additional visual showing which ports are in use: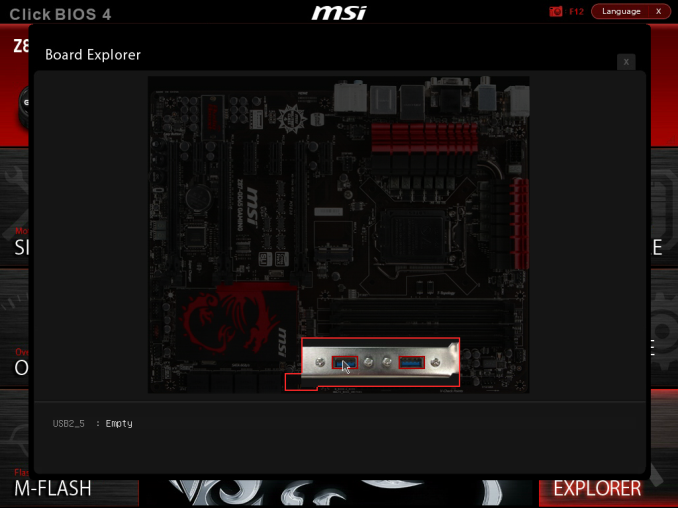 I am glad this is a feature becoming standard. It ultimately helped when I received the ES version of this motherboard into the office and one of the PCIe did not work – I was able to diagnose this issue through Board Explorer. If hardware is not seen here, then it was not recognized by the motherboard at POST time.
For the rest of the BIOS, we have typical MSI faire. Most of the regular options available to the user are in Settings, including SATA configuration and turning on/off controllers:
A nice positive is the Boot Override, also slowly becoming standard across all manufacturers allowing a one type boot from a secondary device.
As on the previous MSI Z77, our OC options are almost a complete jumble:
There is some sort of order, but it would be ideal to actually have headings like the Integrated Peripherals menu in standard Settings, such that CPU overclocking features are separate from the DRAM options and then voltage options inserted into the appropriate places. As it stands the MSI BIOS looks like a higgledy-piggledy jumble to a new overclocker. One of the positives on the Z87 generation at least is the addition of the information panel on the right hand side, allowing users to see a small amount of information on each option. Ideally this side panel should also show the min, max, interval and 'suggested value' for each option to assist overclockers, but that may appear in another update. It should also be pointed out that for some of the options, there is almost no guidance – it merely repeats the option listed or says 'Adjust X', which is not particularly helpful to anyone but the BIOS engineer.
One additional option that MSI should consider is a greater range of automatic overclocking options so users can select between 4.0 and 4.5 GHz in 100 MHz jumps with just an option selection in the BIOS. This would aid users in finding out how to overclock the CPU a bit more, and can work side by side with OC Genie.
MSI Z87-GD65 Gaming Software
MSI's software package for Z87 is a mixture of old and new. The stalwart of the package, Live Update 5, is still present in all its glory. So far in terms of auto-update packages, MSI's was the first to reach an echelon worthy of an update package that informs the user and applies the updates. Other manufacturers are now getting into the groove, but MSI have that initial advantage.
In terms of the new, Command Center gets a fresh update. Click BIOS was not present on my install CD, suggesting it may no longer be part of the package. The new Command Center is a visual uplift from the old version, giving the user more control and a better experience in order to adjust the system – this includes a better visual of the fan controls as well.
However we start at the installation disk and not much has changed here. The interface has two main options at the top (Driver, Utility) which expand into several options below and a 'Total Installer' button. This button opens up a menu whereby the user can select/deselect options (such as Norton Antivirus) to install. I am beginning to get to a position where the Driver CD on loading should be showing information about the current setup as detected, such as CPU/motherboard numbers. This way we can verify the hardware we are dealing with without loading additional programs or opening up the case. Perhaps this is something easily implementable to think about for the future.
One of the first things that the user might notice on the initial installation is the MSI theme that gets applied when everything is installed. I am of the opinion that this is a good positive move for motherboard companies, as long as the pictures are tasteful and fit. I know a good number of users will customize an OS setup regardless, but it does provide a sense of ownership for those that leave it in the background.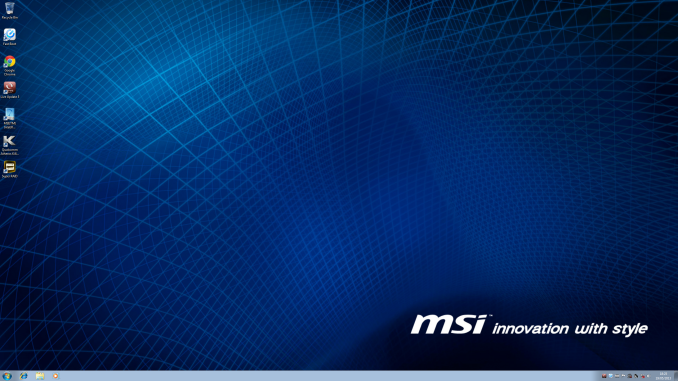 MSI EasyViewer
First in MSI's lineup is EasyViewer, a replacement of Windows Photo Viewer with a few extra commands for resizing and slideshows. Personally I use FastStone Image Viewer for my image previews (and one of our benchmark tests) as it does almost the same thing with a lot more options.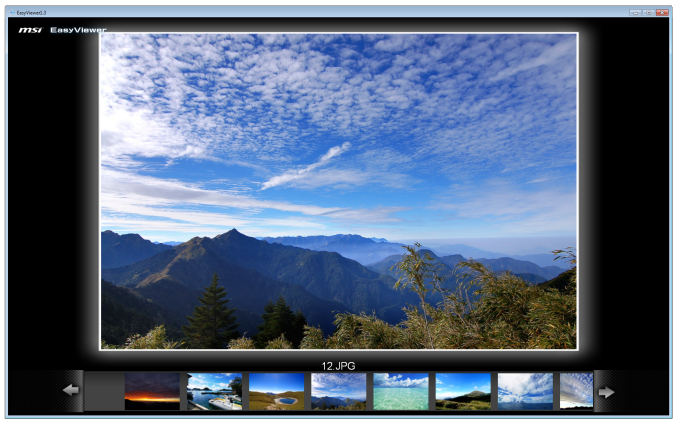 MSI Live Update 5
The big plus in the MSI package is from Live Update 5 (LU5). With LU5 the system will connect to the internet, detect the current platform, get a list of available software on the MSI servers, and then compare this to the software it can detect on the system. If there is a discrepancy in the version, it offers a download. Alongside the software available, the system also checks BIOS versions against the latest available on the servers. The only issue for me is that the program does not tell you the size of the download until you are actually downloading it, which could be an issue for limited bandwidth users if they end up downloading 200 MB of audio drivers rather than 5 MB of other software.
MSI / Intel Extreme Tuning Utility
Motherboard manufacturers have an option to include the Intel Extreme Tuning Utility, which in essence is a basic overclocking tool for all Intel based platforms. With the tool a user can adjust all the overclock settings as well as find out plenty of information about the system as well as stress test any overclock. This software is actually rather slick and easy to use, so a fair few motherboard manufacturers should consider using XTU as a base for an overclocking tool.
Qualcomm Atheros Killer Network Manager
As MSI are using a Killer NIC on the motherboard, the software to go with the NIC provided by Qualcomm Atheros is on the install disk. The Killer network port, with the right drivers and software, is designed to bypass the Windows network stack and fast track programs with higher priority for data transfer. This allows gamers to prioritize VoIP and game traffic over background tasks.
With the software being integrated into a hardware component, the emphasis is on lower CPU usage. Many motherboard manufacturers now offer their $150+ products with a version of cFosSpeed which attempts to perform a similar function to QAK but purely in software, which could increase CPU usage. There is a clear price premium for using the Killer NIC in this regard.
MSI Super RAID
Not to be confused with Super RAID on MSI's gaming laptop range (which involves mSATA SSDs in RAID), MSI have included a tool to help users get to grip with some of the Intel tools such as Smart Response and Smart Connect. As long as the options are enabled in the BIOS, this software allows users to quickly set up each feature.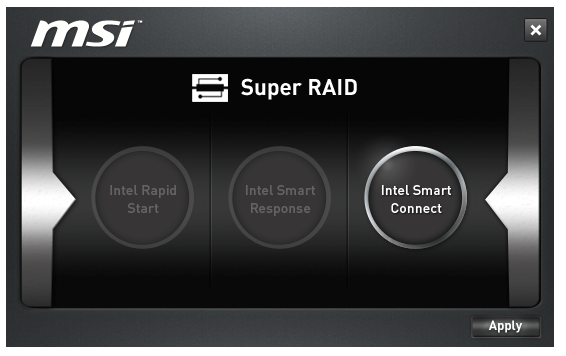 With the cost of SSDs tumbling over the past 24 months, I wonder how many users are still using Smart Response with an SSD+HDD combination.
MSI Video Genie
The Video Genie software is a software tool designed by MSI to adjust the monitor settings on the fly for various on-screen visuals. Thus in a dark scene on a film it will attempt to provide more focus by making the screen contrast higher, or as shown below will attempt to adjust the screen for a more 'lively' feel. This type of feature is arguably a software replacement for some of the more hardware based solutions.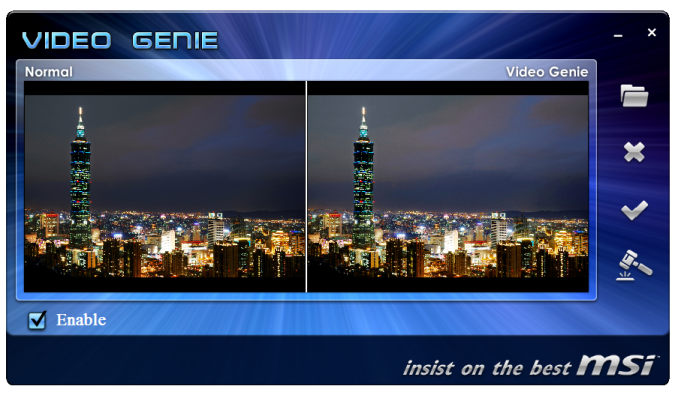 MSI Fast Boot
With motherboards now allowing for hardware enhancements to improve POST time to Windows 8, it can be difficult for users to get into the BIOS if the system bypasses the 'Press F2 to enter BIOS'. For overclockers the solution is easy with 'Go2BIOS' buttons now being implemented on MSI motherboards. However if the system is in a case, there has to be a software solution, and MSI provide Fast Boot for this, with a Go2BIOS option.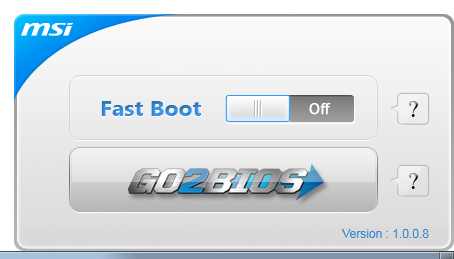 Sound Blaster Cinema
As part of the drive to better audio solutions on motherboards, along with MSI's Audio Boost, we have access to Sound Blaster Cinema software. This is a relatively simple interface designed to apply automatic EQ settings for 5.1 surround setups for films. Unfortunately it upset our audio testing a fair bit and had to be disabled for the benchmark.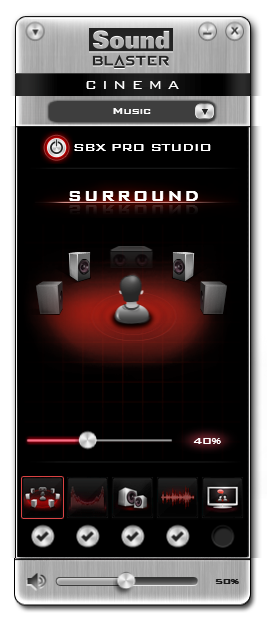 MSI Command Center
The last piece of the MSI software stack is our upgraded version of Command Center. Previous iterations were fairly complex with lots of information in a large interface (a bit like XTU) but visually did not disrupt the user experience. The new version of CC is of a similar ilk, however the settings are divided up to be easier to handle. For example, here is the first screen giving simple overclock and fan control options: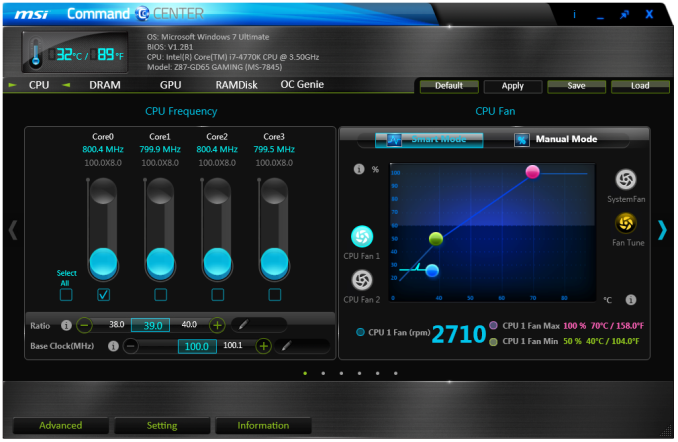 MSI have tried to split up the various sections of CPU/DRAM/GPU into menus, however users can navigate left and right – this puts CC in the firing line for an upgraded smartphone app in the future. With CC users can adjust fan controls, overclocks and voltages. Rather alarmingly Control Center allows users to apply 2.1 volts to their CPU immediately: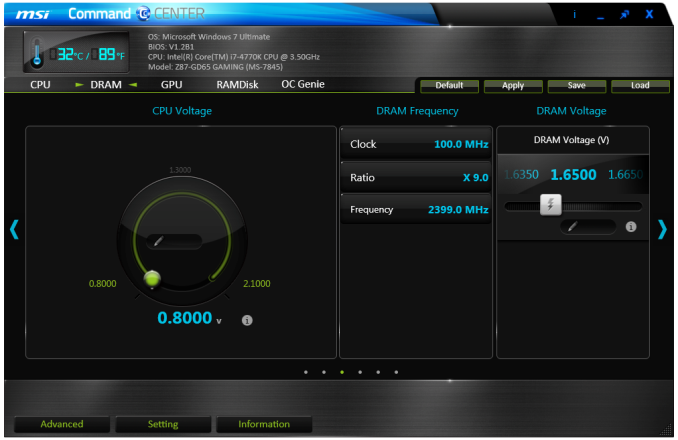 This is a large oversight. It would have been better for MSI to have an easy/advanced mode, where the advanced mode would allow voltages only extreme overclockers on sub-zero cooling would use.
A new element to CC is the addition of RAMDisk software, similar to ASRock's XFast RAM: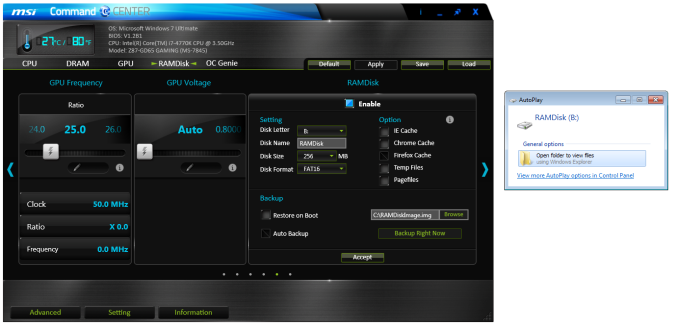 If a user has a large pool of memory to use, any amount could be used to open up a RAM Disk and use it as a cache for some of the more readily used programs, such as web browsers, temp files or even page files.
Also available through CC is OC Genie, monitoring tools and an alert tool in case various values fall outside safe limits.
MSI Z87-GD65 Gaming In The Box
When a product range is diverted away from the main SKU stack with specific branding, it opens up the possibilities when it comes to in-the-box contents. An overclocking range needs extra features related to overclocking, and thus a gaming range needs extra features related to gaming. In the Z77 package this was not particularly the case, and with the Z87 package we get:
Driver Disk
Quick Start Guide
Manual
Rear IO Shield
MSI Gaming Door Sign
Stick-on MSI Gaming Shield
Four SATA cables
Flexi-SLI bridge
VCheck Extension cables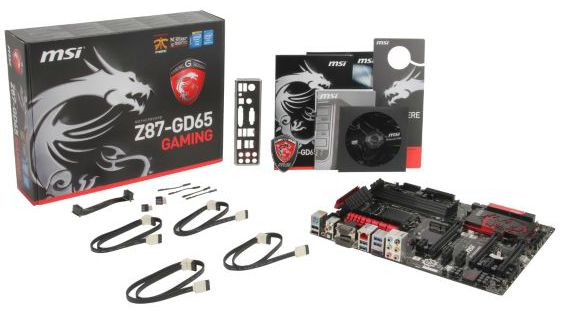 The door sign and gaming shield are arguably extras related to gaming, allowing the user to express a pro-MSI attitude, although there does not feel as if there is anything significant extra beyond the usual SATA cables and SLI bridge.
MSI Z87-GD65 Gaming Overclocking
Experience with MSI Z87-GD65 Gaming
Previous experiences overclocking on MSI motherboards have been fairly dichotomous. On the one hand, most of the time, they perform rather well, but it can be a struggle (mostly due to the lack of menu option ordering) to get there. In other situations, overclock performance can be over in left field, the wrong side of the foul line, as we saw with the Z77A-GD65 Gaming compared to later tests.
Thankfully however the Z87-GD65 Gaming has stepped up to the plate in terms of performance, but still has a small issue of menu option ordering. To start, the automatic overclock options are very simple – you have OC Genie on or off, and you can select between two levels (high/low, or gaming/extreme if you prefer). This to a certain extent does not help when dealing with manual overclocking as there is nothing to guide the manual settings, but based on our previous experience we were able to push our good CPU to a decent CPU speed. One other note worth mentioning is that the LLC performance of the Z87-GD65 is spot on – a case of what you set is what you get / is reported, and confirmed by a fellow UK overclocker.
The only issue with the beta BIOS we tested was that we could not reduce the VRIN voltage – the lowest option was 1.80 volts or Auto. This should be fixed in a later BIOS update.
Methodology:
Our standard overclocking methodology is as follows. We select the automatic overclock options and test for stability with PovRay and OCCT to simulate high-end workloads. These stability tests aim to catch any immediate causes for memory or CPU errors.
For manual overclocks, based on the information gathered from previous testing, starts off at a nominal voltage and CPU multiplier, and the multiplier is increased until the stability tests are failed. The CPU voltage is increased gradually until the stability tests are passed, and the process repeated until the motherboard reduces the multiplier automatically (due to safety protocol) or the CPU temperature reaches a stupidly high level (100ºC+). Our test bed is not in a case, which should push overclocks higher with fresher (cooler) air.
Automatic Overclock:
OC Genie can be applied either physically on the board or in the BIOS with a click. Both give the same overclock settings, and both are affected by the OC Genie DIP switch on board, which gives the option of two levels of overclock. Here are our results:
At OC Genie Level 1, the CPU was set to 40x100 at 1.100 volts in Static mode, leaving LLC on Auto and boosting CPU Power/Current limits to 255 W and 256 A respectively. At this setting, the system reported a load voltage of 1.099 volts, passed PovRay with a score of 1661.79, and passed OCCT with a peak temperature of 67C. The setting also applied XMP.
At OC Genie Level 2, the CPU was set to 42x100 at 1.200 volts in Adaptive mode, leaving LLC on Auto and boosting CPU Power/Current limits to 255W and 256A respectively. At this setting, the system reported a load voltage of 1.201 volts, passed PovRay with a score of 1730.08, and passed OCCT with a peak temperature of 74C. The setting also applied XMP.
Overall I would prefer a few more automatic overclock options. Many manufacturers have noticed that by offering several options from 4.0 GHz to 4.5 GHz that this allows users to see the slow climb in settings required for higher manual overclocks.
Manual Overclock:
The manual overclock options can either be performed in the OS under Control Center or Intel XTU, but I typically perform my overclocks in the BIOS so we head there. MSI's overclock options are unfortunately far from being structured – every option is just put in a list with a sense of vague order but not really helping the user too much. Thankfully they have added in a help box to tell users what setting does what – all this needs now is suggested values.
For our manual testing we start at 4.0 GHz (40x100) and 1.000 volts. On a successful stability test, we raise the multiplier, and on a failure we raise the voltage by 0.025 volts. For the MSI board, we left LLC and CPU VRIN on automatic. Our results are:

ASRock Z87 Extreme6/AC Overview
The name of this motherboard gives the game away – we finally have 802.11ac coming to desktops! The ASRock uses a Broadcom BCM94352HMB, a 2x2:2 dual band a/b/g/n+ac half-height mini-PCIe card, which when paired with a D-Link AC router gave peak speeds of 350 Mbps read / 300 Mbps write through a one-wall block of flats scenario (with over 20 APs in range).
Aside from AC connectivity, the ASRock Z87 Extreme6/AC has something to prove. Our last ASRock review before this was on the Z77 OC Formula, a board I dubbed at the time 'the best ASRock motherboard I have ever tested'. ASRock are improving on their products, as the Z77 OC Formula showed, and I hoped that some of that feel has filtered down into the channel range.
If you read my MSI review before this, I remarked on the fact that in any motherboard segment a manufacturer has to decide if they want to beef up the general features or provide a knockout feature to entice customers. While this sounds like a spectrum from one end to the other, ASRock try to have their cake and eat it too, and the Extreme6/AC seems to succeed. Sales permitting, for a $30 bump over the MSI motherboard, along with the AC, we have a total of 10 SATA 6 Gbps ports, eight USB 3.0 ports, a USB 2.0 port sticking out of the motherboard, dual Intel NICs (I217V, I211AT), the full range of video outputs, a HDMI input to simplify an entertainment center, and Purity Sound (another ALC1150 implementation).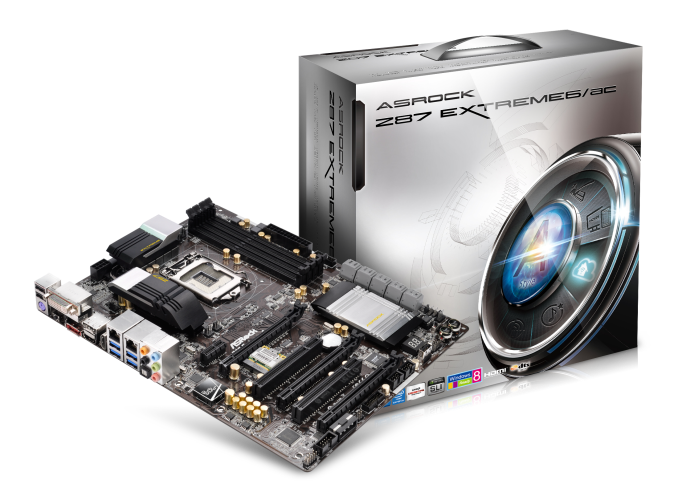 There is a couple of tradeoffs – to start not all the fan headers are 4-pin, the motherboard itself does not have a top coating to hide traces, the power delivery has slightly smaller heatsinks than the competition and the extra VGA power comes from a 4-pin molex rather than a SATA cable. One might also argue that the power delivery might not be as robust as the 40A PowIRStages used by Gigabyte, for example. Nonetheless, the BIOS software is still as good as the Z77 OC Formula, and the software has been updated to ASRock's new A-Style methodology.
Performance wise there was nothing particular to complain about – all the CPU and GPU tests were good for a system that enables MultiCore Turbo. With XFast still part of the ASRock package we scored new records in USB 2.0 and USB 3.0 testing. Unfortunately the DPC Latency is higher than expected for a Z87 motherboard, even with the ASRock software turned off, and there seemed to be no way of determining the CPU voltage in software while in the OS due to ASRock's software reading the wrong voltage. A couple of obvious spelling mistakes also crept into the software.
While not necessarily the fault of ASRock, overclock testing was a little fractious because of two reasons. Firstly my review board had an older version of the heatsink which unfortunately would not screw back in properly – ASRock have sent me a replacement board since but I will need to retest. Secondly because we were testing so many boards this time round I had to use more than one CPU for the tests, and our second CPU was a bit of a dog. I retested overclocking with the same CPU as the MSI and Gigabyte, but the VRMs not firmly secured were the limiting factor. I will be retesting in due course, but up until the point the VRMs became limiting, the ASRock seemed really good at applying overclocks.
Overall, at $220, the ASRock Z87 Extreme6/AC is a nice motherboard with plenty of functionality at a good price point – no other board in this price bracket (especially with an initial $20 rebate at launch for NA) offers 802.11ac, dual Intel NIC, 10 SATA ports and 8 USB 3.0 ports. The $40 difference to the Gigabyte Z87X-UD3H essentially pays for that WiFi and dual NIC solution, but with that rebate the Z87 Extreme6/AC is very worthy of an award and a recommendation.
Visual Inspection
Compared to the other motherboards in this review, the ASRock Z87 Extreme6 is less 'in-your-face' visually than the others. There are no primary colors, no mythical beasts, and no attempts to hide the traces. It is not much of a looker, but there is always a debate whether good looks actually sold a decent number of motherboards – it certainly helps if one looks nice at the high end, but for a 24/7 system under the desk, looks do mean squat (as long as it is not a mismatched off white-orange with bad PCIe placement).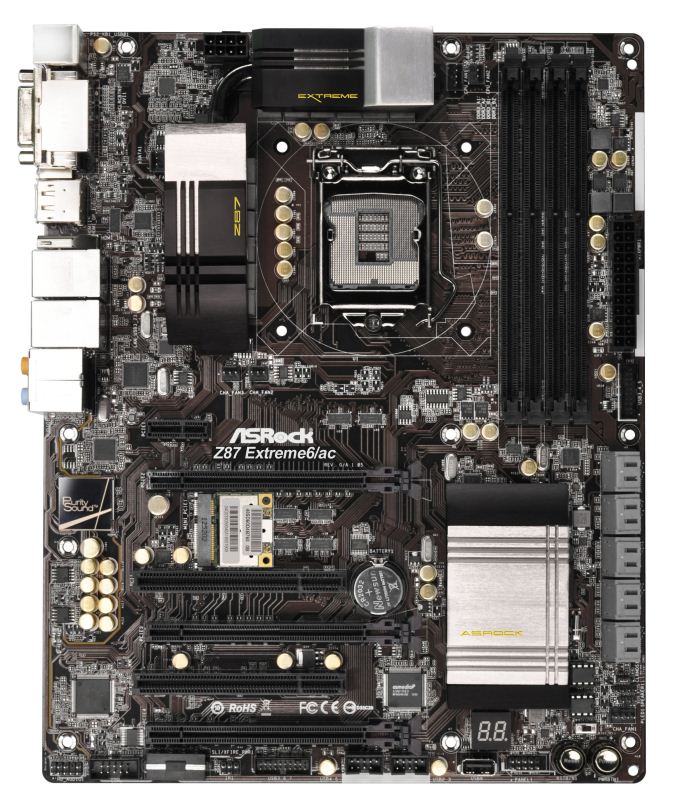 Starting with the socket area, and we can see ASRock are right up to the edge of the Intel xy specifications with the VRM heatsinks and the memory slots, meaning big air coolers might have some trouble with high profile memory here. In the socket area we have access to five fan headers – one 3-pin to the left of the heatsink, two 3-pin below the VRM heatsink, and a 4-pin + 3-pin between the heatsinks and the memory slots. The final fan header on board is a 4-pin below the SATA ports.
A little icing on the cake would have been single-latch memory slots, but it seems the double-latch is still the preferred choice for the $200 segment. Moving clockwise around the board we get our 24-pin ATX power connector, a USB 3.0 header, and then ten SATA 6 Gbps ports. Six of them are from the chipset, and the other four are powered by a pair of ASMedia 1061 controllers. Out of our total 18 PCH Flex IO ports on board, this means we have six for SATA 6 Gbps ports, we also have four for USB 3.0 (PCH are headers, ASMedia on Rear IO) leaving eight for PCIe 2.0 lanes.
The chipset heatsink is large, covering the chipset and SATA controllers, and between the heatsink and SATA ports is a pair of removable BIOS chips for ASRock's multi BIOS solution. The power/reset buttons and two-digit debug LED are also in this corner.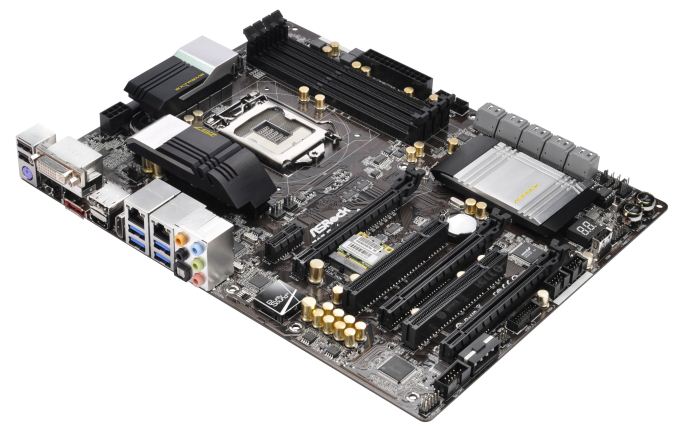 Along the bottom of the board we have our front panel audio, a COM port, a 4-pin molex power connector for VGA, a second USB 3.0 header, two USB 2.0 headers and a USB 2.0 port sticking out of the board. This is usually a feature reserved for server motherboards, whereby if software needs a USB verification dongle it can be placed inside the case and locked away. It may have limited usage on a consumer motherboard (a bit like TPM), but as long as it does not get in the way I reckon it is a good addition to have.
The PCIe layout for GPUs uses an x8/x4/x4 layout, meaning three-way CrossFireX or two-way SLI, although users should remember that SLI requires x8/x8, so putting anything into that third slot drops the second to x4, disabling SLI completely. This is the tradeoff between a PCIe 3.0 x8/x4/x4 setup and a PCIe 3.0 x8/x8 + PCIe 2.0 x4, which can support two-way SLI with a third card installed but uses four lanes from the PCH. Also on the PCIe layout we have an x1 and a pair of PCI.
The last main feature physically on the motherboard is ASRock's audio solution, dubbed Purity Sound, which uses a Realtek ALC1150, the new high-end Realtek codec. In order to get the best out of these codecs, manufacturers are putting more effort into audio, separating as much of the electrical routing as possible to avoid noise, as well as an EM shield over the codec. As with the MSI and ASUS solutions, we have a filter caps to reduce noise and headphone amps to support high impedance headphones. The Realtek ALC1150 is rated at 115 dBA SNR output and 104 dBA SNR input in a perfect scenario, and in our testing the ASRock gets very near those numbers.

Onto the IO, and here is where ASRock has switched it up a little. Unlike the other motherboards in this review, ASRock have combined the DVI-D and VGA connections into a single DVI-I, reducing the IO footprint. Due to ASRock supporting HDMI-In we have two HDMI ports on the rear IO, with the one that is vertical being the Input. This means overall we have the full gamut of video outputs, alongside a keyboard PS/2 port, two USB 2.0, a Clear_CMOS Button, an eSATA (ASM 1061, supports Port Multiplication), HDMI-Out, DisplayPort, HDMI-In, dual Intel NICs, four USB 3.0 ports (ASMedia) and our audio outputs.
Board Features
ASRock Z87 Extreme6/AC
Price
Link
Size
ATX
CPU Interface
LGA-1150
Chipset
Intel Z87
Memory Slots
Four DDR3 DIMM slots supporting up to 32 GB
Up to Dual Channel, 1066-3000 MHz
Video Outputs
DVI-D
HDMI-Out
DisplayPort
HDMI-In
Onboard LAN
2 x Intel (I217V, I211AT)
Onboard Audio
Purity Sound (ALC1150)
Expansion Slots
3 x PCIe 3.0 x16 (x16, x8/x8, x8/x4/x4)
1 x PCIe 2.0 x1
2 x PCI
Onboard SATA/RAID
6 x SATA 6 Gbps (PCH), RAID 0, 1, 5, 10
4 x SATA 6 Gbps (ASMedia 1061)
1 x eSATA 6 Gbps (ASMedia shared)
USB
4 x USB 3.0 (PCH) [2 headers]
4 x USB 3.0 (ASMedia 1041) [4 backpanel]
Flex IO
x+y+z = 18

| | |
| --- | --- |
| SATA 6 Gbps | 6 |
| USB 3.0 | 4 |
| PCIe 2.0 | 8 |

Onboard
10 x SATA 6 Gbps
2 x USB 3.0 Headers
2 x USB 2.0 Headers
1 x USB 2.0 Port
6 x Fan Headers
1 x COM Port
Front Panel Audio Header
Front Panel Header
Power/Reset Buttons
Two Digit Debug LED
Power Connectors
1 x 24-pin ATX Power
1 x 8-pin CPU Power
1 x Molex VGA Power
Fan Headers
2 x CPU (4-pin, 3-pin)
1 x PWR (3-pin)
3 x CHA (4-pin, 2 x 4-pin)
IO Panel
1 x PS/2 Keyboard Port
2 x USB 2.0
DVI-D
Clear_CMOS Button
1 x eSATA 6 Gbps
DisplayPort
HDMI-Out
HDMI-In
Intel I217V NIC
Intel I211AT NIC
4 x USB 3.0 Ports
Audio Jacks
Warranty Period
3 Years
Product Page
Link
Ten SATA ports, eight USB 3.0 ports, dual Intel NIC, 802.11ac dual band WiFi, HDMI-In, Realtek ALC1150 audio, combined DVI-I. All we need now is the kitchen sink.
Compared to the other motherboards in this review, you may notice we do not have voltage check points but smaller heatsinks and perhaps a less aesthetically pleasing motherboard. But it does have those features.
ASRock Z87 Extreme6/AC BIOS
Over the last few ASRock motherboards I have reviewed, the BIOS has been steadily improving into something aesthetically pleasing as well as easy to use with a lot of additional extra features. ASRock's mentality over the past couple of years has been to attempt lots of little minor adjustments and see which ones pique the interest of its consumers, with a few major additions here and there. In the BIOS itself, we have an almost high-contrast setup (which I prefer) which makes it easy to read, along with high definition images where necessary. The only thing really missing is perhaps a persistent ribbon of information regarding the motherboard name, CPU used and memory installed, with speeds of each.
The entry screen to the BIOS is initially our Main screen, which gives some basic info on the system at hand: motherboard name and BIOS version; CPU name and current speed; total memory installed along with DRAM slot detection and current speeds. I would prefer some additional information here as well such as CPU temperatures and voltages, perhaps fan speeds, in a visually pleasing representation.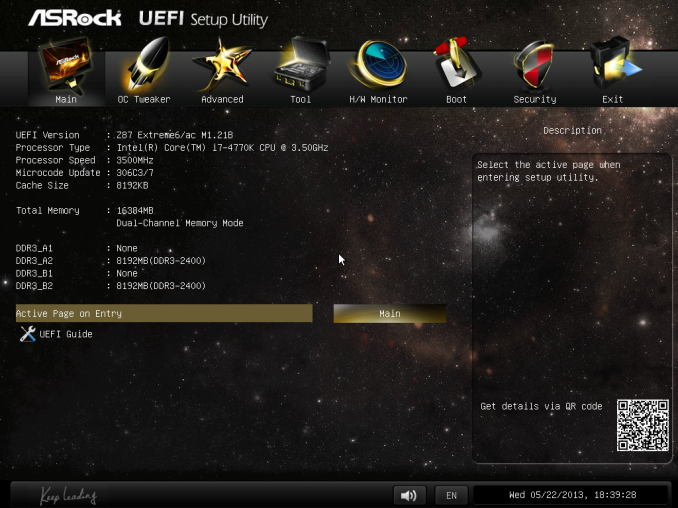 The couple of features at the bottom are worth noting. The first is an option to adjust the page on entry, meaning that overclockers can go straight into the overclocking options menu when entering the BIOS rather than have to navigate through the Main menu. The final option is a UEFI Guide option, which when selected will go through a quite slow text guide of the different features of the BIOS. This is in part a nice idea for new users, though I believe the guide has to be more refined than this initial version.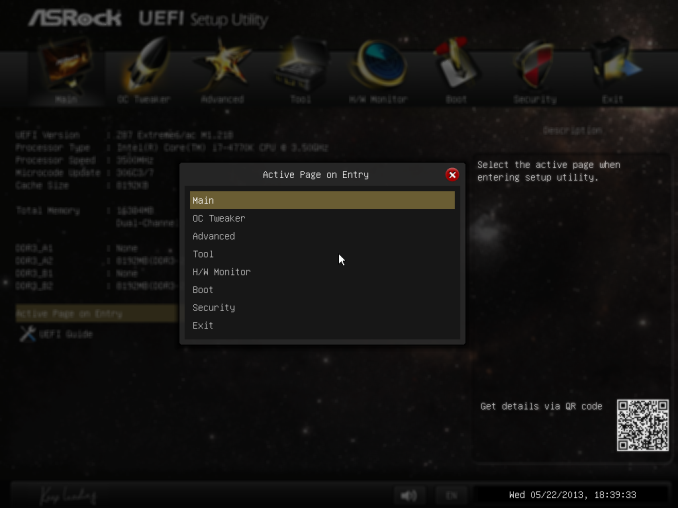 Most enthusiasts are going to head on over to the OC Tweaker menu to adjust overclocking options. ASRock have separated the overclock options under headings for a single menu, starting with automatic overclock options (4.0 GHz to 4.8 GHz in 200 MHz jumps), then CPU, DRAM, FIVR (Fully Integrated Voltage Regulator), and finally voltages. We get separate menus for DRAM timings, which also comes with a memory tweaker for XMP settings.
In the Advanced Menu is where we get our enable/disable controller options, along with adjusting the SATA configuration for RAID setups.
The ASRock Tools menu is where we often find ASRock's newest additions to the BIOS. Every generation we seem to get something new – from the past we get the System Browser, the Online Management Guard, Dehumidifier function and Internet Flash. New for this generation is the 'UEFI Tech Service', 'EASY RAID Installer' and 'Easy Driver Installer' options.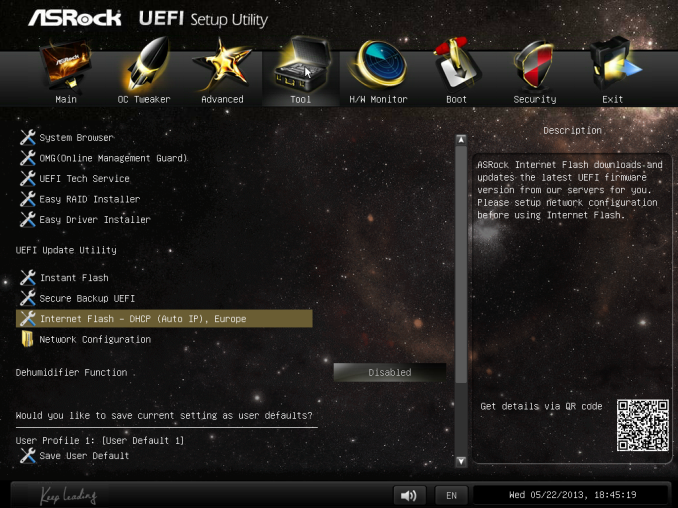 Starting with the System Browser, this is a top down pictorial representation of the motherboard, and the different items that are inserted into the motherboard before POST are shown here, such as the memory, what is detected in the PCIe slots, as well as SATA and Rear IO configurations. This is particularly helpful if a user suddenly loses access to a GPU, memory stick or hard drive – if it is not detected in the System Browser, it will not be detected in the operating system.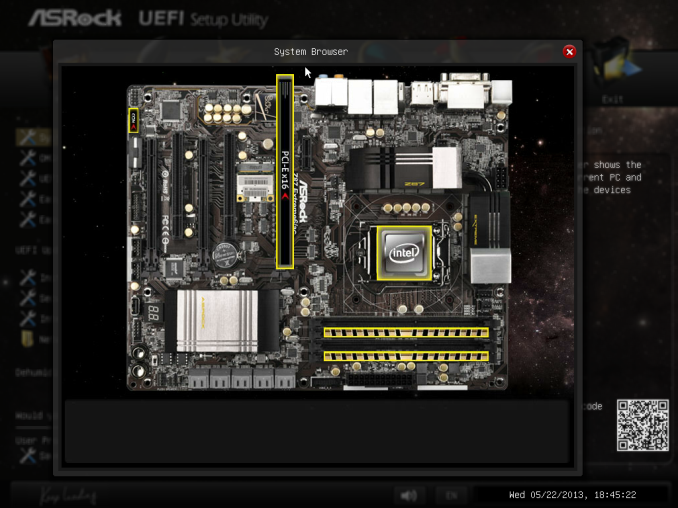 Online Management Guard (OMG) is a simple attempt to disable network ports at various times of the day. While easily circumnavigated by adjusting the BIOS time or manually disabling the option in the BIOS, the purpose behind this feature is to adjust when children are allowed to use the internet, or for businesses to disallow 'casual browsing' after hours.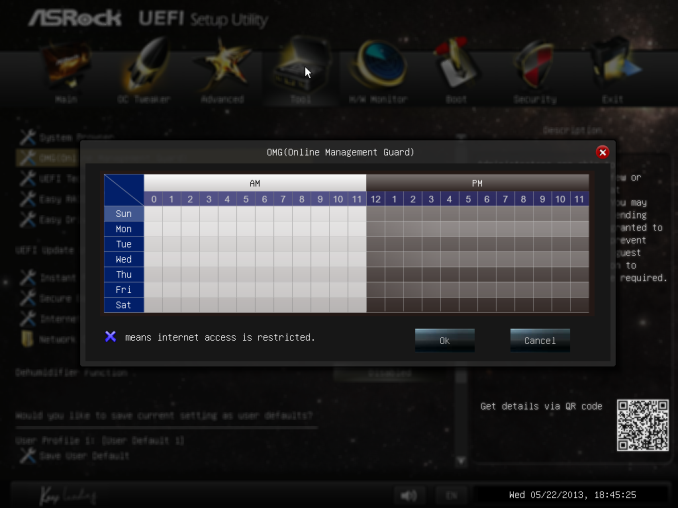 The UEFI Tech Service option is designed to send problem reports to ASRock directly from the BIOS. This feature only works if you have a wired Ethernet connection to the internet, and sends ASRock an email with the BIOS information used as well as a description provided by the user. There is a similar feature in the OS software.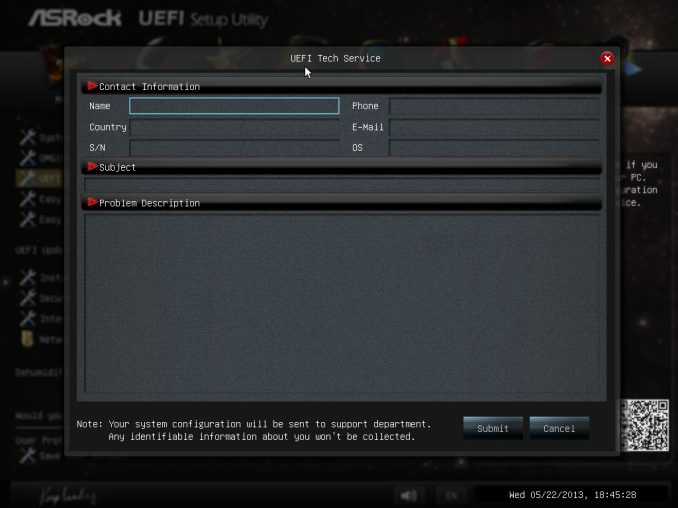 The Easy RAID installer helps users take the RAID driver off the driver disk and place it onto a USB stick for installation of a Windows OS onto a RAID array, and Internet Flash allows users to update the BIOS with the latest version from ASRock's online servers without jumping into an OS.
Due to the 3-pin fan headers on board the fan controls are basic at best, found under the H/W Monitor section. ASRock allows users to provide basic control or a series of pre-defined settings: Silent, Standard, Performance and Full Speed.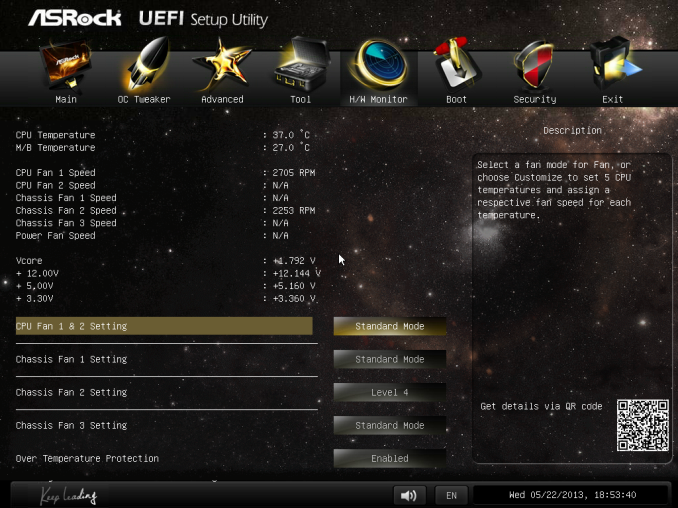 Elsewhere in the BIOS are Boot options and Windows 8 Fast Boot options.
ASRock Z87 Extreme6/AC Software
One area that ASRock needs to focus on more than any other is Software. In previous generations ASRock likes to push forward their XFast system – RAM, USB and LAN. Each of these technologies is always advertised as offering 5x performance, although specific selection of benchmark and testing for each often helps that claim. Over a number of reviews we always analyze these features, and all three can generate a positive buzz for ASRock. The only downside to the software package was, more often than not, everything else. In terms of fan controls, overclock options and monitoring software we were always left wanting.
For the Z87 platform release, ASRock have decided to re-skin their software to bring it more into this decade. Instead of the ASRock Extreme Tuning Utility (AXTU), we get A-Tuning, which opens up with automatic overclocking options: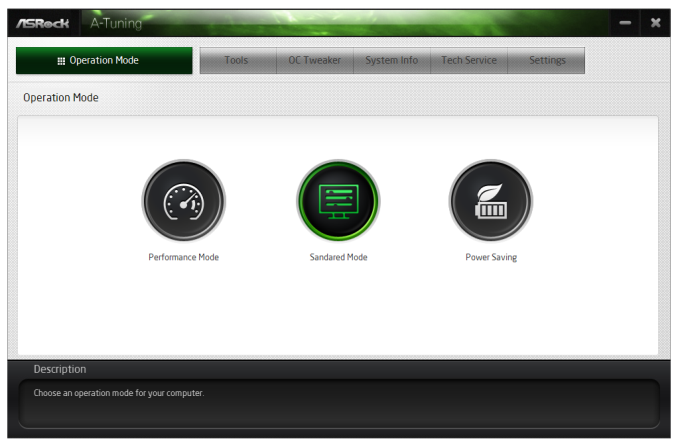 By default we are in 'Sandared Mode' [sic] which is the default method of operation. In Performance Mode the system essentially moves into 'High Performance' power mode, offering 39x CPU multiplier at both idle and any core loading. In Power Saving mode the system reduces to 8x when idle, and then under continued load slowly ramps up the CPU speed to the full 39x. This process takes about 5-8 seconds of constant load to reach the top speed ensuring that short operations do not cause the CPU to draw a lot more power than required. When Performance Mode is selected, an additional option 'Auto Tuning' is given which performs a tuning based automatic overclock – we go over this operation in the Overclocking section.
The Tools menu is next, and l would assume by the amount of whitespace and the size of the buttons to be the area where future ASRock ideas are implemented: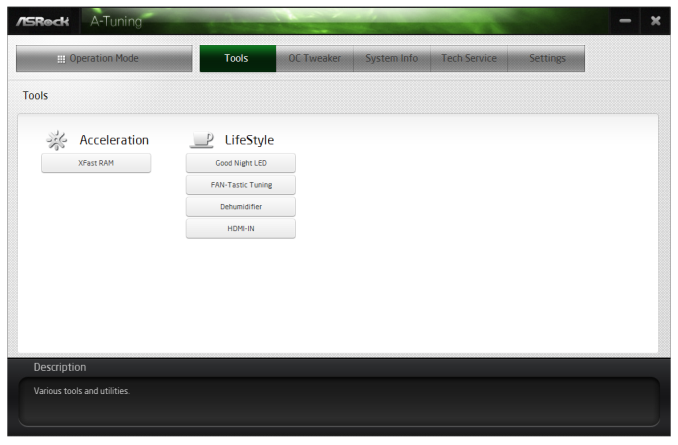 X-Fast RAM
The first up is XFast RAM which gets a new interface but performs much the same operation as last generation – partition an amount of memory off for cache and temporary files.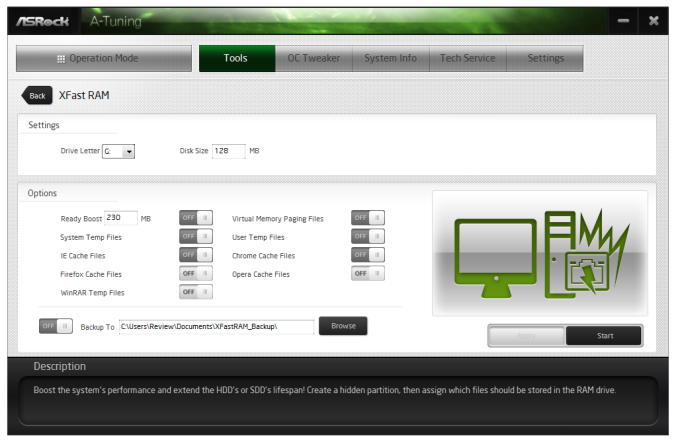 Good Night LED
The Good Night LED menu option allows users to disable any lights on the motherboard or connected to the motherboard when the system is in operation. This allows users who have to leave their PC running overnight in the same room in which they sleep to not be distracted by the lights on their PC.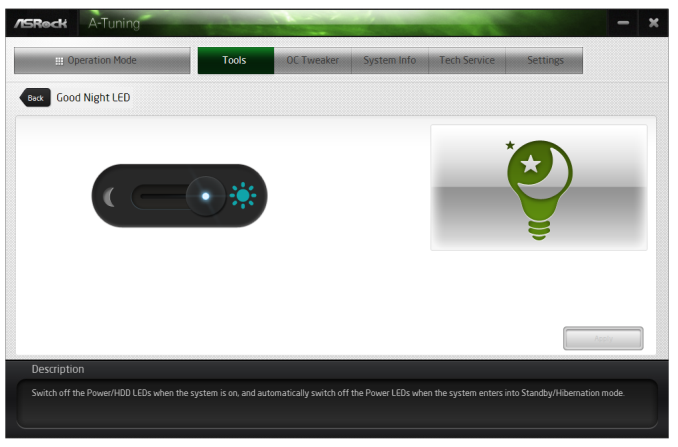 FAN-Tastic Tuning
In order to mitigate the noise of the fans, or produce a fan profile suitable for overclocking, ASRock have a fan control system that actually implements how a fan control system should work, even on 3-pin fan headers!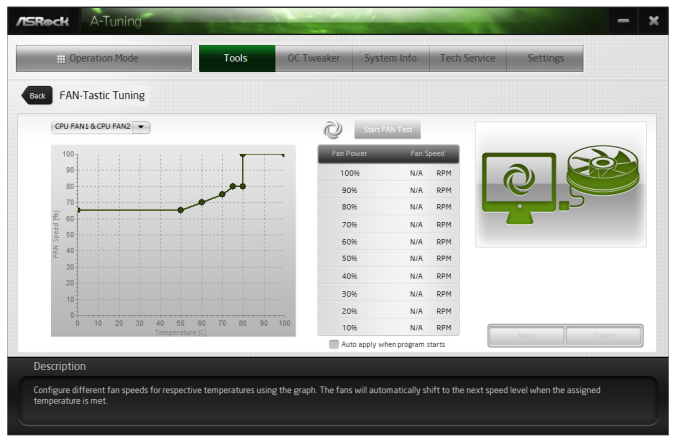 With the fan options, users can get the software to test the fan to find its power-to-RPM profile which ASRock then translates through software into an 8-point gradient graph of Fan Speed vs. temperature. This is 95% of what fan controls should be! The only thing missing is a small amount of hysteresis – fan speeds are kept at the high speed as the system cools down in order to help the system to cool down quicker.
Dehumidifier Function
The Dehumidifier function is one from last generation, offering users in humid climates to keep the fans attached to the motherboard on for a fixed amount of time after the PC is shut down. This allows the air inside and outside of the case to equilibrate faster – users in these climates can suffer from condensation if the air in the case cools down and the water saturated air causes the water to form droplets on the inside of the case. This function helps keep the temperature inside and outside the case constant after shutdown, meaning if there is an issue for condensation it would apply to the whole room, not just the case.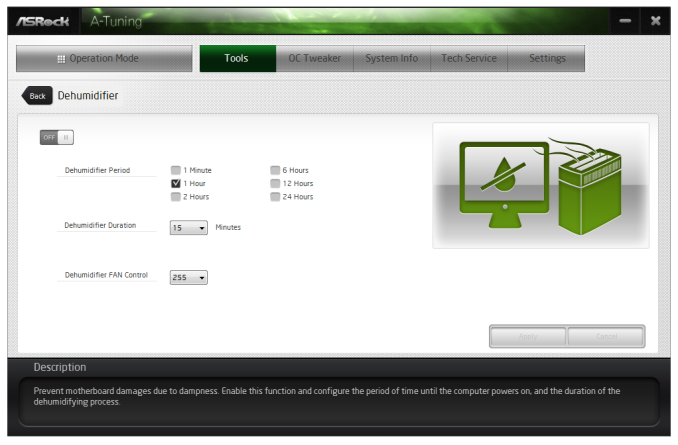 HDMI-In
One of the new features on ASRock's motherboard range is the inclusion of a HDMI Input on the rear IO. The purpose of this is to have an all-in-one entertainment system on the desk. Imagine having a PC and a console on the desk – this would require two inputs into the monitor plus extra cables around the rear of the monitor. With HDMI-In we can plug the console into the PC and then use a hotkey in the OS to switch between the two. I was unable to test the feature as I do not own a console (I sold them all), but one thing about the HDMI-In software I found was that there is an invisible window present at run time. This can affect options such as 'Show Windows Side-by-Side', as it includes this invisible window. It is also selectable by alt+tab.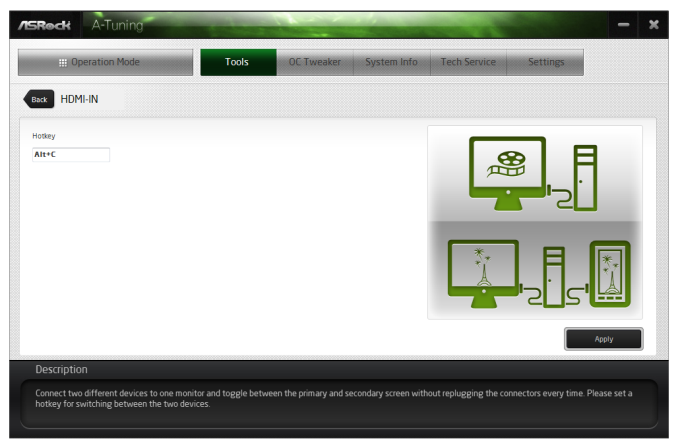 OC Tweaker
For manual overclocking in the OS, ASRock has skinned its OC Tweaker in the new style. I like the fact that the options are now easier to see and manage, although ASRock are missing the ball by not including the 'current' values alongside the 'adjusted' ones. This would allow users to see what is currently selected against what is currently applied. A lot of motherboard manufacturers are also offering inputs by typing as well as sliders, which is something that ASRock may want to look into for the future.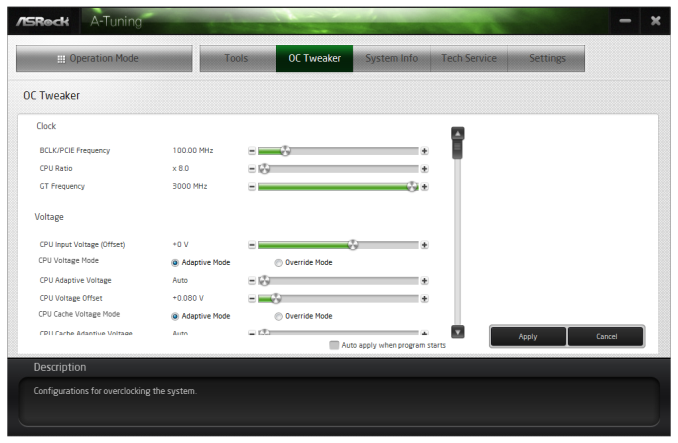 The information for the system is under System Info, which acts more like a Hardware Monitor: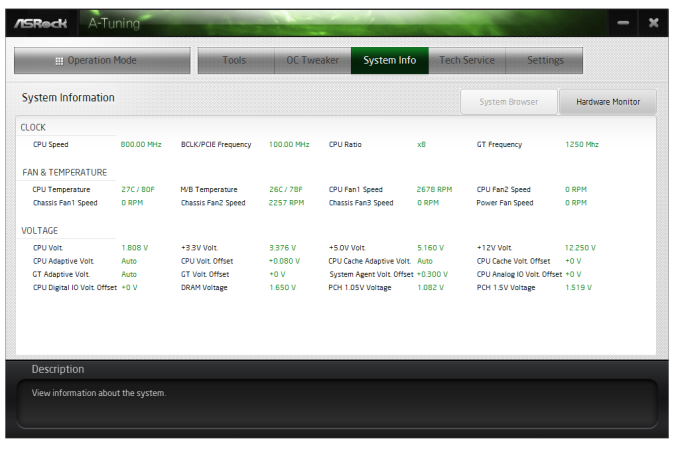 One obvious flaw I spotted is the CPU Voltage reported. As in the screenshot above, it shows 1.808 volts, which is more likely the CPU VIN voltage (from the FIVR) rather than the voltage actually being applied to the CPU. This was endemic of a wider problem in that there was no software tool I could use to detect the real voltage, indicating this is more likely a BIOS issue rather than a software issue. I suspect that this error would be updated in the latest versions of the BIOS and software.
XFast USB
One of the more long-standing positive features in ASRock's product stack is XFast USB. The premise is simple – the Windows 7 USB driver is not as optimized as it could be. With XFast USB ASRock are implementing a BOT driver to both USB 2.0 and USB 3.0 which improves USB peak speed at the expense of latency. In our USB testing we see this as a large improvement in terms of both peak and real-world speeds.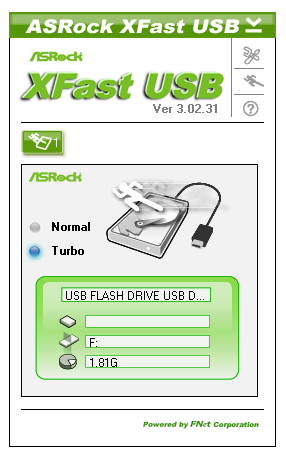 XFast LAN
ASRock bundle a licensed and skinned version of cFosSpeed to help with network management. XFast LAN allows users to give certain programs a higher priority over others, meaning they are rearranged in the Windows network stack appropriately. XFast LAN also offers extensive analysis of network traffic, although as this is all a software implementation, could arguably increase CPU loading.
ASRock Z87 Extreme6/AC In The Box
As we are moving up into the $220 bracket with the Z87 Extreme6/AC, the package as a whole has to be a step above that of the $170 models. Not only in features, this means the box as well. For the ASRock motherboard, we get the following:
Driver CD
User Guide
Rear IO Panel
Front USB 3.0 Panel with SSD Holder
Rear Bracket for USB 3.0 Panel
802.11ac WiFi Antenna
Six SATA Cables
Rigid SLI Bridge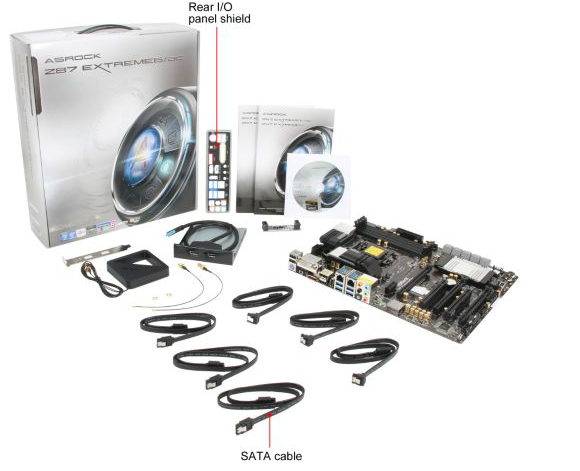 The addition of the USB 3.0 Front panel is always a plus – as we get three USB 3.0 headers onboard it makes sense to add in that front panel. The WiFi antenna is a new design although it essentially requires it to be suspended from somewhere to get best coverage. This is in comparison to the ASUS solutions in the past which are magnetic. The ASRock design does feel better than the last generation, but there is still room for improvement.
ASRock Z87 Extreme6/AC Overclocking
Experience with ASRock Z87 Extreme6/AC
On our last ASRock review, of the Z77 OC Formula, we had great fun playing around with all the overclock settings on what was an overclock-oriented motherboard. Due to the success of the OC Formula, ASRock are pushing some of the features down into the channel motherboards, especially when it comes to BIOS and automatic overclock options. In the OS, we get Performance Mode, Power Saving Mode and Auto Tuning, with the Power Saving mode being rather neat in exchange for some initial processing latency. The BIOS has some more typical options ranging from 4.0 GHz to 4.8 GHz in 200 MHz increments.
For manual adjustments, while ASRock's software options have an upgrade to something more friendly, I am more a fan of their BIOS controls which are neatly laid out and easy to understand, with explanations on what each setting does. In terms of performance, we were unable to push the ASRock far because our engineering sample board had issues with the heatsinks. We have a retail sample in house, but have not had time to run the tests yet! We will update this page when we do so, but up until the point where the heatsink became an issue, the ASRock felt good rising up the MHz.
The only downside in our overclock testing was the lack of any form of reliable voltage monitoring tool. ASRock's own software is configured incorrectly to report the VRIN voltage rather than VCore where it says 'VCore Voltage:', and other tools were stuck showing the stock voltage.
Methodology:
Our standard overclocking methodology is as follows. We select the automatic overclock options and test for stability with PovRay and OCCT to simulate high-end workloads. These stability tests aim to catch any immediate causes for memory or CPU errors.
For manual overclocks, based on the information gathered from previous testing, starts off at a nominal voltage and CPU multiplier, and the multiplier is increased until the stability tests are failed. The CPU voltage is increased gradually until the stability tests are passed, and the process repeated until the motherboard reduces the multiplier automatically (due to safety protocol) or the CPU temperature reaches a stupidly high level (100ºC+). Our test bed is not in a case, which should push overclocks higher with fresher (cooler) air.
Automatic Overclock:
For these automatic overclocks we were using a second i7-4770K CPU, which is a bit of a dog, failing to reach 4.2 GHz.
In the software, we are given three options: Performance Mode, Sandered (sic) Mode and Power Saving Mode. Selecting Performance Mode gives the additional option of Auto Tuning. In terms of OS options, we get an 'Optimized CPU Setting' from 4.0 GHz to 4.8 GHz in 200 MHz increments. Here are our results.
In Performance Mode, the system ran the CPU at the 39x multiplier no matter what the loading. This setting scored 1613.14 during PovRay and a peak temperature of 76C during PovRay.
In Power Saving Mode, the system runs at the 8x multiplier most of the time. When a constant load is applied, the system slowly ramps up the CPU speed in small jumps until it hits 39x – the process requires a full 8 seconds of loading to reach full speed. Due to the 8 seconds of 'less-than-peak' performance, the system scored 1524.34 during PovRay, and recorded a peak temperature of 76C during OCCT.
In Auto Tuning Mode, the system stress -tested the CPU speed at 3.0 GHz, and on a completed test raised the multiplier and started again. On this method, the system rose to 4.2 GHz and stopped, causing the system to run at 4.2 GHz during idle and at load. With this setting, the system scored 1736.67 during PovRay and recorded a peak temperature of 85C during OCCT.
Manual Overclock:
For our manual overclocks, the CPU used in the other motherboards was available for testing. Our manual overclock settings started with the system at 40x100, with the CPU voltage set at 1.000 volts, CPU VRIN set to 1.65 volts, and load line calibration at Level 1. On a successful stress test, the multiplier was raised and the test repeated; on a failed stress test, the voltage was increased by 0.025 volts and the test repeated.

Unfortunately due to the VRM heatsink issue on our board with ES heatsinks, the system did not like any voltages over 1.100 volts, causing lockups. We have a retail sample in to test, but it arrived slightly too late for us to circle back around and retest before leaving for Computex. Watch this space, it will be updated soon.
ASUS Z87-Pro Overview
With the new designs of the ASUS motherboards, we were all thrown a curveball. I for one did not expect ASUS to go with a gold/yellow color scheme, one that had up until this point been reserved for ECS' Golden Series. The ECS range was built on the basis of China, the Middle East, India, and other emerging markets where Gold means status; this could imply, combined with the global downturn in motherboard sales (~80 million 2012, expected ~77 million 2013) that ASUS wants a piece of that pie. Nonetheless, the implementation from ASUS is a little less garish and obvious, by keeping a mainly black theme and not going too overboard on the styling.
Aesthetics aside, ASUS stepped up to the mound and are ready for another pitch (enough baseball metaphors here?). In the past we have been used to their innovative features including inter alia TPU, EPU, BIOS Flashback, and Z87 brings in the new generation. On the face of it we have an updated UEFI designed to look a little more contemporary, and now there is additional customization options to allow enthusiast users to organize the options they want into a separate menu. I found it particularly useful when testing the overclocks on the Z87-Pro. We also get a new version of AI Suite for the operating system which incorporates a slick design, simplifying overclocking and making the process a more pleasurable experience both physically and visually. Regular features such as Fan XPert, USB 3.0 Boost and the new Dual Intelligent Processors IV help the user improve the experience of the platform.
In terms of performance, the ASUS is quite efficient in our comparison tests, with good scores in the Windows 7 POST time (under 10 seconds), the audio (using a Realtek ALC1150), USB 3.0 speed, and dual 7970 Metro2033 power consumption was under 500W. There are a couple of issues worth noting –the PCIe layout of PCIe 3.0 x8/x8 + PCIe 2.0 x4 from the chipset requires the PCIe 2.0 x4 to be set in the BIOS, otherwise it will default to PCIe 2.0 x1. Because this x4 shares PCIe bandwidth with various controllers (such as the ASMedia SATA Controller), users have a choice between having the controllers and an x1 or just an x4. If users do not know this and attempt a three-way AMD GPU configuration, performance will suffer. But in any PCIe combination, two compatible NVIDIA GPUs will be able to perform SLI.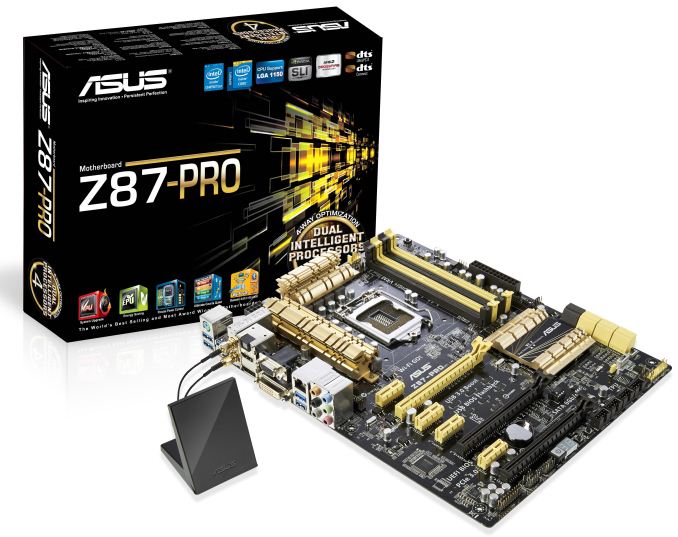 It is worth noting that ASUS is steering away from BIOSes that implement MultiCore Enhancement (their version of MultiCore Turbo). By default it will not be applied when XMP is applied for all BIOSes that start 1xxx. This would arguably give ASUS a 7% decrease in performance at stock in multi-threaded tests but ASUS' reasoning is such that some of the Haswell i7-4770K CPUs, the ones that only just get into this category, will throttle the CPU speed when using the default Intel CPU cooler when MCT is enabled. In order to counteract this, MCT has been disabled by default. In order to accommodate users who want MCT by default, users can either implement it manually or download and install a 3xxx series BIOS for their ASUS motherboard. For our testing, as the 3xxx was available, we used the BIOS that implemented MCT.
Overclocking on the ASUS gets a different sort of boost when automatically overclocking – with the TPU DIP switch on board now offering two placements, we can have a high and low type of TPU overclock. The first one places a 4770K CPU at 43/43/42/41 multipliers, whereas the second uses the 125 MHz gear strap for 34x125 (4250 MHz) on all cores. Manual overclocking was also relatively easy, with ASUS putting their usual high effort into making sure that Automatic settings for options like Load Line Calibration work very well, leaving the user to make minimal changes to get the speed they want. Our CPU hit 4.7 GHz, similarly to the other motherboards in this review, with a peak temperature in Celsius in the low 90s with our TRUE Copper CPU cooler. I did notice however that there is a difference in the temperature reported by AI Suite and OCCT of around 10C as ASUS uses a combination of the internal CPU sensor and their own on-board socket sensor to report the value.
By comparing the specification sheet of the ASUS and the ASRock, in terms of pure port numbers, the ASRock wins out, but there is a dichotomy depending on what the user wants – the ASRock has 802.11ac, but the ASUS has a better automatic overclock system and all the 4-pin fan headers are fully controllable (with good software to boot). The ASRock has HDMI-In, XFast and dual Intel NICs, whereas the ASUS has Mem_OK, BIOS Flashback, DirectKey and a TB_Header if you can get hold of a Thunderbolt add-in card. As these boards are around the same MSRP (within $10 at launch), a user is going to go for the board that either fits their needs most, or looks better, for which the ASUS wins based on their matte black finish.
Visual Inspection
Obviously what strikes at first glance is the color scheme, with ASUS aiming for various portions of the market with their gold/yellow/mustard livery. I would point out that it is not completely overdone, whereby the socket and rear IO are default silvery colors. Obviously the heatsinks are not coated with real gold, this is just a color.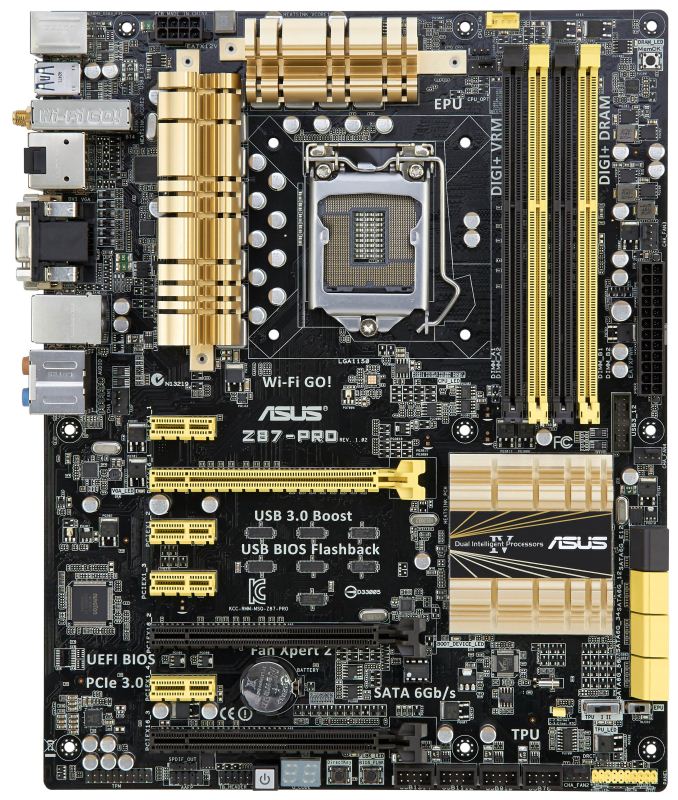 The socket area is right at the Intel specifications next to the power delivery, but we have a little extra space to the DIMMs and the sockets below. The VRM heatsinks are swathed in that gold color, and perhaps a little surprisingly these heatsinks are not heatpiped together, despite a 12+2 phase solution being used. In is helpful though that the memory slots on the Pro are the only ones in this review that are using the single sided latches.
The socket area has access to four fan headers with immediate reach, or five at a stretch, for a total of six on board and all of them are 4-pin headers. The main two for the CPU are between the power delivery heatsinks and the memory slots, with the main CPU fan header using a new design to detect between different sorts of 4-pin fan (PWM, voltage). A third 4-pin is to the bottom left of the socket area near the IO, and a 4-pin header is found either side of the 24-pin ATX power connector. The final 4-pin header is on the bottom of the board sandwiched between the front panel header and USB 2.0 headers.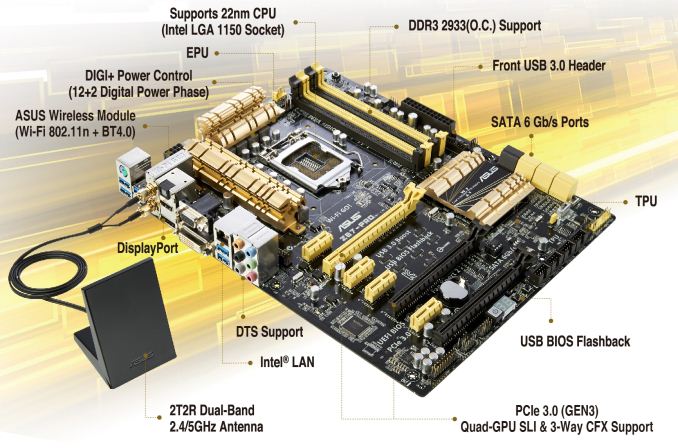 Moving clockwise around the motherboard and we reach the 24-pin ATX power connector surrounded by two of the aforementioned 4-pin fan headers but also a USB 3.0 header. Beneath these are our eight SATA 6 Gbps ports – six from the PCH in yellow and two from an ASMedia controller in black. The ASMedia SATA ports share connectivity with the PCIe 2.0 x4 slot on board, and are disabled when the PCIe 2.0 x4 slot is set to x4 rather than x1 by default.
The TPU and EPU switches come next, with the two-stage TPU clearly labeled (but might be overcast if two double length GPUs are used). From right to left along the bottom of the board we have a front panel header, a 4-pin fan header, four USB 2.0 headers, a BIOS_Flashback button, a DirectKey button, a two-digit debug LED, a power button, the Thunderbolt header for an add-in card, a front panel audio header and a TPM header. Aside from the lack of a reset button (which helps a lot during my testing), it will be worth pointing out the DIrectKey button – this allows a user to restart go straight into the BIOS at the next boot, and holding the button down will cause the system to hard shutdown.
The PCIe layout comes about as regular as they get, with the full length lanes supporting PCIe 3.0 x16 or x8/x8, and the final slot supporting PCIe 2.0 x4. We also have four PCIe 2.0 x1 slots onboard.

The rear IO on board consists of a PS/2 combination port, a total of six USB 3.0, a WiFi module (2x2:2, dual band a/b/g/n with Bluetooth 4.0), all four video outputs, an Intel NIC and audio jacks.
Board Features
ASUS Z87-Pro
Price
Link
Size
ATX
CPU Interface
LGA-1150
Chipset
Intel Z87
Memory Slots
Four DDR3 DIMM slots supporting up to 32 GB
Up to Dual Channel, 1066-3000 MHz
Video Outputs
D-Sub
DVI-D
DisplayPort
HDMI
Onboard LAN
Intel NIC
Onboard Audio
Realtek ALC1150
Expansion Slots
2 x PCIe 3.0 x16 (x16, x8/x8)
1 x PCIe 2.0 x4 (x1 by default)
4 x PCIe 2.0 x1
Onboard SATA/RAID
6 x SATA 6 Gbps (PCH), RAID 0, 1, 5, 10
2 x SATA 6 Gbps (ASMedia), RAID 0, 1
USB
4 x USB 3.0 (PCH) [1 header, 2 back panel]
4 x USB 3.0 (ASMedia) [4 back panel]
8 x USB 2.0 (PCH) [4 headers]
Flex IO
x+y+z = 18

| | |
| --- | --- |
| SATA 6 Gbps | 6 |
| USB 3.0 | 4 |
| PCIe 2.0 | 8 |

Onboard
8 x SATA 6 Gbps
1 x USB 3.0 Header
4 x USB 2.0 Headers
6 x Fan Headers
Mem OK! Button
BIOS Flashback Button
DirectKey Button
Power Button
Two-Digit Debug LED
1 x TPM Header
1 x TB_Header
Front Panel Header
Front Panel Audio Header
Power Connectors
1 x 24-pin ATX Power
1 x 8-pin CPU Power
Fan Headers
2 x CPU (1 x 4-pin detection, 4-pin)
4 x CHA (4-pin)
IO Panel
1 x PS/2 Combination Port
6 x USB 3.0
WiFi-Go Module
D-Sub
DVI-D
HDMI
DisplayPort
SPDIF Output
Intel NIC
Audio Jacks
Warranty Period
3 Years
Product Page
Link
As ASUS are the only manufacturer with features such as Mem-OK, BIOS Flashback, TPU, EPU and an IO mounted WiFi module, sometimes it is hard to quantify the worth in comparison to other manufacturers. Clearly there is significant engineering work taking place to make such functions happen, and if it requires bandwidth it often gives the potential for other manufacturers to steam ahead with more NICs, more USB ports and more SATA ports. The value in such hardware designs is partly reflected in price, but it also has to be vital in the eyes of the user.
ASUS Z87-Pro BIOS
As ASUS likes to put a fine polish on everything that gets released to the public, the BIOS is no exception. Since the inception of graphical interfaces for consumer motherboard BIOSes, ASUS has been keen to give the user as much functionality as they need without going overboard with garish visuals, as well as catering for users who are new to the BIOS. The Z77 platform BIOS from ASUS was well received, giving users a large number of options for configuration in a textual format – the Z87 implementation is another iteration along similar lines with a few new surprises.
Firstly when we enter the BIOS, we get our 'EZ Mode' ('easy', rather than ee-zed) similar to the last generation but with a few minor updates. Firstly the font is changed to a pixelated form of common fixed-length word processing fonts: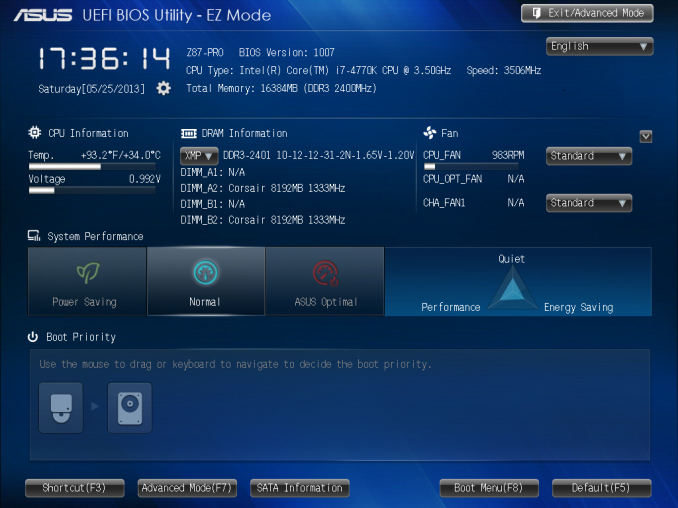 On this front screen we get detail on the motherboard in use, the BIOS version, the CPU installed, the speed of the CPU, the total memory installed, the CPU information (temperature/voltage), the DIMM slot recognition and fan speeds. An addition to this screen is that we can apply XMP without going into Advanced mode with a small drop down in the DRAM Information section. The fans too can be adjusted with their own drop downs: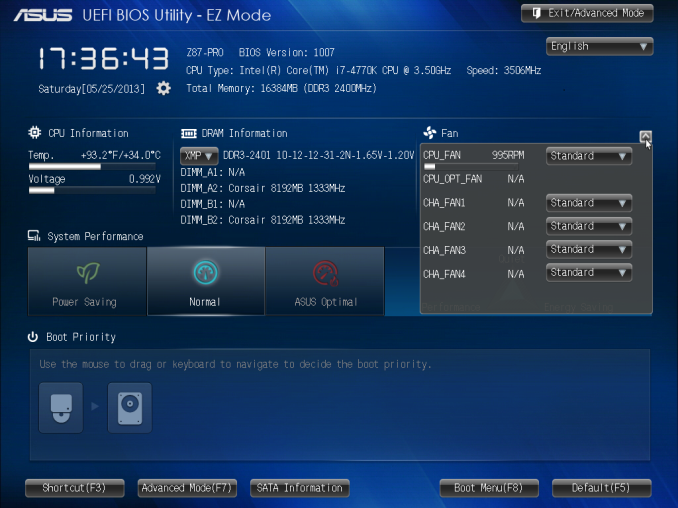 For users that want to access Advanced Mode but a specific menu, the Shortcut (F3) option at the bottom defaults to the following: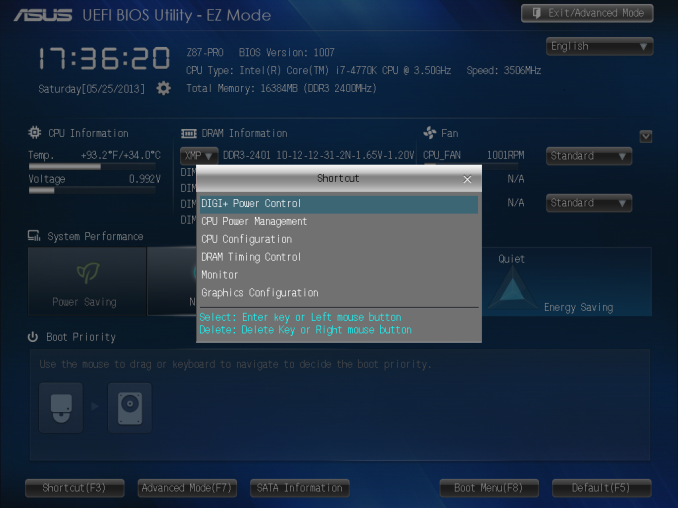 When entering the BIOS Advanced Mode, we get put into the Main tab to begin with: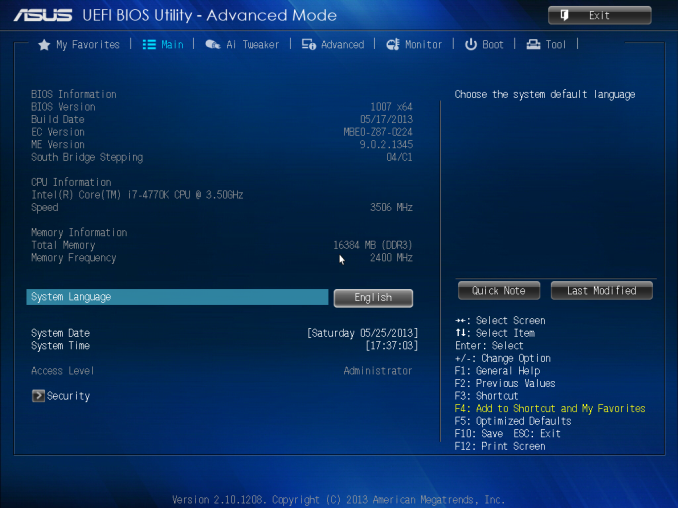 Several options are new to the BIOS that are worth pointing out. On the right hand side we have two new options – Quick Note and Last Modified. By choosing Quick Note, a user can leave notes in a notepad type window for future reference.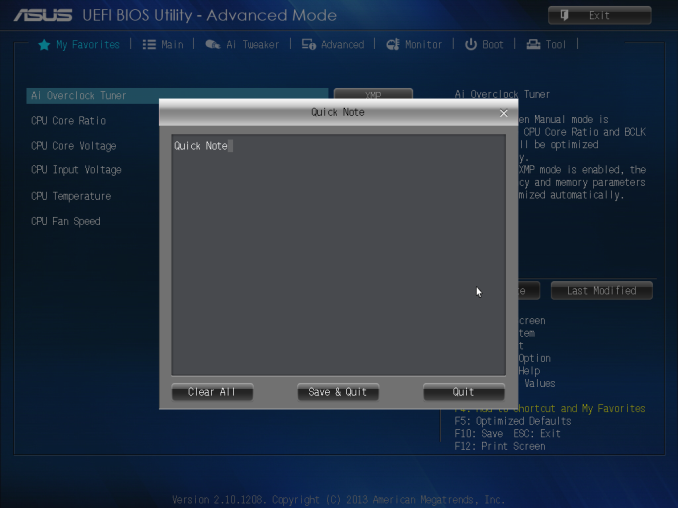 Last Modified does what it says on the tin – it tells the user what options have been changed in the BIOS since the system was booted. For example it shows the following options when I select XMP from default: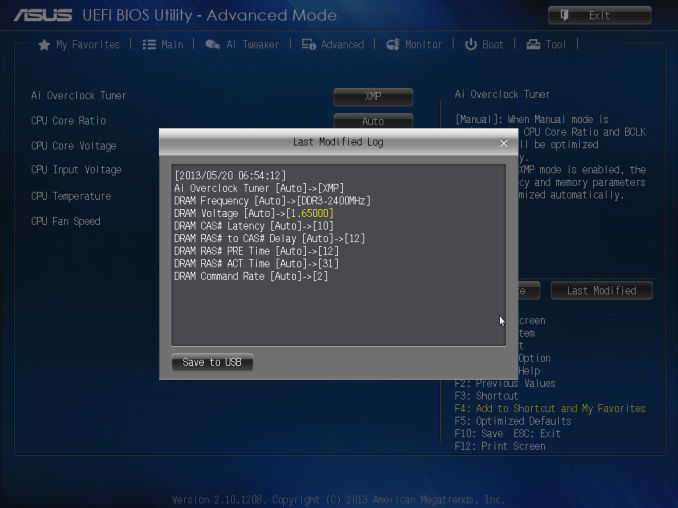 Another feature shown on the Main screen is on the right hand side and in yellow, labeled 'F4: Add to Shortcut and My Favorites'. This is pointing to the tab on the top left of the BIOS, called 'My Favorites'.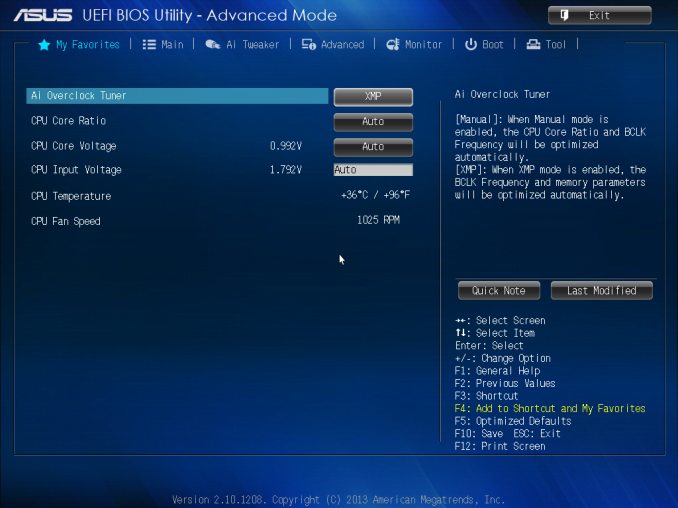 My Favorites allows users to select any option in the BIOS they want and place it in this menu. As shown in the screenshot above, I have copied a few of my typical overclock options to My Favorites. This is of invaluable help to overclockers who use the BIOS frequently – it allows these users to place the options they used most frequently (CPU Ratio, CPU Voltage, Memory sub-timings) into a single menu rather than shuffle around several menus at once. It solves the issue of 'what is the right way to show your options', as almost all the different motherboard manufacturers have their own way. Also in terms of customization, users can place their own overall tabbed menu options into the shortcut menu.
The main series of options are all found in AI Tweaker, the home for overclocking options.
One of the many positives about the ASUS BIOS is the information provided with options in the top right corner. For most of the options it provides an explanation of what the option does - if it comes with Auto/Manual selections these are described as well. As for AI Tweaker itself, our options are split into CPU+DRAM, voltages and more voltages. Advanced options for DRAM subtimings and power control are in sub menus off this main list:
Unfortunately we do not get the GPU options similar to Z77 ROG boards which show which GPUs are in the motherboard at POST.
In the Advanced menu are the controller options and additional CPU/power state adjustment options.
In the Onboard Devices options above show the available controller options, but one option should be pointed out – the 'PCI Express X16_3 slot (black) bandwidth' is set to automatic by default, which means this slot is put at x1. In order to make the final slot run at x4, this option must be adjusted, but in turning the slot to x4 we lose options such as the ASM1061 storage controller, reducing our SATA count effectively by two. This is because some of the PCIe lanes from the PCH are on switches to work with one or the other – not both. I would perhaps have preferred the PCIe x1 slots to be disabled when the x4 is enabled, but that is more my personal usage scenario, whereas ASUS has to cater for the majority of their end users as polled.
BIOS fan controls are found under the Monitor tab menu:
Ideally users will head to the OS for more extensive fan controls, but ASUS offers the basics here – an RPM lower-bound limit with silent/standard/turbo fan profiles.
Elsewhere in the BIOS we have boot options for fast booting, boot order, boot override, and also utilities such as EZ Flash and ASUS' OC Profiling.
ASUS Z87-Pro Software
Z87 software updates seem to be a trend, and ASUS' AI Suite gets a boost from the last generation. The number moves to AI Suite III, and the visuals are tuned to work with the new Dual Intelligent Processors IV on the motherboard itself. DIP4 is now an option to tune all areas of the system – TPU (Turbo), EPU (energy), DIGI+ (power control) and Fan Xpert 2 (fans).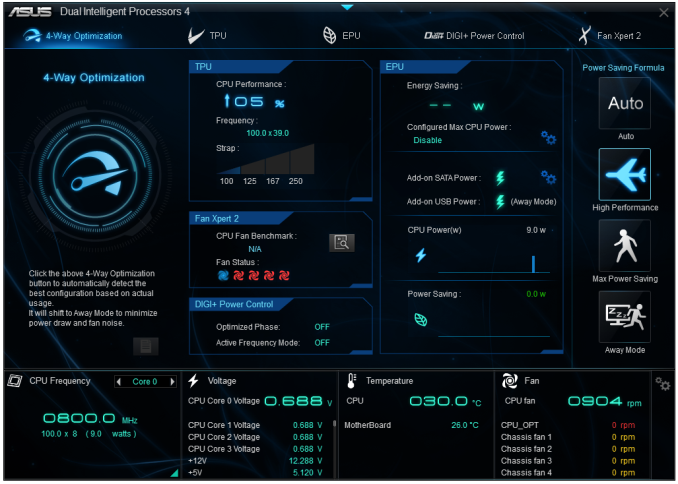 When the software is first loaded this is the main screen, offering a one button optimization tool on the far left as well as additional options for the extra modes on the right hand side, showing the results of some of the settings selected. At the bottom is a quick series of details about the CPU, voltage, temperature and fan controls. Ideally I would like to see the name of the motherboard being used, as well as the BIOS version and the CPU installed as well to make this info complete.
From this main screen each of the separate sections in its own small window has additional buttons to provide popups showing the settings, for example the fans: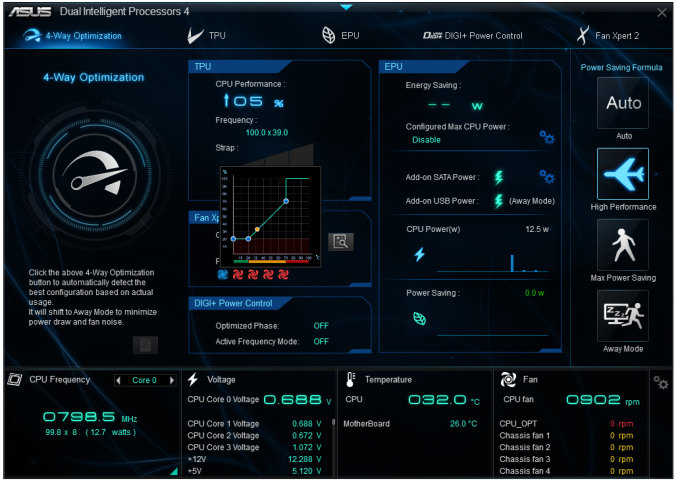 4-Way Optimization
The tool on the far left, when clicked, gives the user a set of additional options such that the 4WO can work effectively – such as labeling the location of fans, what settings to tune with the processor, and how to deal with energy saving and the fans themselves: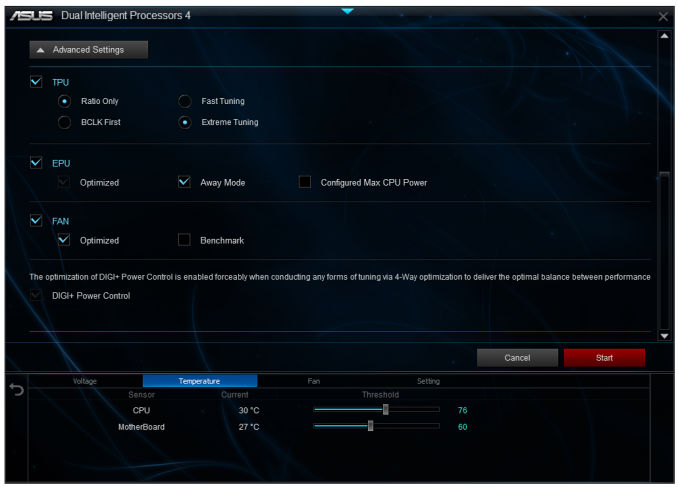 When enabled the system will test each part of the system to find a stable medium based on the advanced options. The system may need to reset once or twice to find the right default settings for the CPU overclock, whereby settings at boot time can dictate how far the system can be pushed.
We will go more into the results of 4WO in the overclocking section.
TPU
For manual adjustments of overclocks, users need to head over to the TPU option. On the front screen we get basic options relating to BCLK, Ratio and CPU Cache Ratios: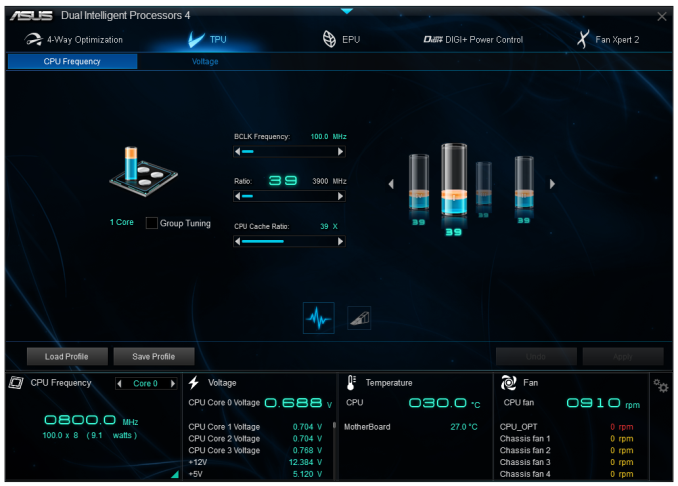 But by clicking through to the voltage screen we get a more thorough option list on dealing with voltages.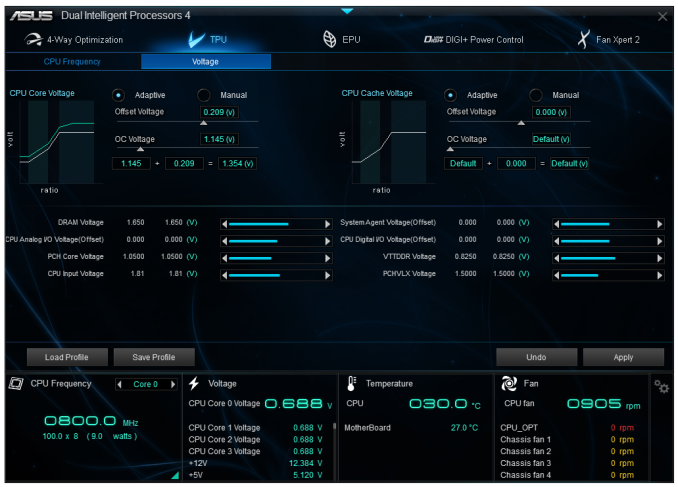 The best bits here are the graphs showing how voltage adjusts as the CPU moves in and out of power states. By adjusting the sliders for offset and OC voltages, the graph will change in various ways in order to respond to changes. What I would love to see, personally, is something like this in the BIOS, along with options for load line calibration. Obviously with OS software we have more to play with in terms of responsiveness, but I hope it can be moved into the BIOS to help overclockers.
EPU
In the EPU section we can adjust features to save power, such as when to shut the monitor off, or configure maximum CPU power draw such that the CPU will push as much voltage and MHz only up to a limit. USB power states can also be managed, and fan profiles adjusted to draw less power.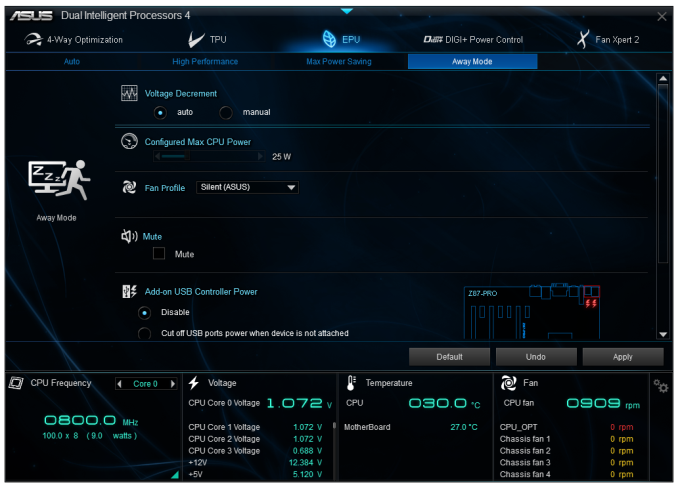 DIGI+ Power Control
As more manufacturers are jumping on the digital power bandwagon, it opens up options for the user to adjust how the power delivery of the motherboard reacts to requests for power and current. Most overclockers with some experience are used to discussing Load Line Calibration for dealing with voltages, but when pushing overclock limits it can help to give the power delivery an extra margin of headroom as not to limit the overclocks (as long as the user understands potential risks). ASUS were a prominent member in introducing digital power delivery options to consumers, and the DIGI+ Power Control in AI Suite 3 is the next step in presenting these options.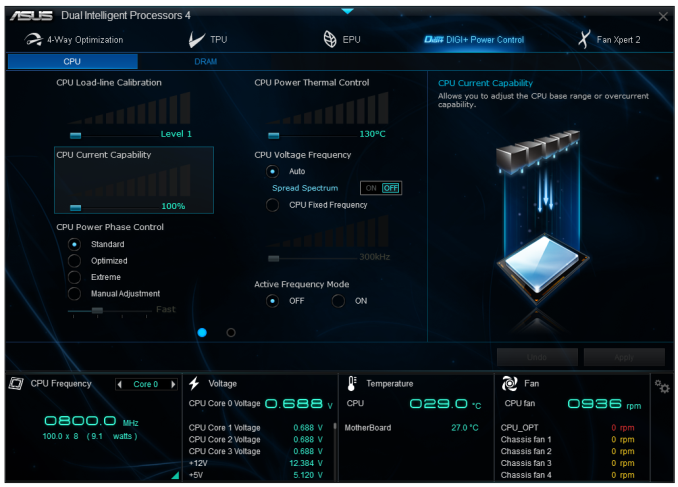 Fan Xpert 2
One of the major developments over the past 4 years of motherboards has been how to deliver the right level of fan controls to users. ASUS have been at the top of that game with Fan Xpert, and implementing it for AI Suite 3 gives users to look at fan profiles at-a-glance as well as offer predefined menu options for Silent, Standard, Turbo or Full Speed modes.
Coupled with this is an Auto Tuning option that tests the fan profiles to find the actual power-RPM profile of each fan connected to any header on board.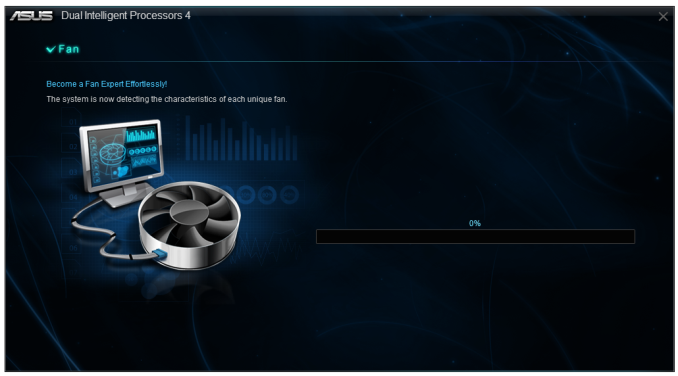 AI Suite Menu
By clicking on the pull down menu from above, users have access to the AI Suite 3 menu. This menu contains more of the regular options from the old version of AI Suite on Z77 – AI Charger+, EZ Update (now integrated), USB Charger+, USB 3.0 Boost, Network iControl, USB BIOS Flashback, Wi-Fi Go and Wi-Fi Engine.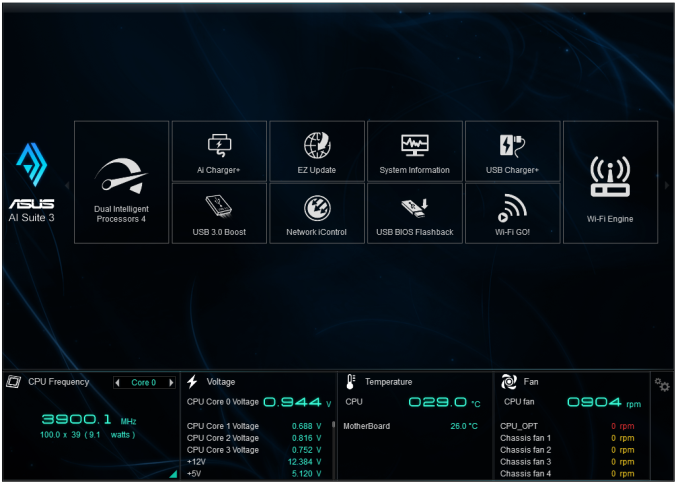 AI Charger+
With the USB Charging protocols there is a defined specification for varying amounts of current through a USB port. Typically a PC will adjust the current to ensure minimum working coherency and provide the best experience to keep the data stream intact. Unfortunately this means that the USB port does not know if you want to transmit data over a device or use the USB port purely as a charging device. Motherboard manufacturers, with the right set of controls, can force the USB port to provide more power than needed – this is the essence of AI Charger+. If your device that needs charging supports the BC 1.1 standard for mobile devices, this ASUS program will force USB 3.0 ports to triple their default current to enhance charging capabilities.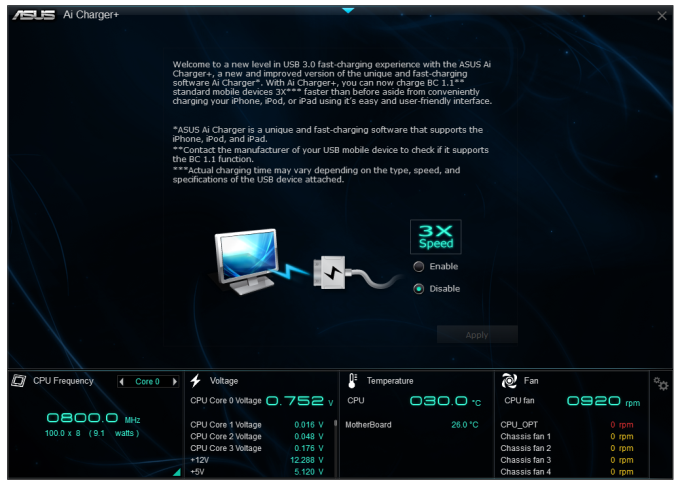 EZ Update
More motherboard manufacturers are coming to the realization that most users to not update the motherboard drivers above those found on the driver disk unless there is an immediate need due to errors or compatibility, and thus the user misses out on software and driver updates as they are improved. Having a software tool that automatically downloads and updates software/drivers is almost a mini-savior: one click and everything can be updated to the latest. MSI have had good success with the Live Update 5 software for several generations, and ASUS' answer to this is EZ Update. EZ Update is designed to probe the ASUS servers for the motherboard being used for the most up to date software/drivers, and this is compared to a local inspection of the items, leaving any discrepancies up for download.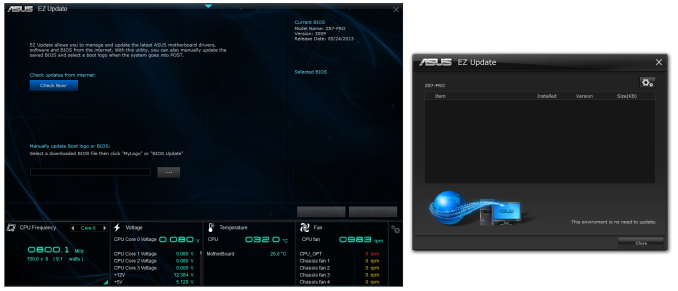 Unfortunately the tool with ASUS still exists more as an extra window tool rather than a part of AI Suite, and I am not sure whether it was because I was fully up to date or because I was testing this motherboard pre-launch, but I was offered no updates after a fresh install from my media sample.
USB Charger+
For devices that do not adhere to the BC 1.1 standard for tablets and smartphones (such as camera chargers or other devices), ASUS have provided USB Charger+ to perform pretty much the same functionality for all devices but to a single USB 3.0 port which also charges at the higher rate when the machine is under sleep, hibernate or shutdown.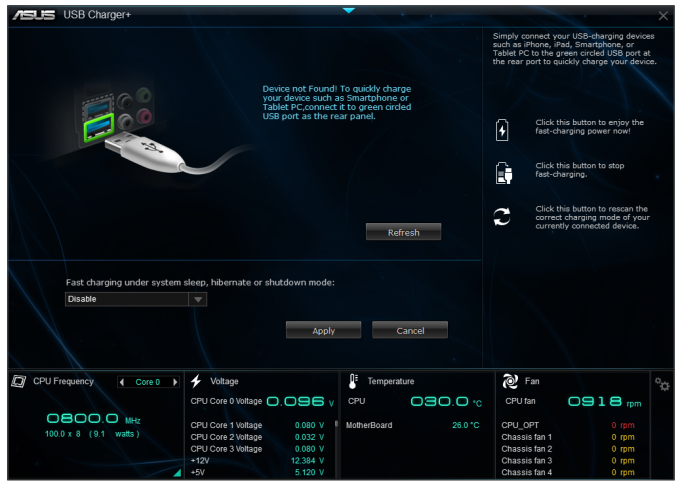 USB 3.0 Boost
In recent ASUS reviews, we have covered USB 3.0 Boost in extensive detail – due to the aged nature of the Windows 7 USB driver, it can be replaced with a version that prioritizes packet size over latency for a faster experience. In previous versions of USB 3.0 Boost ASUS had enabled UASP for ASMedia USB 3.0 and an enhanced BOT for Intel USB 3.0 – for Z87 the UASP element is dropped as it is now a native part of Windows 7, but also the Z87 USB 3.0 driver can take care of the ASMedia USB 3.0 without an additional driver. This essentially means that both the ASMedia and Intel USB 3.0 run at similar speeds and are able to use the enhanced BOT protocol afforded by USB 3.0 Boost in Windows 7.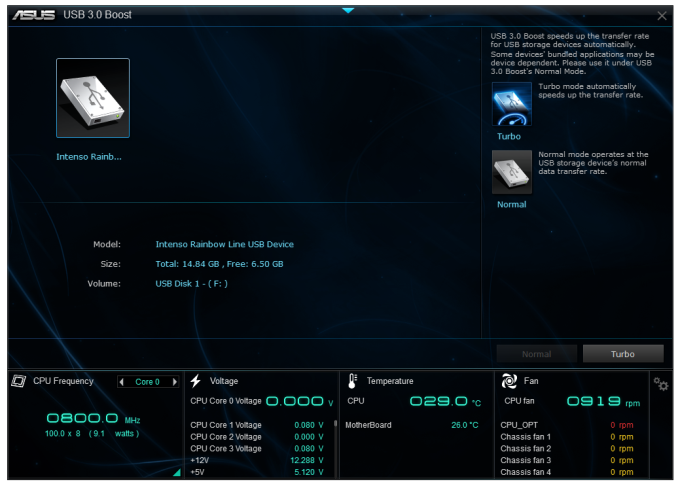 Network iControl
As with a couple of other motherboards in this review, the trend in the motherboard industry is to provide software to prioritize programs over others for network access. Where MSI has the Killer NIC and ASRock has XFast LAN (cFos), ASUS has Network iControl which is designed in-house unlike the others. Network iControl gives a few predefined options for general priority settings although users can create custom profiles as required.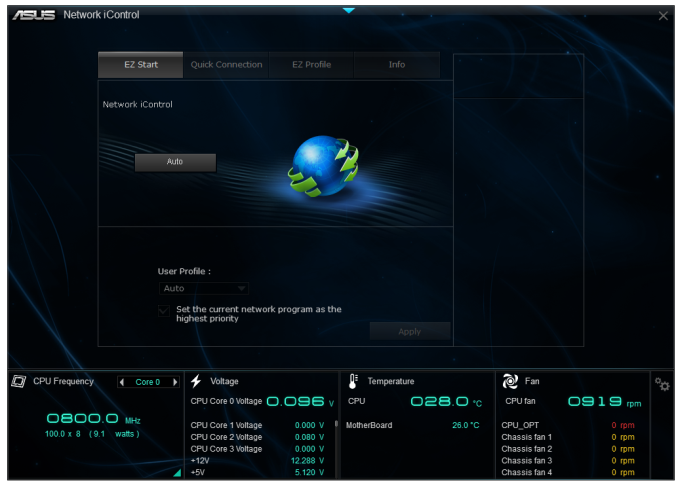 Wi-Fi Go! Remote Desktop
One last feature I wanted to test was Wi-Fi Go, which offers a remote desktop function. Personally I think being able to remote desktop into your PC from a smartphone is a nice idea, allowing a user to control a HTPC or WiDi enabled NAS at will. I downloaded the app for my SGS2 and connected it to my PC:
For whatever reason the 1440p resolution of my test bed did not translate well to the screen on my SGS2, resulting in what looked like a 1440p -> 1080p downscaled image then compressed on my screen. Nonetheless I attempted to run a couple of benchmarks:
Performance over regular testing was down a few FPS overall, and due to the lag both the image on the smartphone and the screen did not correspond to the FPS number being shown. But this system is more for that HTPC testing rather than actually playing a game with a smartphone via a PC.
ASUS Z87-Pro In The Box
With an integrated WiFi module included in the package, no doubt the box will contain a WiFi antenna – in previous generations this would be a set of magnetized antennas to be positioned on a PC case at the users' discretion. For Z87 the antenna shifts to a single device that can be positioned flat or perpendicular. Other than SATA cables and Q-Connectors our box is relatively bare:
Rear IO Panel
Driver Disk
User Guide
WiFi Antenna
Four SATA Cables
SLI Bridge
Q-Connectors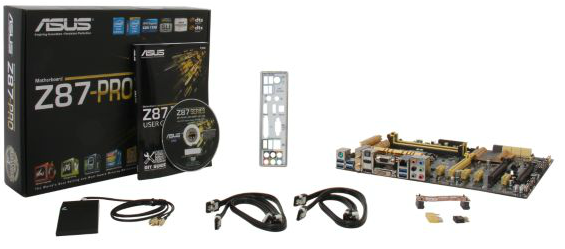 ASUS Z87-Pro Overclocking
Experience with ASUS Z87-Pro
From previous reviews of ASUS motherboards, we typically have some of our best experiences on ASUS products – our recent review of the Maximus V Formula is one such example. Through the OS software we have the option of automatic tuning via DIP-IV, or manual adjustments of speeds, voltages and power control. TPU is also available via a two-stage DIP-switch on board, giving two different overclocks.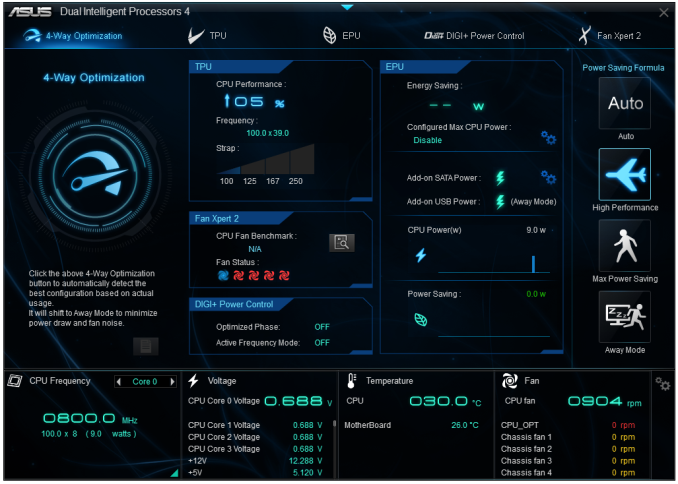 The BIOS is the place to head for manual overclocks, whereby the My Favorites menu allows the user to place the options they concern about the most into a single menu. For our overclock testing this usually means the VCore, the VRIN, Load Line Calibration, CPU Ratio and Memory Settings. Performance on the ASUS Z87-Pro matched the other motherboards in this test, whereby moving above 1.300 volts tends to increase peak temperatures by a significant amount.
Methodology:
Our standard overclocking methodology is as follows. We select the automatic overclock options and test for stability with PovRay and OCCT to simulate high-end workloads. These stability tests aim to catch any immediate causes for memory or CPU errors.
For manual overclocks, based on the information gathered from previous testing, starts off at a nominal voltage and CPU multiplier, and the multiplier is increased until the stability tests are failed. The CPU voltage is increased gradually until the stability tests are passed, and the process repeated until the motherboard reduces the multiplier automatically (due to safety protocol) or the CPU temperature reaches a stupidly high level (100ºC+). Our test bed is not in a case, which should push overclocks higher with fresher (cooler) air.
Automatic Overclock:
For our automatic overclock settings we tested the AI Suite III 4-Way Optimization option, which caters for speed, energy, digital power aggression and optimum fan speeds. The TPU Switch was also tested in both positions. Here are our results.
The 4-Way Optimization method performed a series of stress tests to increase the multiplier: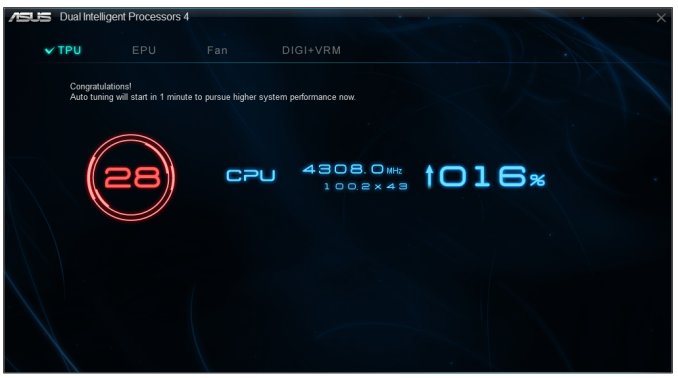 The system would restart, presumably to increase boot stability to push overclock in the operating system further. The final result was a nice and high 4.7 GHz: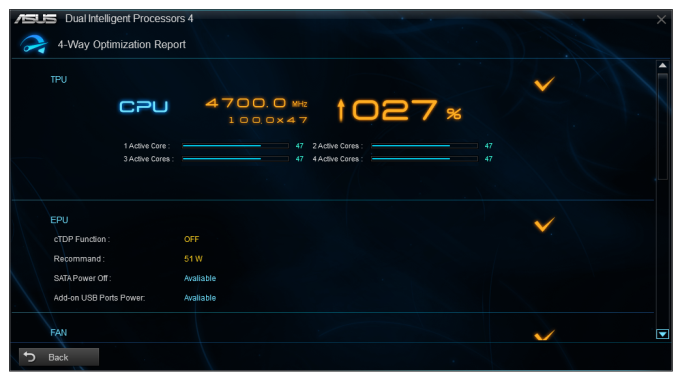 At this setting the CPU was placed on a 1.250 volt setting with a 0.025 volt offset in Adaptive mode, with VRIN set to 1.81 volts and XMP enabled. With these settings, the system showed a load of 1.296 volts, a PovRay score of 1935.7 but caused a BSOD during OCCT. It has been noted that in Adaptive mode, artificial load generators can cause Haswell CPUs to request more voltage than would be requested during normal high-CPU activities such as video editing; this could be the reason for the OCCT test to fail.
With the TPU switch set to Level 1, the CPU was given a staggered multiplier setting of 43/43/42/41x at 1/2/3/4 core loading. The BIOS was automatically set to 1.150 volts with a 0.025 volt offset and a VRIN of 1.81 volts. At these settings, the system showed a load of 1.152 volts, a PovRay score of 1687.69 and an OCCT peak temperature of 72C. XMP was also applied.
With the TPU switch set to Level 2, the CPU was given a 34x125 overclock (4250 MHz) under all loading, with a CPU setting of 1.175 volts and a VRIN of 1.81 volts. With these settings, the system adjusted the memory from XMP (2400 10-12-12) to 2000 10-12-12 to compensate for the 125 MHz CPU strap, and then play it safe by reducing the memory strap. At these settings a CPU loading of 1.200 volts was observed, a PovRay score of 1749.74 and an OCCT peak temperature of 83C.
Manual Overclock:
Using the knowledge gained from previous testing, we set the VRIN to 1.65 volts and under ASUS' recommendations left LLC on Auto. If ASUS have not already, there is an overclocking guide written by the technical guys within ASUS to aid in overclocking and how to deal with the old and new options in the new BIOS. Here are our results:

Many thanks to...
We must thank the following companies for kindly providing hardware for our test bed:
Thank you to OCZ for providing us with 1250W Gold Power Supplies.
Thank you to G.Skill for providing us with memory kits.
Thank you to Corsair for providing us with an AX1200i PSU, Corsair H80i CLC and 16GB 2400C10 memory.
Thank you to ASUS for providing us with the AMD GPUs and some IO Testing kit.
Thank you to ECS for providing us with the NVIDIA GPUs.
Thank you to Rosewill for providing us with the 500W Platinum Power Supply for mITX testing, BlackHawk Ultra, and 1600W Hercules PSU for extreme dual CPU + quad GPU testing, and RK-9100 keyboards.
Thank you to ASRock for providing us with the 802.11ac wireless router for testing.
Test Setup
Power Consumption
Power consumption was tested on the system as a whole with a wall meter connected to the OCZ 1250W power supply, while in a dual 7970 GPU configuration. This power supply is Gold rated, and as I am in the UK on a 230-240 V supply, leads to ~75% efficiency > 50W, and 90%+ efficiency at 250W, which is suitable for both idle and multi-GPU loading. This method of power reading allows us to compare the power management of the UEFI and the board to supply components with power under load, and includes typical PSU losses due to efficiency. These are the real world values that consumers may expect from a typical system (minus the monitor) using this motherboard.
While this method for power measurement may not be ideal, and you feel these numbers are not representative due to the high wattage power supply being used (we use the same PSU to remain consistent over a series of reviews, and the fact that some boards on our test bed get tested with three or four high powered GPUs), the important point to take away is the relationship between the numbers. These boards are all under the same conditions, and thus the differences between them should be easy to spot.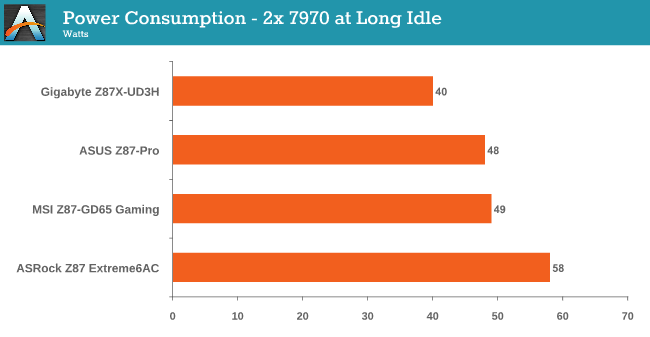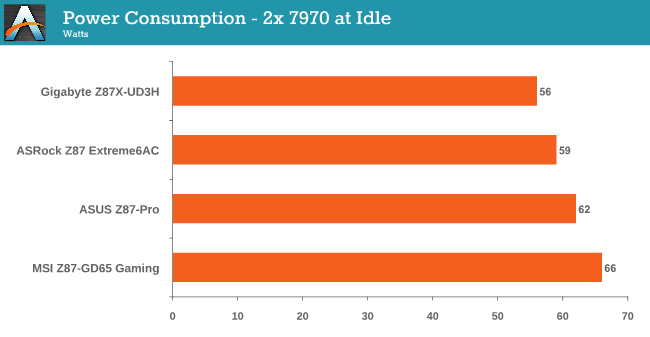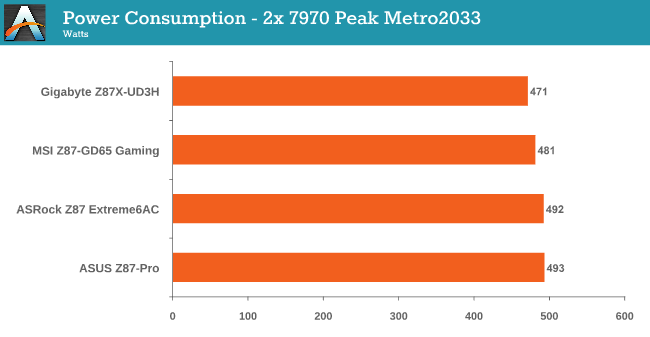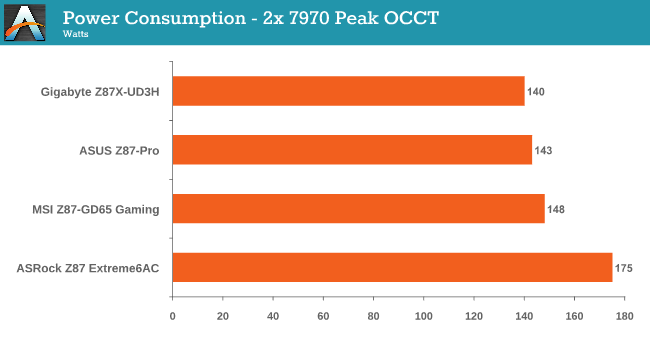 In terms of power consumption in our roundup, the Gigabyte Z87X-UD3H takes the crown in all factors, with Idle and Long Idle being 10-20W lower than the ASRock. All boards get under 500W during Metro.
Windows 7 POST Time
Different motherboards have different POST sequences before an operating system is initialized. A lot of this is dependent on the board itself, and POST boot time is determined by the controllers on board (and the sequence of how those extras are organized). As part of our testing, we are now going to look at the POST Boot Time - this is the time from pressing the ON button on the computer to when Windows 7 starts loading. (We discount Windows loading as it is highly variable given Windows specific features.) These results are subject to human error, so please allow +/- 1 second in these results.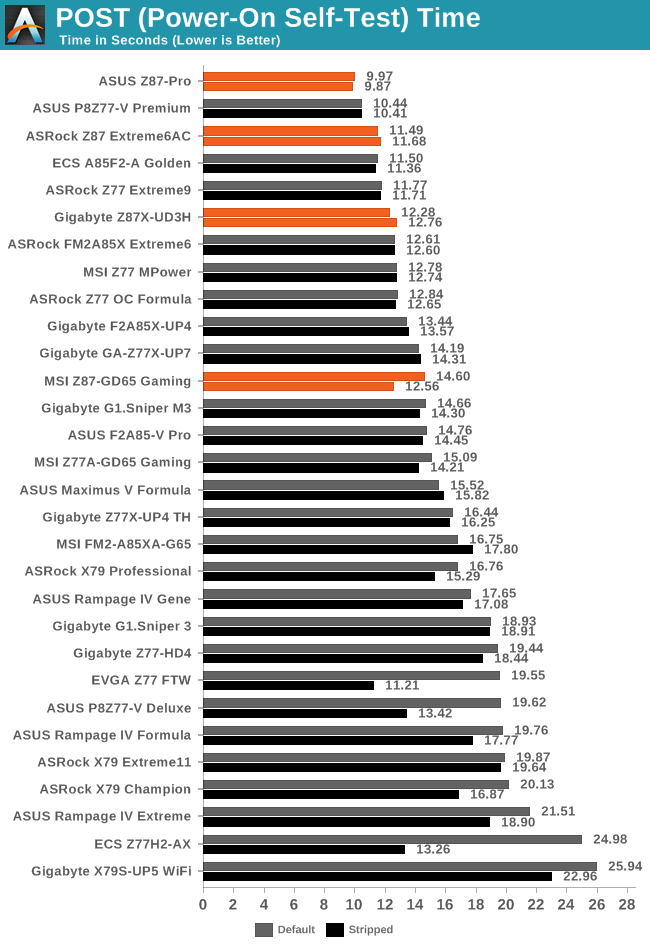 The ASUS Z87-Pro sneaks in at under 10 seconds which is a great achievement, with the ASRock under 12 seconds. The Gigabyte almost hits that 12 second ideal line, whereas the MSI BIOS has to be stripped of all controllers to get near the Gigabyte. Overall boot times seem to be better than Ivy Bridge, however.
Rightmark Audio Analyzer 6.2.5
In part due to reader requests, we are pleased to include Rightmark Audio Analyzer results in our benchmark suite. The premise behind Rightmark:AA is to test the input and output of the audio system to determine noise levels, range, harmonic distortion, stereo crosstalk and so forth. Rightmark:AA should indicate how well the sound system is built and isolated from electrical interference (either internally or externally). For this test we connect the Line Out to the Line In using a short six inch 3.5mm to 3.5mm high-quality jack, turn the OS speaker volume to 100%, and run the Rightmark default test suite at 192 kHz, 24-bit. The OS is tuned to 192 kHz/24-bit input and output, and the Line-In volume is adjusted until we have the best RMAA value in the mini-pretest. We look specifically at the Dynamic Range of the audio codec used on board, as well as the Total Harmonic Distortion + Noise.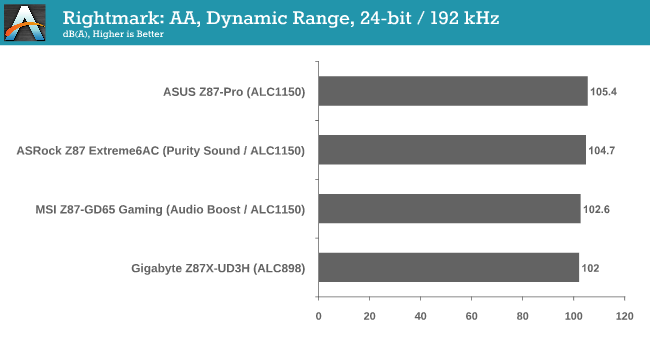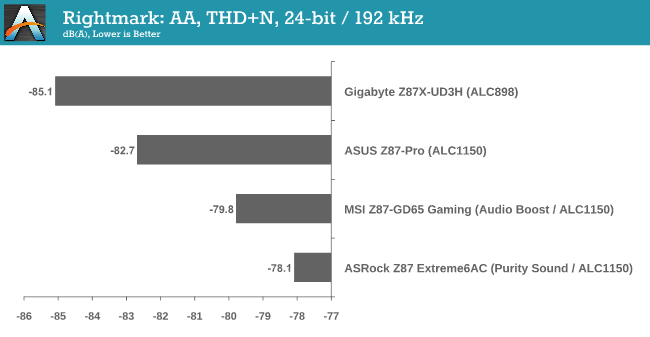 The ASUS Z87-Pro audio solution is the best of both worlds, hitting above 105 dBA in our test and below -82 dBA for THD+N. Surprisingly the ALC898 gets the best THD+N result.
USB Backup
For this benchmark, we run CrystalDiskMark to determine the ideal sequential read and write speeds for the USB port using our 240 GB OCZ Vertex3 SSD with a SATA 6 Gbps to USB 3.0 converter. Then we transfer a set size of files from the SSD to the USB drive using DiskBench, which monitors the time taken to transfer. The files transferred are a 1.52 GB set of 2867 files across 320 folders – 95% of these files are small typical website files, and the rest (90% of the size) are the videos used in the WinRAR test. In an update to pre-Z87 testing, we also run MaxCPU to load up one of the threads during the test which improves general performance up to 15% by causing all the internal pathways to run at full speed.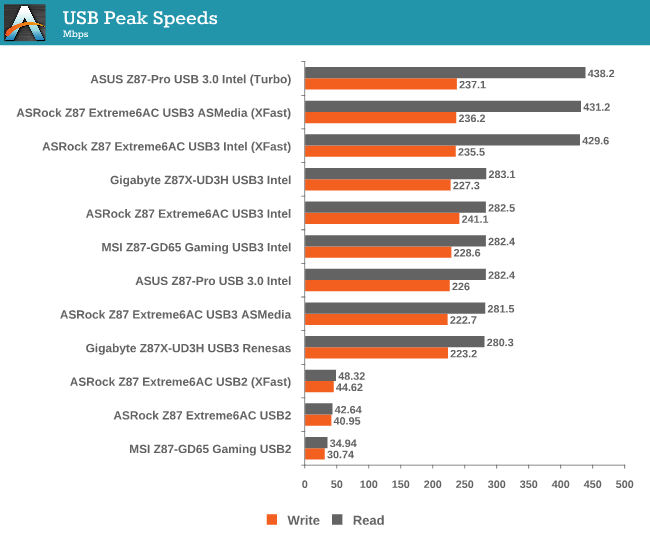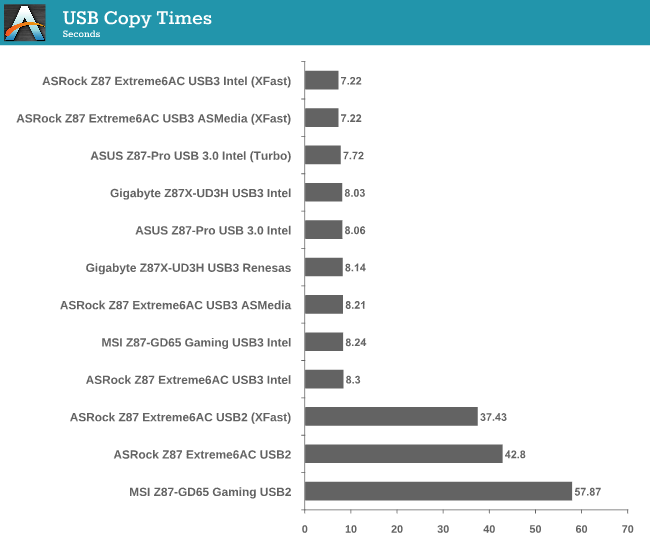 The ASRock motherboard with XFast produces some awesome numbers in terms of peak speeds and copy times, with the ASUS just behind. In USB 2.0, the ASRock has a good lead on the USB 2.0 rear IO ports over the MSI.
DPC Latency
Deferred Procedure Call latency is a way in which Windows handles interrupt servicing. In order to wait for a processor to acknowledge the request, the system will queue all interrupt requests by priority. Critical interrupts will be handled as soon as possible, whereas lesser priority requests, such as audio, will be further down the line. So if the audio device requires data, it will have to wait until the request is processed before the buffer is filled. If the device drivers of higher priority components in a system are poorly implemented, this can cause delays in request scheduling and process time, resulting in an empty audio buffer – this leads to characteristic audible pauses, pops and clicks. Having a bigger buffer and correctly implemented system drivers obviously helps in this regard. The DPC latency checker measures how much time is processing DPCs from driver invocation – the lower the value will result in better audio transfer at smaller buffer sizes. Results are measured in microseconds and taken as the peak latency while cycling through a series of short HD videos - less than 500 microseconds usually gets the green light, but the lower the better.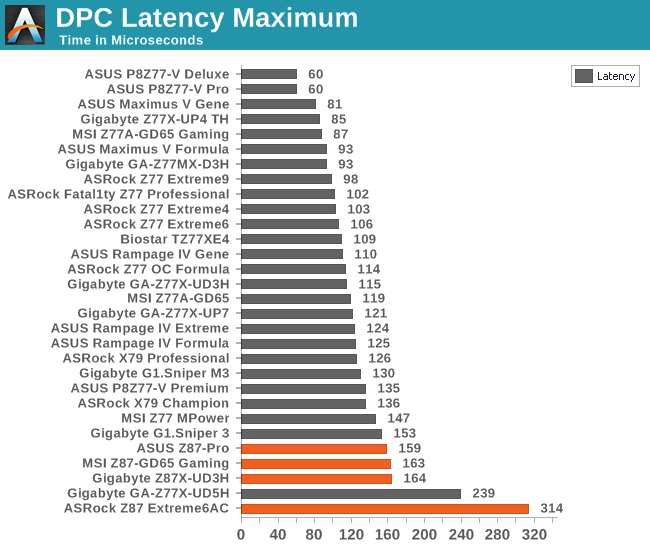 Unfortunately it seems that the DPC Latency of Haswell is greater than that of Ivy Bridge, at least for release. DPC is all down to how aggressive the manufacturer wants to tune the BIOS, and this should improve over time.
WiFi Speeds
With the advent of 802.11ac now part of the motherboard space, it made sense to bring in hardware to test the wireless capabilities of the packages we review. Our test scenario is as follows – the router is located five meters away from the test bed and the signal has to travel through a concrete internal wall. The router is in a flat complex with over 25 access points within 50 meters, mostly on 2.4 GHz. We use a LAN Speed Test server on an i3-3225 based system connected via Ethernet to the D-Link 802.11ac router and then the LAN Speed Test client on the host machine. We set up a one hour continuous test using 10 simultaneous streams each sending then receiving 50 MB across the connection. Results are then plotted as a histogram of the data.
The benefits of AC lead to another 100-150 Mbps over 802.11n in our testing scenario. AC results also seem a little more varied rather than 802.11n which has definite singular peaks.
Readers of our motherboard review section will have noted the trend in modern motherboards to implement a form of MultiCore Enhancement / Acceleration / Turbo (read our report here) on their motherboards. This does several things – better benchmark results at stock settings (not entirely needed if overclocking is an end-user goal), at the expense of heat and temperature, but also gives in essence an automatic overclock which may be against what the user wants. Our testing methodology is 'out-of-the-box', with the latest public BIOS installed and XMP enabled, and thus subject to the whims of this feature. It is ultimately up to the motherboard manufacturer to take this risk – and manufacturers taking risks in the setup is something they do on every product (think C-state settings, USB priority, DPC Latency / monitoring priority, memory subtimings at JEDEC). Processor speed change is part of that risk which is clearly visible, and ultimately if no overclocking is planned, some motherboards will affect how fast that shiny new processor goes and can be an important factor in the purchase.
For our test today, all motherboards tested used a form of MultiCore Turbo. ASUS motherboards will be shipped without this feature enabled by default; however 3xxx BIOSes will be available to download with it enabled. As per our testing policy of using the latest publicly available BIOS when testing begins, the 3xxx was used.
Point Calculations - 3D Movement Algorithm Test
The algorithms in 3DPM employ both uniform random number generation or normal distribution random number generation, and vary in various amounts of trigonometric operations, conditional statements, generation and rejection, fused operations, etc. The benchmark runs through six algorithms for a specified number of particles and steps, and calculates the speed of each algorithm, then sums them all for a final score. This is an example of a real world situation that a computational scientist may find themselves in, rather than a pure synthetic benchmark. The benchmark is also parallel between particles simulated, and we test the single thread performance as well as the multi-threaded performance.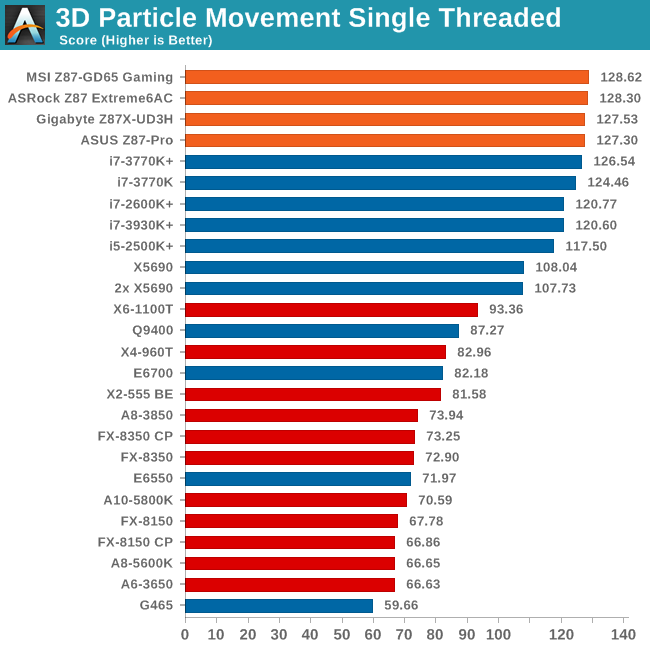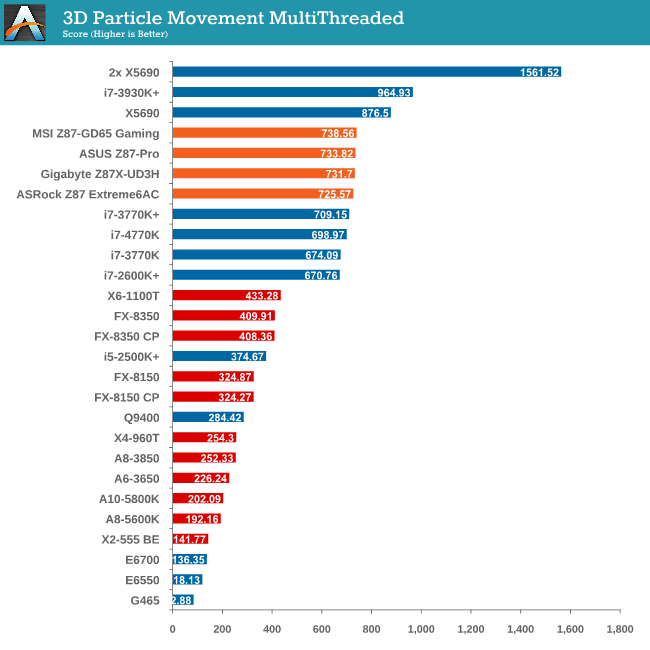 In our 3DPM test the MSI motherboard does rather well in both ST and MT, indicating a good efficiency of MultiCore Turbo.
Compression - WinRAR 4.2
With 64-bit WinRAR, we compress the set of files used in the USB speed tests. WinRAR x64 3.93 attempts to use multithreading when possible, and provides as a good test for when a system has variable threaded load. WinRAR 4.2 does this a lot better! If a system has multiple speeds to invoke at different loading, the switching between those speeds will determine how well the system will do.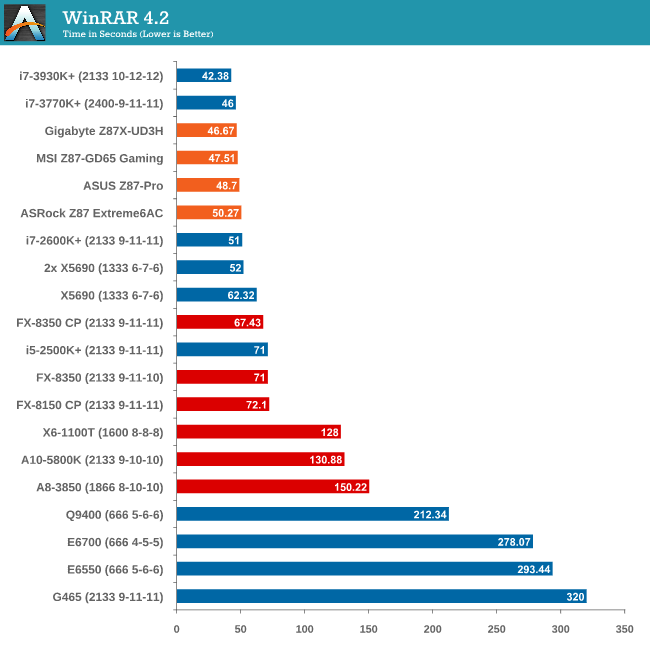 A difference of four seconds in a 50 second benchmark is actually around 8%, which is a surprising gap between the Z87 motherboards.
Image Manipulation - FastStone Image Viewer 4.2
FastStone Image Viewer is a free piece of software I have been using for quite a few years now. It allows quick viewing of flat images, as well as resizing, changing color depth, adding simple text or simple filters. It also has a bulk image conversion tool, which we use here. The software currently operates only in single-thread mode, which should change in later versions of the software. For this test, we convert a series of 170 files, of various resolutions, dimensions and types (of a total size of 163MB), all to the .gif format of 640x480 dimensions.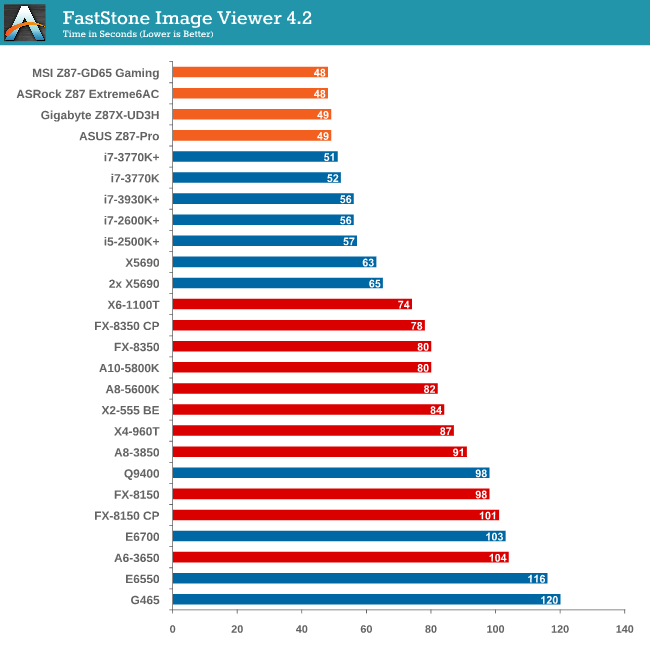 IPC wins for FastStone, hence Haswell is top of the pile.
Video Conversion - Xilisoft Video Converter 7
With XVC, users can convert any type of normal video to any compatible format for smartphones, tablets and other devices. By default, it uses all available threads on the system, and in the presence of appropriate graphics cards, can utilize CUDA for NVIDIA GPUs as well as AMD WinAPP for AMD GPUs. For this test, we use a set of 33 HD videos, each lasting 30 seconds, and convert them from 1080p to an iPod H.264 video format using just the CPU. The time taken to convert these videos gives us our result.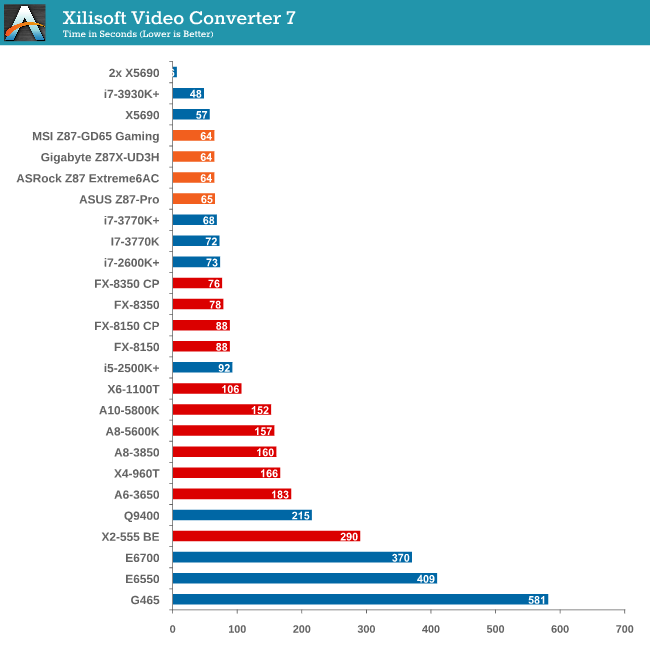 Nothing to split the CPUs here – clearly XVC is a benchmark that loves cores and MHz.
Rendering – PovRay 3.7
The Persistence of Vision RayTracer, or PovRay, is a freeware package for as the name suggests, ray tracing. It is a pure renderer, rather than modeling software, but the latest beta version contains a handy benchmark for stressing all processing threads on a platform. We have been using this test in motherboard reviews to test memory stability at various CPU speeds to good effect – if it passes the test, the IMC in the CPU is stable for a given CPU speed. As a CPU test, it runs for approximately 2-3 minutes on high end platforms.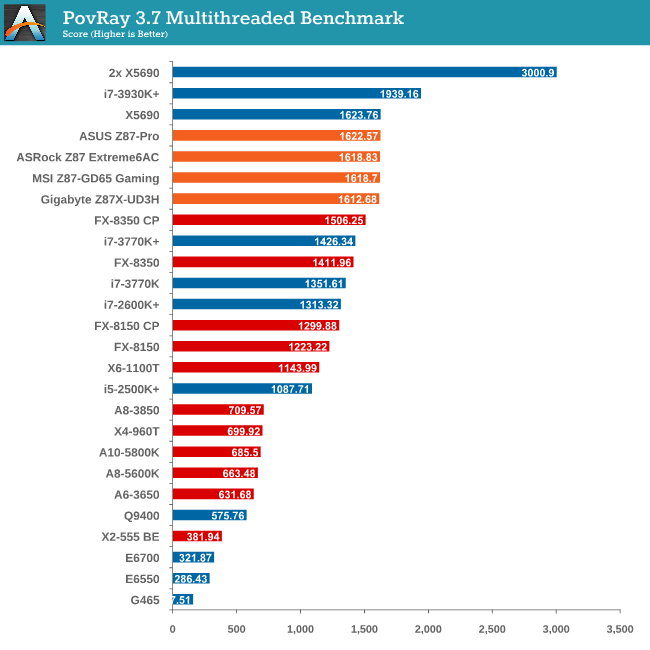 Interestingly enough is the gap between an i7-3770K and the motherboards in our tests – a 13.7% increase of Haswell over Ivy Bridge.
Video Conversion - x264 HD Benchmark
The x264 HD Benchmark uses a common HD encoding tool to process an HD MPEG2 source at 1280x720 at 3963 Kbps. This test represents a standardized result which can be compared across other reviews, and is dependent on both CPU power and memory speed. The benchmark performs a 2-pass encode, and the results shown are the average of each pass performed four times.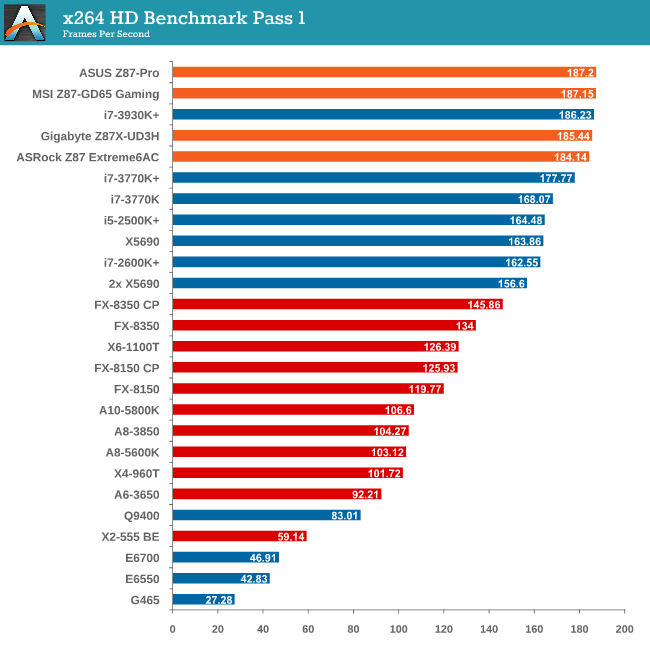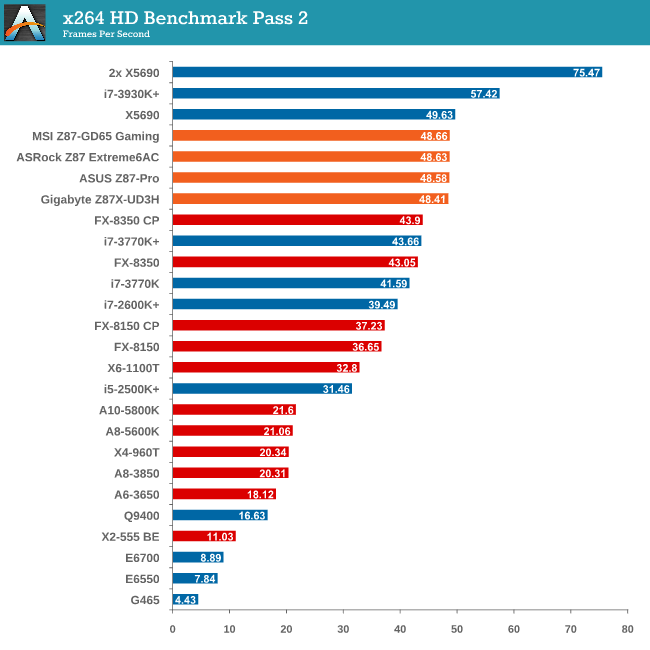 Grid Solvers - Explicit Finite Difference
For any grid of regular nodes, the simplest way to calculate the next time step is to use the values of those around it. This makes for easy mathematics and parallel simulation, as each node calculated is only dependent on the previous time step, not the nodes around it on the current calculated time step. By choosing a regular grid, we reduce the levels of memory access required for irregular grids. We test both 2D and 3D explicit finite difference simulations with 2n nodes in each dimension, using OpenMP as the threading operator in single precision. The grid is isotropic and the boundary conditions are sinks. Values are floating point, with memory cache sizes and speeds playing a part in the overall score.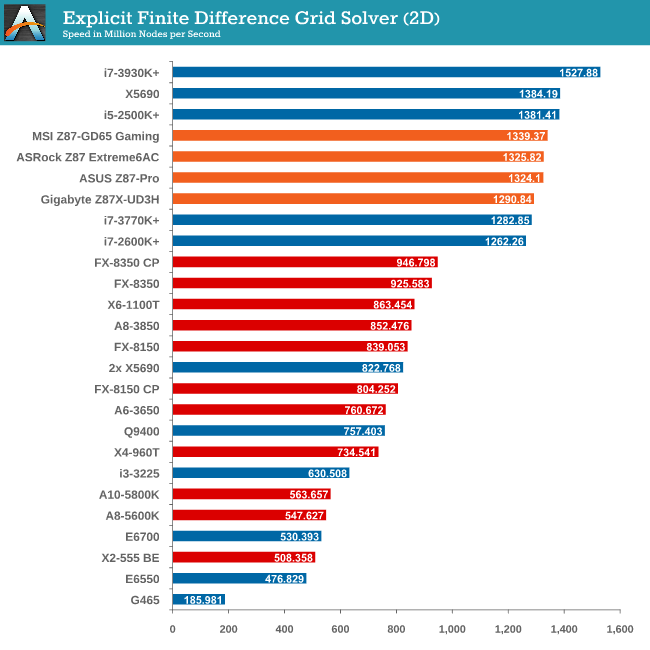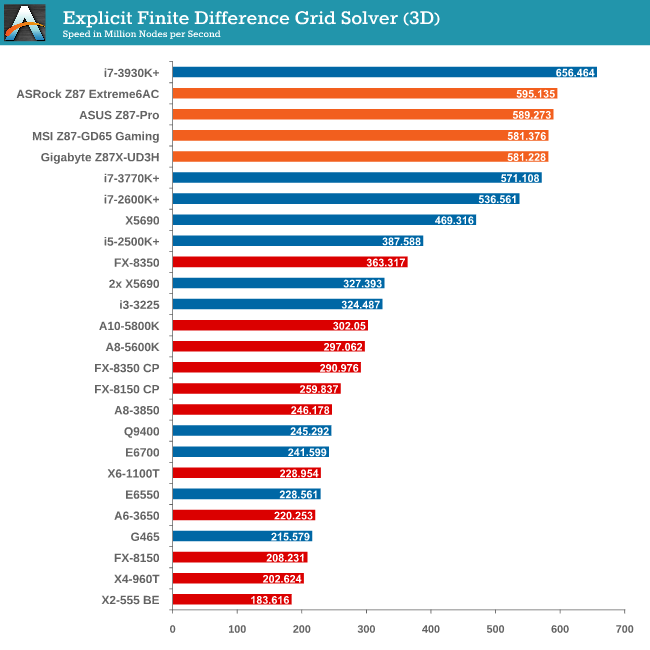 Grid Solvers - Implicit Finite Difference + Alternating Direction Implicit Method
The implicit method takes a different approach to the explicit method – instead of considering one unknown in the new time step to be calculated from known elements in the previous time step, we consider that an old point can influence several new points by way of simultaneous equations. This adds to the complexity of the simulation – the grid of nodes is solved as a series of rows and columns rather than points, reducing the parallel nature of the simulation by a dimension and drastically increasing the memory requirements of each thread. The upside, as noted above, is the less stringent stability rules related to time steps and grid spacing. For this we simulate a 2D grid of 2n nodes in each dimension, using OpenMP in single precision. Again our grid is isotropic with the boundaries acting as sinks. Values are floating point, with memory cache sizes and speeds playing a part in the overall score.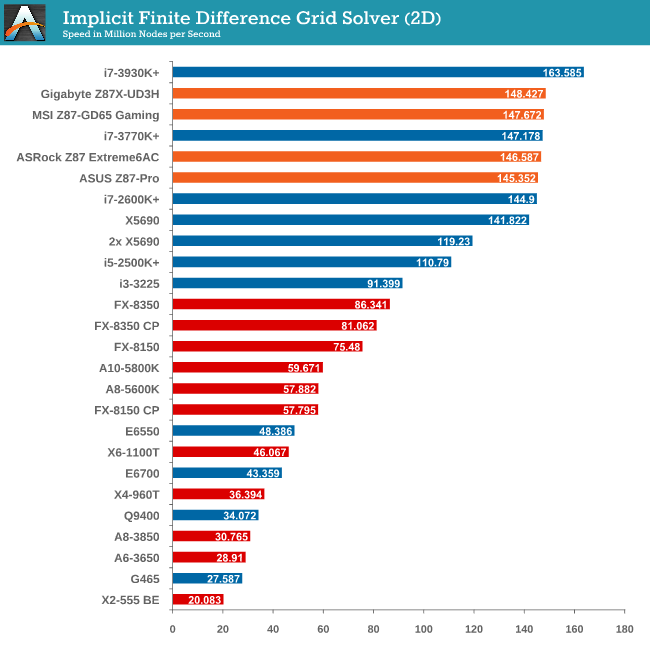 As our grid solvers actually thrash the caches of the CPUs we test, I can't wait to get a Crystalwell in to review.
Point Calculations - n-Body Simulation
When a series of heavy mass elements are in space, they interact with each other through the force of gravity. Thus when a star cluster forms, the interaction of every large mass with every other large mass defines the speed at which these elements approach each other. When dealing with millions and billions of stars on such a large scale, the movement of each of these stars can be simulated through the physical theorems that describe the interactions. The benchmark detects whether the processor is SSE2 or SSE4 capable, and implements the relative code. We run a simulation of 10240 particles of equal mass - the output for this code is in terms of GFLOPs, and the result recorded was the peak GFLOPs value.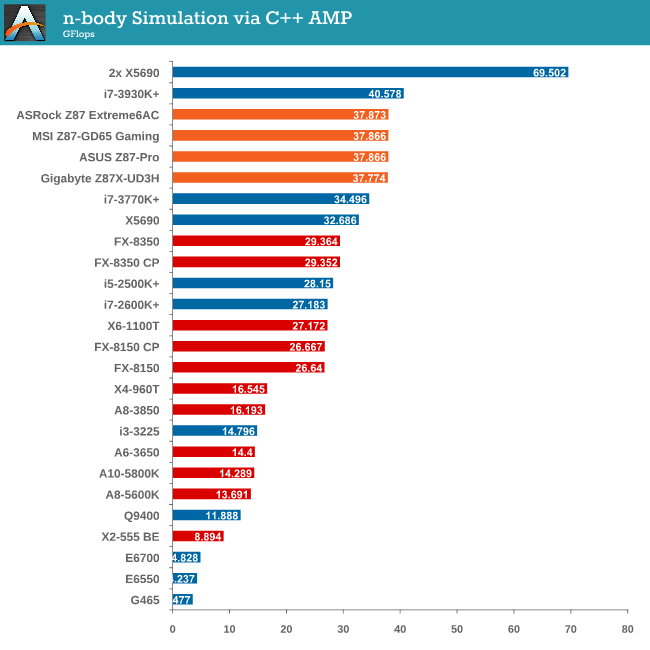 Metro2033
Our first analysis is with the perennial reviewers' favorite, Metro2033. It occurs in a lot of reviews for a couple of reasons – it has a very easy to use benchmark GUI that anyone can use, and it is often very GPU limited, at least in single GPU mode. Metro2033 is a strenuous DX11 benchmark that can challenge most systems that try to run it at any high-end settings. Developed by 4A Games and released in March 2010, we use the inbuilt DirectX 11 Frontline benchmark to test the hardware at 1440p with full graphical settings. Results are given as the average frame rate from a second batch of 4 runs, as Metro has a tendency to inflate the scores for the first batch by up to 5%.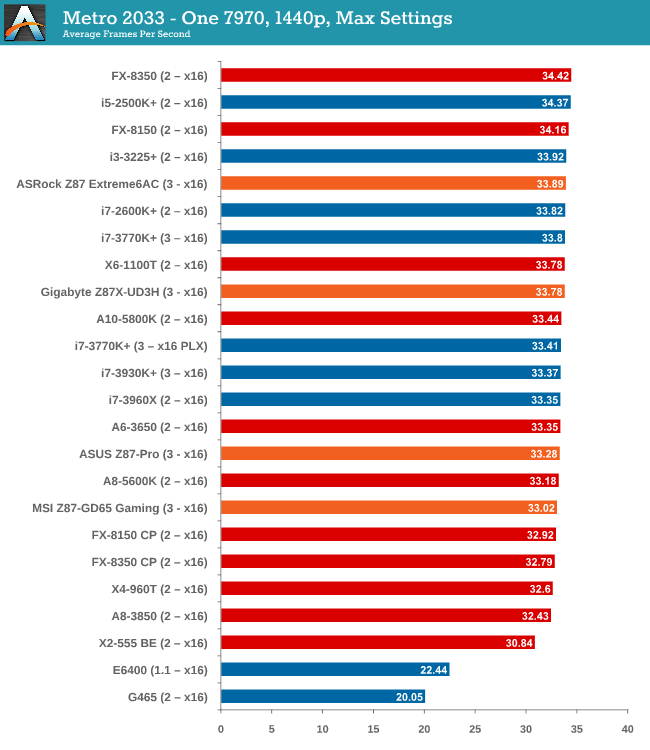 | | | | |
| --- | --- | --- | --- |
| Metro 2033 | 1 GPU | 2 GPU | 3 GPU |
| AMD | | | |
| NVIDIA | | | |
In our 3-way AMD test, it is clear that when the x1 mode is selected on the ASUS Z87-Pro, performance scaling goes out the window. For Metro there is a slight advantage having x8/x4/x4 over x8/x8 + x4.
Dirt 3
Dirt 3 is a rallying video game and the third in the Dirt series of the Colin McRae Rally series, developed and published by Codemasters. Dirt 3 also falls under the list of 'games with a handy benchmark mode'. In previous testing, Dirt 3 has always seemed to love cores, memory, GPUs, PCIe lane bandwidth, everything. The small issue with Dirt 3 is that depending on the benchmark mode tested, the benchmark launcher is not indicative of game play per se, citing numbers higher than actually observed. Despite this, the benchmark mode also includes an element of uncertainty, by actually driving a race, rather than a predetermined sequence of events such as Metro 2033. This in essence should make the benchmark more variable, but we take repeated in order to smooth this out. Using the benchmark mode, Dirt 3 is run at 1440p with Ultra graphical settings. Results are reported as the average frame rate across four runs.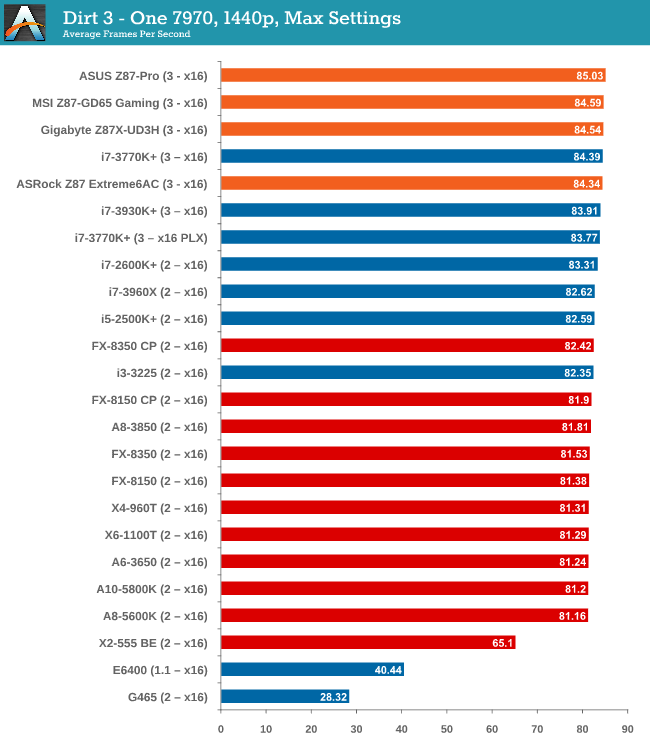 | | | | |
| --- | --- | --- | --- |
| Dirt 3 | 1 GPU | 2 GPU | 3 GPU |
| AMD | | | |
| NVIDIA | | | |
If I was a Dirt gamer, clearly having the most PCIe lanes supplied by the CPU is going to win out the day, putting the MSI and ASRock ahead of the others.
Civilization V
A game that has plagued my testing over the past twelve months is Civilization V. Being on the older 12.3 Catalyst drivers were somewhat of a nightmare, giving no scaling, and as a result I dropped it from my test suite after only a couple of reviews. With the later drivers used for this review, the situation has improved but only slightly, as you will see below. Civilization V seems to run into a scaling bottleneck very early on, and any additional GPU allocation only causes worse performance.
Our Civilization V testing uses Ryan's GPU benchmark test all wrapped up in a neat batch file. We report the average frame rate of a 5 minute test.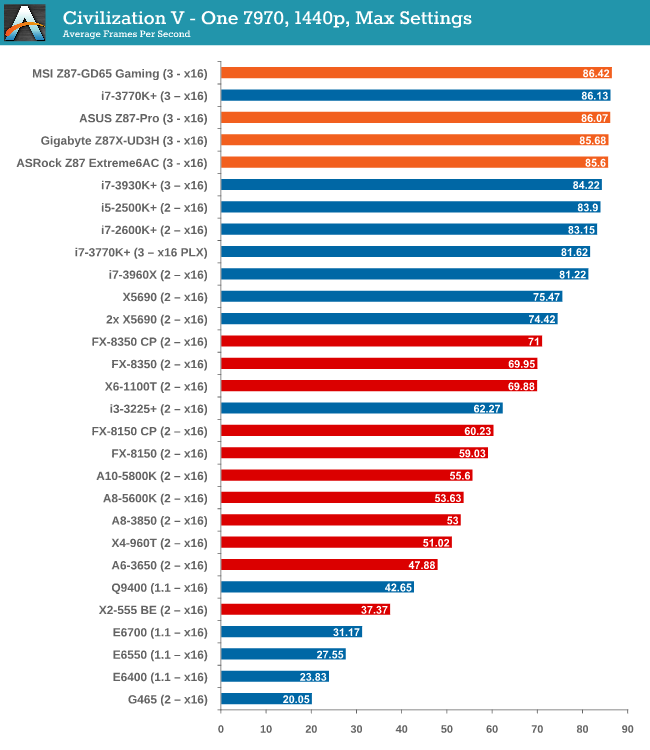 | | | | |
| --- | --- | --- | --- |
| Civilization V | 1 GPU | 2 GPU | 3 GPU |
| AMD | | | |
| NVIDIA | | | |
For whatever reason the ASRock motherboard is not too fond of Civilization V, taking a hit on dual AMD and also dual NVIDIA.
Sleeping Dogs
While not necessarily a game on everybody's lips, Sleeping Dogs is a strenuous game with a pretty hardcore benchmark that scales well with additional GPU power due to its SSAA implementation. The team over at Adrenaline.com.br is supreme for making an easy to use benchmark GUI, allowing a numpty like me to charge ahead with a set of four 1440p runs with maximum graphical settings.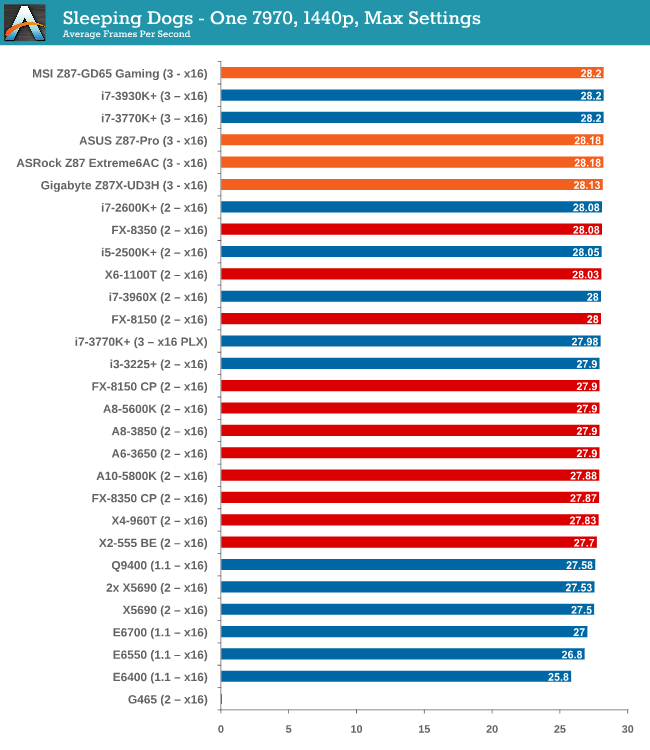 | | | | |
| --- | --- | --- | --- |
| Sleeping Dogs | 1 GPU | 2 GPU | 3 GPU |
| AMD | | | |
| NVIDIA | | | |
Sleeping Dogs is very much static between motherboards and CPUs, except at three-way AMD where the difference between a third slot at x4 or x1 is around 12.5%.
Gigabyte Z87X-UD3H Conclusion
As the first Z87 motherboard to arrive through my door, I was not entirely sure what I should be expecting. I had been briefed on the merits of Haswell and Z87, but by and large we were going to see the next evolution of the platform mainly from the point of Flex IO and another CPU cadence step.
I asked Gigabyte for a motherboard in the $200 +/- 10% range, and they kindly provided the Z87X-UD3H. At first glance the motherboard looks unassuming, unlike some of the others tested in this review. With this price point being a fulcrum point between the enthusiast models and the more budget conscious, it is important to step off on the right foot, and I am glad to say Gigabyte are moving in the right direction.
In a nutshell, we have a base Z87 motherboard in a PCIe 3.0 x8/x8 + PCIe 2.0 x4 configuration, featuring eight SATA 6 Gbps (six Intel, two from controller), two eSATA 6 Gbps ports, a total of ten (4+6) USB 3.0 ports, an Intel NIC, Realtek ALC898 audio, and a full gamut of video outputs. Also on board we have a TPM, a COM port, a PCI slot, voltage read points, power/reset/Clear_CMOS buttons and a two digit debug.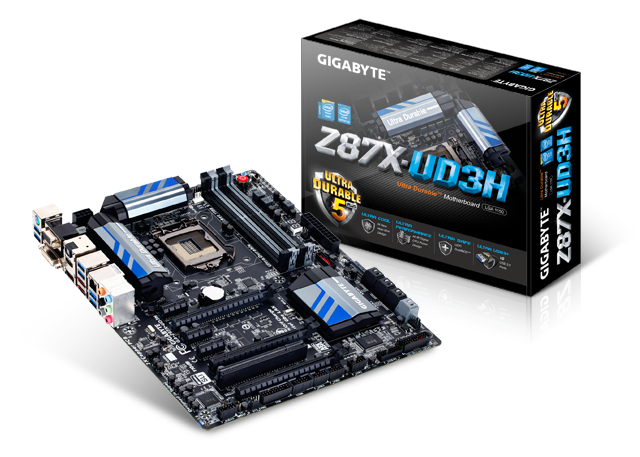 The BIOS and Software have been updated for Z87, and are certainly in the right direction of where Gigabyte needs to be going in terms of modernization. As with any new chipset release there are a few issues to iron out, which will hopefully be the focus for the internal design teams for the next few weeks at least. Nonetheless overclocking performance was quite good, with our automatic options giving good stability in the mid 80C range and manual overclocks giving a more than comfortable 4.6 GHz at reasonable voltage.
Performance from the Z87X-UD3H was helped along by the motherboard automatically applying MultiCore Turbo during our normal benchmark suite, matching the other motherboards within statistical variation. I was quite pleased to see the Gigabyte pull less than 500W during our dual-GPU power test. One initial downside of our performance testing came from a rather unsteady DPC Latency which was jumping around even at idle, but this was the result of the pre-release BIOS. Updating to at least BIOS F5 from the GIgabyte website gives a more stable value similar to the other boards in this review.
The main critical point facing the UD3H in this review is from the competition. Every other motherboard in this review has a functionality ace up its sleeve – the MSI has a Killer NIC, the ASRock has 802.11ac, and the ASUS has DIP4 (Dual Intelligent Processors) alongside an awesome hardware/software combination. All three other boards also come with an upgraded Realtek ALC1150 audio codec compared to the ALC898 on the Gigabyte. On the counter argument, the UD3H is cheaper than the rest ($170/180 vs. $190+), and it depends on how relevant those extra features become and if they are worth spending the extra $10-$50.
From our pre-launch testing, the Gigabyte is a nice board to play with, and would satisfy almost every user looking for an ATX motherboard with some extra functionality over the standard Z87 chipset. The only downside is where the competition stand of pricing, and whether the UD3H really needed a 'knockout feature' of its own. For Z77 at this $180 price point the Z77X-UD5H was a polished product, and while chipset prices have increased since Z77 to Z87, a good shot around this price point is required. Gigabyte also has the Z87X-OC motherboard at around $200, which should be an interesting comparison.
MSI Z87-GD65 Gaming Conclusion
On the back of the Z77A-GD65 Gaming that we reviewed late into the Z77 lifespan, the Z87 take at the GD65 level is clearly an evolution on the concept. The features that MSI could not introduce due to time constraints / platform limitations are all put into place for Haswell CPUs.
A motherboard manufacturer at every price point has a linear scale with which to play – on the one hand they can offer the base chipset features and then increase the number of ports in each area, or they can add in a 'knock-out' feature (or two) that they can advertise over other motherboards in a similar price segment. The Z87-GD65 Gaming is pretty much in the latter segment, with the dragon styling and Qualcomm Atheros Killer network port (rather than a Realtek or an Intel).
Aside from the Killer NIC, we get Audio Boost which is MSI's interpretation of the Realtek ALC1150 specifications, using headphone amplifiers for high impedance headsets and filter caps to improve signals. OC Genie gets an upgrade, now featuring two levels of overclock, and both the BIOS and software get an overhaul. The BIOS offers explanations for the options it now shows as well as Hardware Monitor and BIOS Explorer to improve fan controls and hardware detection respectively.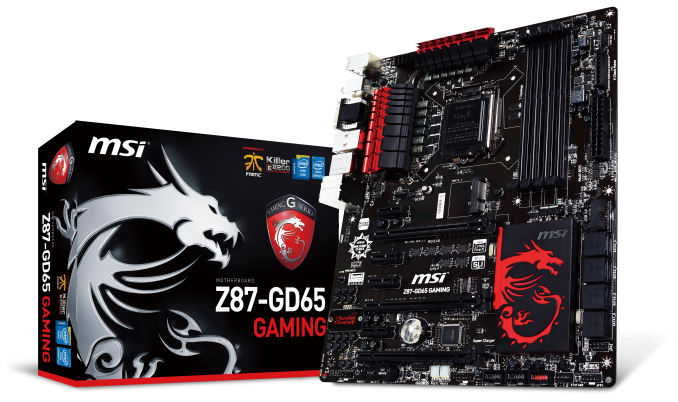 On the performance side of the spectrum, the MSI enables MultiCore Turbo as per standard and actually seems rather efficient from our testing. Unfortunately the DPC is a little higher than I would have liked by default (it seems Haswell DPC > Ivy Bridge DPC on the whole so far), and our dynamic range audio tests are a few dBA away from some of the other ALC1150 implementations. In the early BIOSes we have had trouble adjusting VRIN voltage for overclocks (this may be updated in a public BIOS), and users might be confused that the mouse and keyboard do not wake the machine up from sleep by default – you have to press the power button.
Overclock wise all seemed well from the MSI, with both OC Genie settings giving mid-range overclocks at reasonable temperatures, though the system still lacks an extreme overclock setting. Manually we were able to push our CPU to 4.6 GHz easily enough, and 4.7 GHz at a push as we hit 92C at load.
The sticking point will be whether users will want a motherboard with more of everything (SATA, USB 3.0), or that one 'Killer' feature. For a gamer, features like OC Genie and a Killer NIC on the MSI Z87-GD65 Gaming will be worth strong consideration.
ASRock Z87 Extreme6/AC Conclusion
Everyone has their own ideas as to what constitutes a perfect motherboard. My first question is usually 'what price band are we talking about?', as that would define the level of 'extras' above the base model. When I first looked at the unassuming ASRock Z87 Extreme6/AC, the main feature for me was the 802.11ac dual band WiFi module on board. Having had the time to test the Extreme6/AC, it is clear to me now that the board is so much more than just the AC.
Now when I started to prepare this review, I was circling around the main motherboard manufacturers asking for their $200 motherboards – something around this mark, perhaps up to 10% above and below this mark, whatever in this price bracket the manufacturer believes will be its best seller. It is a value that tends to be popular enough for enthusiasts going for new builds, and I like the fact it contrasts many of the super high-end value reviews we see at launch day. This price band gives the manufacturer the option of one or two SKUs to send me – either something lower which may attract more users, or at the high end to expose the feature set. I am glad each manufacturer sent me something different (mid-range, gaming-range) – ASRock went in at the high end of my request with the Extreme6/AC at $220 (-$20 instant rebate in June for NA), but I am glad they did.
For that $200/$220, we get ten SATA 6 Gbps ports, eight USB 3.0 ports, 802.11ac dual band WiFi, Realtek ALC1150 audio, DVI-I, dual Intel NICs, HDMI-In and x8/x4/x4 PCIe. Ding ding, we have a connectivity winner. This product is hitting an obscene price point compared to the motherboards around it, and could very well be this generations Z77X-UD5H, which we rated highly for similar reasons. Of course with all this onboard, something has to give – as a result we do not get a black coating covering the traces on board, the CPU VRM heatsinks are a little small, most of the fan headers are 3-pin and there are no voltage check points or similar for overclockers.
There is always room for improvement, and the main goal from ASRock should be to improve their software. It gets an upgrade from Z77 for Z87, but the simple things like correct spelling should be sorted before a reviewer gets hands on a motherboard.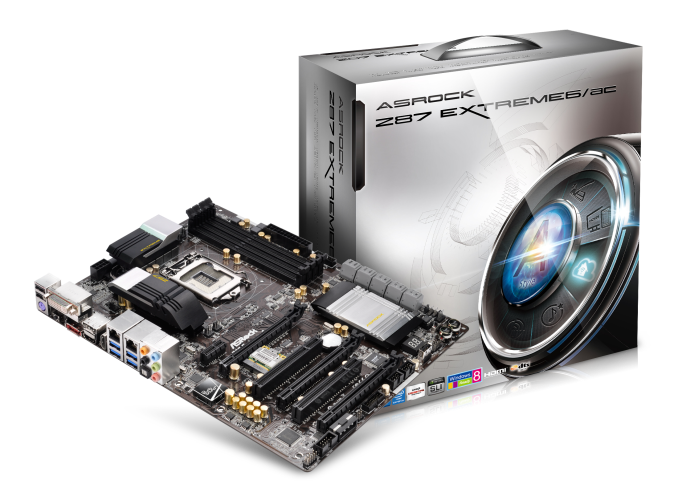 In terms of performance the Extreme6/AC comes with MultiCore Turbo as standard, giving that extra boost over motherboards that do not have it. Against the boards that do, the ASRock seems to have good efficiency, and the x8/x4/x4 does help against the x8/x8+x4 setups in tri-GPU mode. The XFast software helps the Extreme6/AC generate new records in USB performance, both for USB 2.0 and USB 3.0, and Windows 7 POST times fall under 12 seconds which is always good. The only two downsides for performance come at the expense of DPC Latency which is quite high for Z87 (314 microseconds), and there is no good software to accurately monitor the CPU voltage on the motherboard.
Nevertheless, the ASRock Z87 Extreme6/AC is a great motherboard to play with, especially in connectivity alone. Other manufacturers will have a big challenge to offer something at this price point with more functionality. ASRock have truly hit the nail on the head, and if I were buying a motherboard today, as an 802.11ac WiFi user, the Extreme6/AC would be on the short list. For these reasons, I feel no shame in offering the ASRock Z87 Extreme6/AC our Editor's Choice Silver Award. The Extreme6/AC is an exciting play by ASRock that the competition will struggle to match.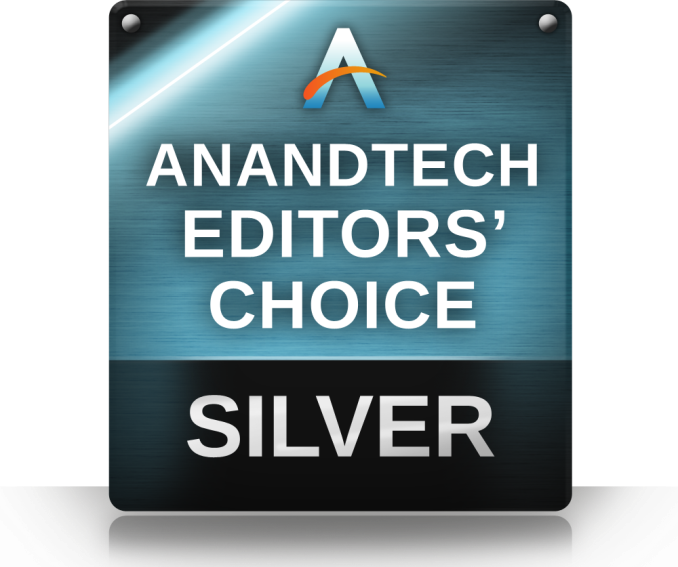 ASRock Z87 Extreme6/AC
AnandTech Editor's Choice Silver Award
ASUS Z87-Pro Conclusion
The ASUS Z87-Pro sits between a rock and a hard place. ASUS is one of few motherboard companies that sit on the crest of innovation, coming up with new ideas that ultimately will filter through product ranges in each successive generation. Obviously the ones coming up with the ideas face the brunt of the cost, but unlike the medicine industry where markups are common if there is a sole solution to your problem, the motherboard market is cut-throat enough that the resellers, system integrators and end users dictate the pace of play with their wallet.
With all this being said it should be pointed out that the $200 price point is littered with competition, as we have already seen throughout this review. A motherboard manufacturer had to decide on layout, features, BOM costs and connectivity months ago – should they make a board designed to be at a higher price point and bring the cost down, or pull a motherboard up with a knockout blow on the credibility of the range. The ASUS comes into the market with a new style, new features, upgraded software and an incredibly nice to use BIOS. But at the same price point, other motherboards with more ports, more NICs, and 802.11ac exist. This is the hard point.
As far as testing the Z87 Pro, where have a large number of good points to discuss. The motherboard is efficient, boots fast, and has one of the better ALC1150 implementations despite not going the full way through to SupremeFX on the ROG side. Overclocking was also positive, and the ASMedia USB 3.0 ports reported similar speeds to the Intel points due to the lack of need for an ASMedia USB driver – the standard Intel one takes care of it.
The decision of ASUS to drop MultiCore Turbo from the main BIOS track is going to be a little strange, given that ASUS were the main protagonists in this field for the past two generations. MultiCore Turbo, when enabled, offers up to an additional 7% performance over a non-MCT enabled motherboard at stock settings and at full loading. The reasons given are simple: under stock conditions (i7-4770K in a case with the stock Intel cooler), a small (sub 5%) percentage of CPUs are forced to throttle due to heat generated. This is a combination of the Haswell architecture, the new stock Intel cooler, and features such as Adaptive Mode which struggle under artificial load. It kind of makes sense from a manufacturing point of view, but users who want MCT can follow the 3xxx BIOS track which has MCT enabled by default, or users can enable the option in the BIOS on the 1xxx track.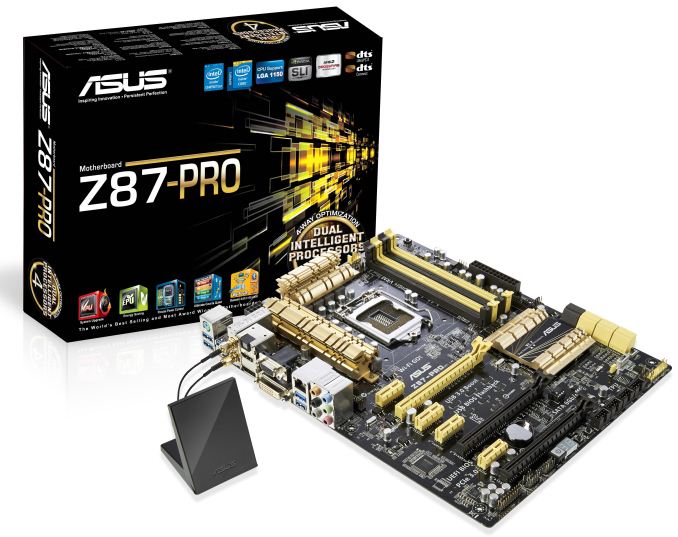 Another design choice made by ASUS is relating to the final PCIe slot. The board is wired up for PCIe 3.0 x8/x8 from the CPU and an additional PCIe 2.0 x4 from the chipset. ASUS have configured the chipset to output a total of eight PCIe 2.0 lanes, to power all the PCIe 2.0 x1 slots (of which there are four), various controllers and the final full length PCIe slot. However, in order to give everything wired up full bandwidth requires more than eight lanes, and thus various resources are shared. As a result, this final full length PCIe 2.0 runs at x1 by default, and requires a BIOS option to change it to x4, which in the process disables at least the ASMedia SATA 6 Gbps controller, reducing the total number of SATA 6 Gbps ports by two. This final PCIe slot can also be used in 3-way CrossFireX, but without careful consideration the performance difference between the final slot at x1 and x4 can be very large – in a couple of circumstances (Dirt3/Civ5) worse than just two GPUs on their own. For maximum GPU performance, the user would need to change the BIOS option to PCIe 2.0 x4. This is perhaps not painfully obvious unless the user has experienced lane bandwidth issues in the past; ideally I would like to see some software tool in the OS that could be enabled explaining the situation. Note this does not apply to GPUs specifically – PCIe 2.0 x4 RAID cards could also suffer in performance at x1 bandwidth.
Whenever a user considers purchasing this ASUS motherboard they should know that it is built to perform and has a great feature set, especially in terms of the BIOS and software but the additional hardware features such as BIOS Flashback and Fan XPert 2 are hard to ignore. The competition in the same price segment comes from companies that do not have that software backbone but are able to place more of everything and match the price of the ASUS. The ASRock Z87 Extreme6/AC is just one example of that competition that we have tested, and it is a task to decide between the strong build of the ASUS with DIP4/FanXPert2 against the dual Intel NIC/802.11ac/10 SATA 6 Gbps of the ASRock. Perhaps I am a little impressed by the way the latter has breached the price point, but the ASUS is a recommended motherboard for sure when considering any Z87 build. It only makes me wonder how other motherboards like the ASUS Z87 Sabertooth and ASUS Maximus VI Extreme perform – I hope we get them in to test.
For a great overall test, features and performance, I have no qualms in adding the ASUS Z87-Pro to our list of recommended motherboards and would like to give it our Silver award.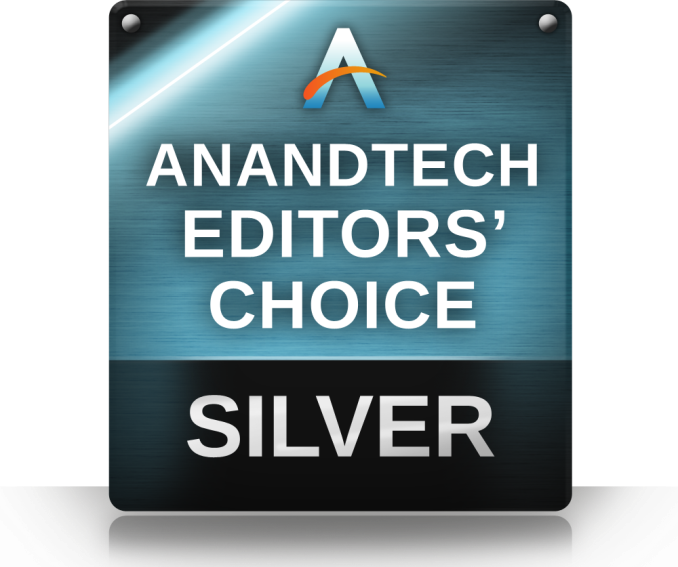 ASUS Z87-Pro
AnandTech Editor's Choice Silver Award