For the past 12-18 months, GIGABYTE's BRIX platform has made inroads into the small form factor ecosystem with the help of Intel's Haswell and AMD's APUs under the hood. Ganesh recently had a look at the BRIX Pro, featuring a Crystal Well enabled Haswell processor with Iris Pro 5200 integrated graphics. We have also reported from press releases of BRIX models with discrete AMD mobile GPUs in the pipeline, resplendent in a deep red color. Naturally the next stage was to expect a green model featuring an NVIDIA GPU, at a private event in Las Vegas this week GIGABYTE has demonstrated just that. Geoff from TR spotted this little cube at the event, sporting a 47W Core i5-4200H mobile CPU (dual core, hyperthreading, 2.8 GHz...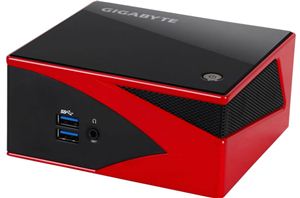 GIGABYTE's push on the BRIX has been with so much gusto it is hard to keep up with all the possible models coming to market and ones they are...
22
by Ian Cutress on 1/28/2014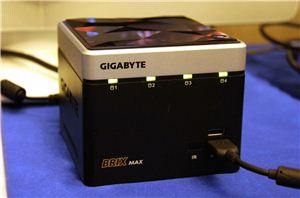 GIGABYTE is attacking the NUC sized form factor with seemingly every idea on the market. This is a good thing in a market that loves innovation. We...
25
by Ian Cutress on 1/10/2014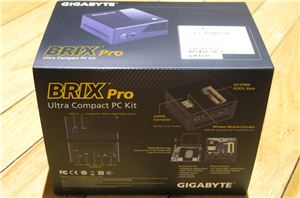 Intel's high-end Crystal Well, the Core i7-4770R, has remained out of reach for consumers despite being introduced back in June 2013. While Apple's notebooks use the mobile Crystal Well...
97
by Ganesh T S on 1/7/2014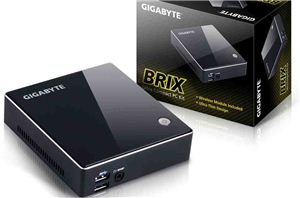 Very few products excite us enough to request the manufacturer to provide us with an engineering sample or demo model. The Intel NUC category has been particularly interesting as...
48
by Ganesh T S on 10/31/2013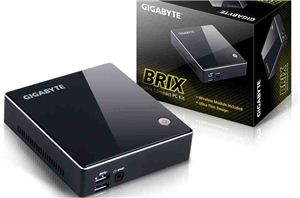 Back at Computex in June, GIGABYTE gave us a quick glimpse at future updates to their BRIX, their small form factor NUC type replacement. Today we get the...
26
by Ian Cutress on 9/7/2013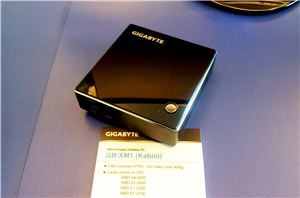 Despite Computex not officially starting yet, I am spending most of today in the Gigabyte suite. Before my booth tour I took a quick look around and a...
23
by Ian Cutress on 6/3/2013