Intel has slowly been feeding us information about their upcoming Broadwell processors for a couple years now, with the first real details kicking off almost a year ago at IDF 2013. Since then, the only other noteworthy piece of information came back in March when it was revealed that socketed Broadwell CPUs with unlocked multipliers will be available with Iris Pro Graphics. Today, Intel is ready to begin providing additional information, and it starts with the Broadwell-Y processor, which Intel is now referring to as an SoC (System On Chip). We have an in-depth article on the subject, but for Short Bytes we want to focus on the bottom line: what does this mean for end users? The big news for Broadwell is that it...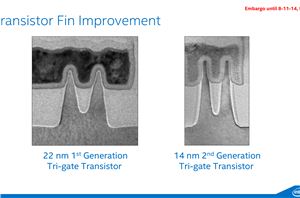 Much has been made about Intel's 14nm process over the past year, and admittedly that is as much as Intel's doing as it is the public's. As one of...
37
by Ryan Smith on 8/11/2014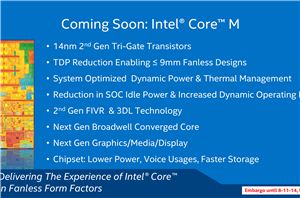 Typically we would see Intel unveil the bulk of the technical details of their forthcoming products at their annual Intel Developer Forum, and with the next IDF scheduled for...
154
by Ryan Smith on 8/11/2014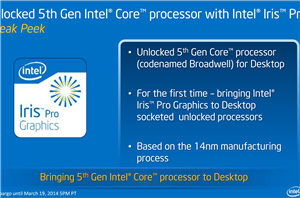 In a somewhat uncharacteristic turn from Intel, we were hooked up and loaded in to a press conference call this week regarding the announcement of some exciting new products...
64
by Ian Cutress on 3/19/2014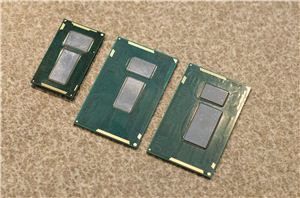 First, a quick recap. There are four different Haswell versions: D, M, ULT and ULX. D is for desktop, M is for mobile, ULT is for Ultrabooks and ULX...
18
by Anand Lal Shimpi on 9/11/2013
Intel just demonstrated 14nm Broadwell ULT (Y-series) silicon, normalized for performance against 22nm Haswell ULT (Y-series) silicon running a multithreaded Cinebench test. Intel was monitoring SoC power during the...
38
by Anand Lal Shimpi on 9/11/2013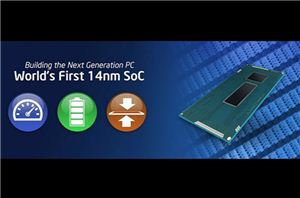 Continuing our IDF 2013 keynote coverage, Intel is also using this morning's keynote to announce progress updates on previously announced 14nm products. Intel's plans here remain unchanged, with Intel...
36
by Ryan Smith on 9/10/2013