Today, Intel showed off a reference design codenamed Llama Mountain, which is an incredibly thin tablet running Intel's Core M 5Y70. While we've covered Core M previously it's worth going over again for those unfamiliar with this chip. For reference, it's the first shipping implementation of Broadwell and designed to target a 4.5W TDP. This means that it's fully possible to integrate a full Windows PC into a thin, fanless formfactor. We've already seen the announcement of the ThinkPad Helix 2 with Core M, so it's clear that this new chip can support such formfactors. One of the biggest surprises for me was how much smaller the PCB was in Llama Mountain. For reference, the photo above is from our Surface Pro teardown. The PCB...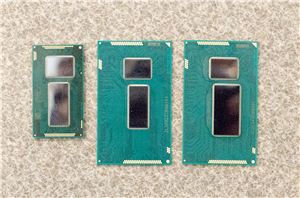 Continuing our coverage of Intel's 14nm Technology, another series of press events held by Intel filled out some of the missing details behind the strategy of their Core M...
115
by Ian Cutress on 9/5/2014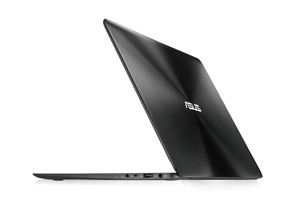 Today at IFA ASUS announced a couple of new laptops. The first continues the refinement of the Zenbook line with an update geared around Intel's Core M line of...
14
by Jarred Walton on 9/3/2014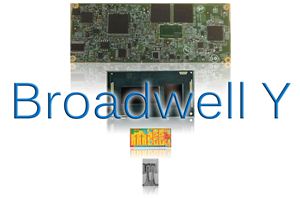 Intel has slowly been feeding us information about their upcoming Broadwell processors for a couple years now, with the first real details kicking off almost a year ago at...
31
by Jarred Walton on 8/12/2014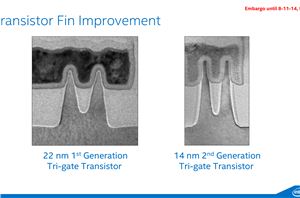 Much has been made about Intel's 14nm process over the past year, and admittedly that is as much as Intel's doing as it is the public's. As one of...
37
by Ryan Smith on 8/11/2014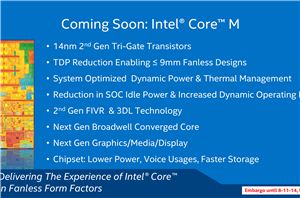 Typically we would see Intel unveil the bulk of the technical details of their forthcoming products at their annual Intel Developer Forum, and with the next IDF scheduled for...
156
by Ryan Smith on 8/11/2014