Galaxy Gear is Samsung's new entry into the smartwatch arena, a market with a growing number of new attempts to deliver the ideal wrist-wearable smartphone accessory. How does it work and compare to the competition? Read on for the full review.
Last night I got a reminder from my friend Vlad that my Galaxy Gear headline wasn't technically accurate - the Gear wasn't Samsung's first wearable. I responded saying that...
12
by Anand Lal Shimpi on 9/5/2013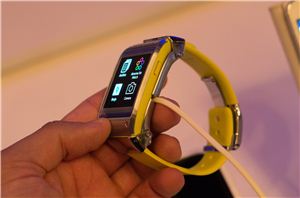 As the smartphone and tablet markets shift from high growth to the early stages of maturity, forward looking companies are looking at other adjacent markets for continued growth. Wearable...
80
by Anand Lal Shimpi on 9/4/2013