Original Link: http://www.anandtech.com/show/7418/hp-chromebook-11-review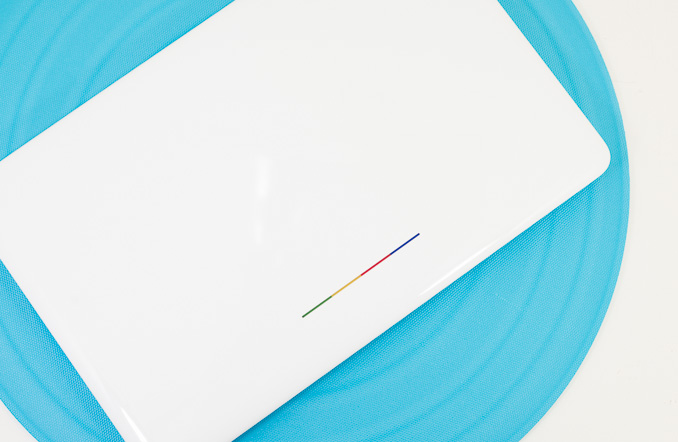 We're in the midst of a netbook renaissance. Armed with lighter weight OSes, faster hardware and a better appreciation for what matters in a consumer device, OEMs are giving the concept another try.
Just like before, we'll see solutions based on Windows as well as open source OS alternatives. The most viable candidate in the latter category is Google's own Chrome OS. In the old days if all you needed was to be able to browse the web, you had to buy a PC. Now you have more options. For those users who really just need access to the web, email and perhaps editing documents, Chrome OS is a real alternative.
What you give up in backwards compatibility with legacy applications, you get in the form of simplicity and security. Google controls all updates to Chrome OS, which are delivered seamlessly in the background. You also get all of the security benefits of sandboxing that are otherwise reserved for devices running Android or iOS. Chrome OS is the type of platform you can recommend to someone and never have to worry about them coming back to you with a virus or malware infested PC.
HP Chromebook 11 Specifications
Dimensions
297 x 192 x 17.6 mm
Display
11.6-inch IPS 1366 x 768
Weight
2.3 lb/ 1.04 kg
Processor
Samsung Exynos 5250 (dual-core Cortex A15 1.7GHz + ARM Mali-T604 GPU)
Connectivity
2 stream dual-band 802.11n, Bluetooth 4.0, 3G/4G LTE optional
Memory
2GB DDR3
Storage
16GB eMMC
Battery
30Wh
I/O
2 x USB 2.0, VGA webcam, microUSB for charging/SlimPort video out, headphone/mic jack
Starting Price
$279
With the exception of the Chromebook Pixel, Google has done a great job of curating excellent low-cost hardware that runs Chrome OS. Last year's Samsung Chromebook redefined what you should expect in terms of build quality and design from a sub-$300 notebook. This year we get a spiritual successor to that device.
Design & Chassis
The HP Chromebook 11 keeps the same 11.6-inch form factor as last year's device, but upgrades it in almost every way imaginable. Let's start with the chassis: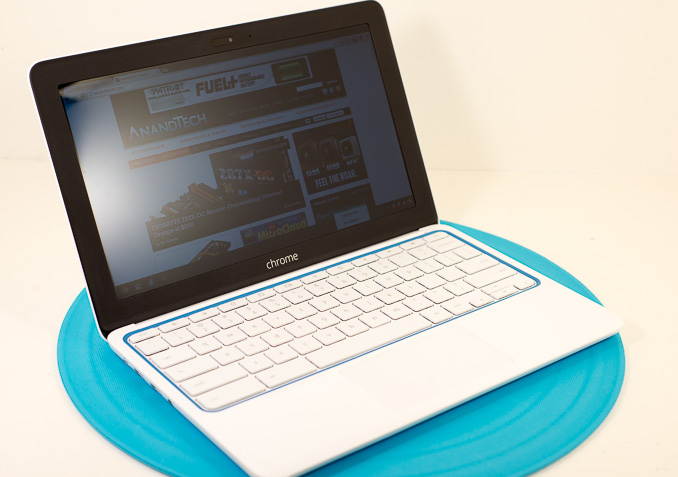 Exotic materials are pretty much out of the question for something priced at $279, so the Chromebook 11 boasts a magnesium reinforced plastic chassis. The internal magnesium frame helps reduce flex, and I'm happy to say that the result is one solid feeling device.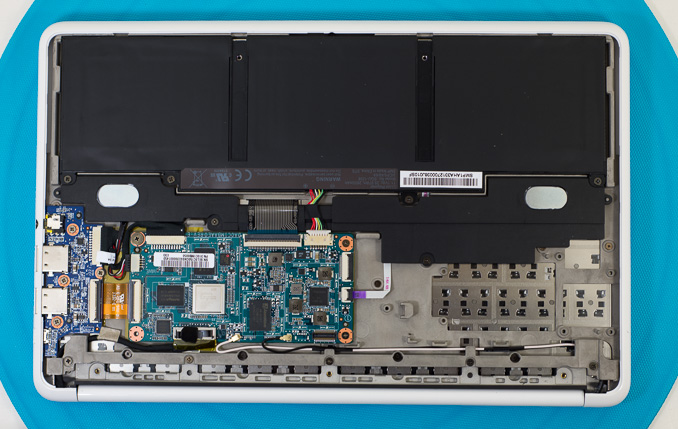 The motherboard screws into a magnesium frame
The plastic exterior is glossy, which unfortunately means it's going to be a fingerprint magnet. That's honestly my only complaint about the design though, the rest is extremely well executed down to Chrome color strip lit by the display's backlight on the back of the machine.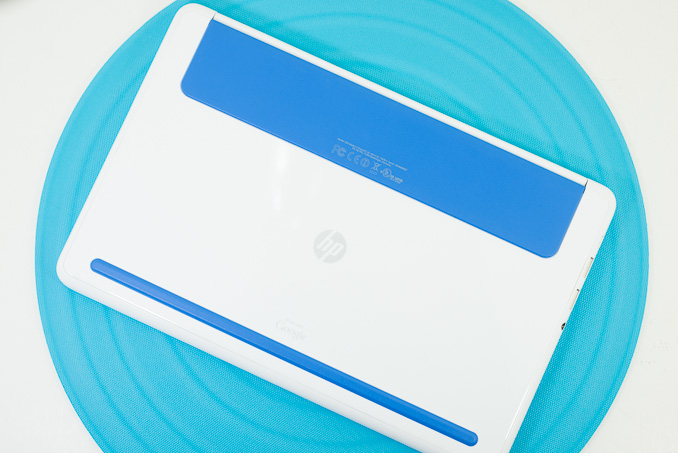 As with most mainstream devices these days, Google used little touches of color to personalize the device. The Chromebook 11 is available in black (no accents), or white with four accent colors (blue, red, yellow or green). The accent colors are visible around the keyboard as well as underneath the notebook.
Google is particularly proud of the lack of any visible vents, screws or speakers. The Exynos 5250 SoC is passively cooled (just like it would be in a tablet), which reduces the need for any large vents. Under heavy load the machine does get surprisingly warm, with the upper left region of the Chromebook 11 hitting 46C in my testing - a reminder of just how much power a pair of ARM Cortex A15 cores can draw under load. Pulling off the bottom of the machine it's clear why there's so much heat transfer, Google uses the bottom plate as a heat spreader with a bit of thermal interface material making direct contact to the Exynos 5250 SoC: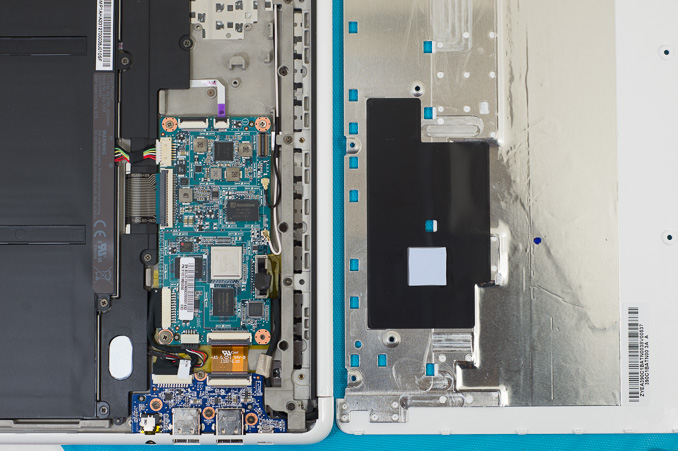 The bottom of the Chromebook 11 snaps on, hence the lack of any visible screws. The only screws in the Chromebook 11 are hidden by the strips of accent color on the back. The large strip snaps on, while the thin strip is held on by adhesive: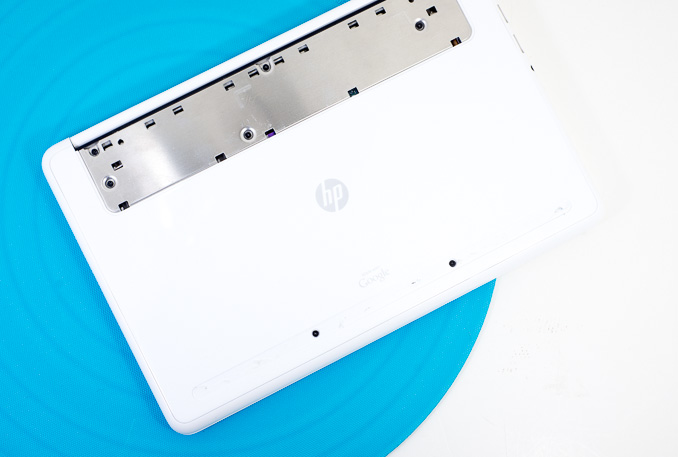 Finally, the speakers port up through the keyboard just like they would on a MacBook Air (all while providing surprisingly full sound).
The Apple comparisons don't end there. Unlike most laptops in the Chromebook 11's price range, the chiclet keyboard is awesome. You'd be hard pressed to tell the difference in spacing, key travel or feedback between the 11's keyboard and that of an rMBP. It used to be that you'd have to spend tons of money to get a notebook with a good keyboard, Google seems devoted to fixing that.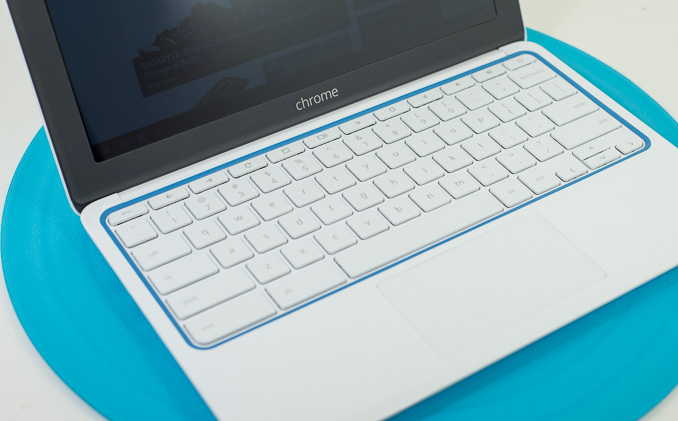 In fact Google seems to want to address most of the issues that plagued mainstream PCs with its low-cost Chromebooks. There's no mechanical storage inside the Chromebook 11, instead settling on a 16GB eMMC solution (once again provided by SanDisk) that enables extremely fast boot and predictable application launch times. You obviously don't get a ton of local storage, but as with all Chromebooks you're expected to either not have a ton of local storage needs, rely on external USB storage, or toss everything into the cloud. In pursuit of the latter, Google offers all Chromebook 11 customers 100GB of free storage on Google Drive for 2 years after the feature is manually activated (you have 60 days to activate).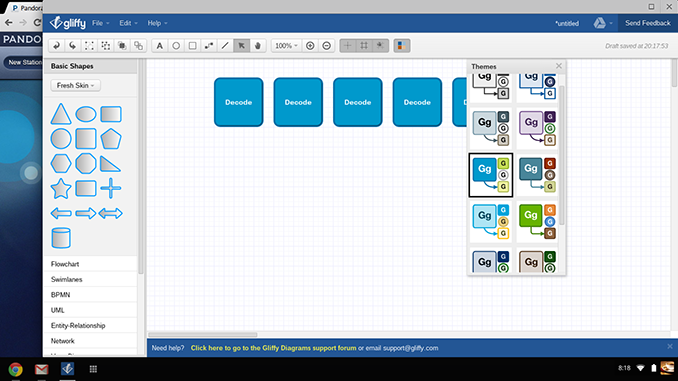 I won't go into too much detail on Chrome OS other than to say that Google is slowly but surely trying to address my biggest concerns about the OS. You can finally run applications offline and outside of a browser window, which makes a lot of sense (I really don't want to have to do math in a Chrome window), but the list of offline applications is woefully short at this point. Chrome OS remains a great solution for those users who really spend all of their computing time inside Chrome browser windows and aren't huge on multi-window, multi-tasking usage models. It may sound limited, but for a big chunk of the mainstream PC market it's actually nearly spot on. Plus you get all of the benefits of Chrome: sandboxing, security and an always up-to-date/lightweight platform.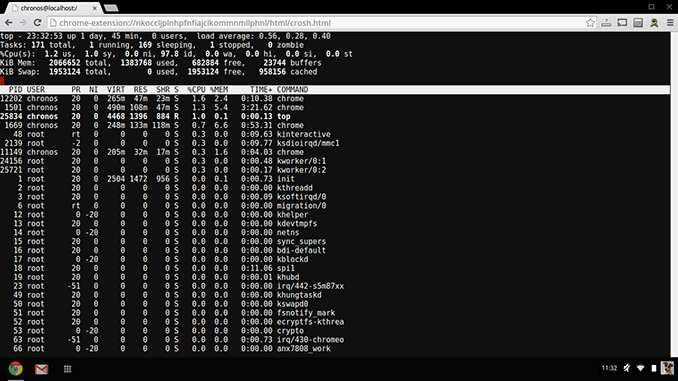 For the more enterprising users, the Chromebook 11 can just as easily be rebooted into developer mode by hitting esc + switch (F5) + power, then hitting Ctrl + D when prompted/at every subsequent boot. Developer mode, as always, gives you lower level access to the platform - including the ability to get to a command prompt.
The Display
Although the 11.6-inch display boasts a pedestrian 1366 x 768 resolution, it's an IPS panel devoid of the sort of color/contrast shift at off-center angles you normally get with a cheap PC notebook. I remember being in a meeting with a bunch of traditional PC OEMs talking about battery life. I was advocating for displays to be tested at 200 nits when one OEM turned to me and said that there are some notebooks in their lineup that won't even get that bright. Thankfully, the Chromebook 11 helps to push the low end of the PC industry forward. The display doesn't get incredibly bright by high-end mobile display standards, but it has excellent black levels and thus delivers a compelling 1088:1 max contrast ratio.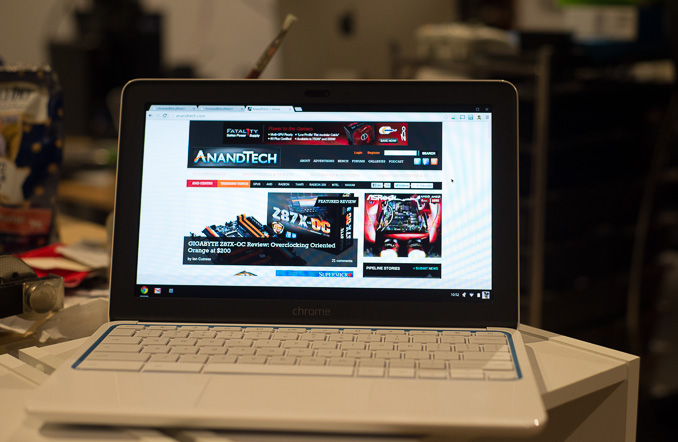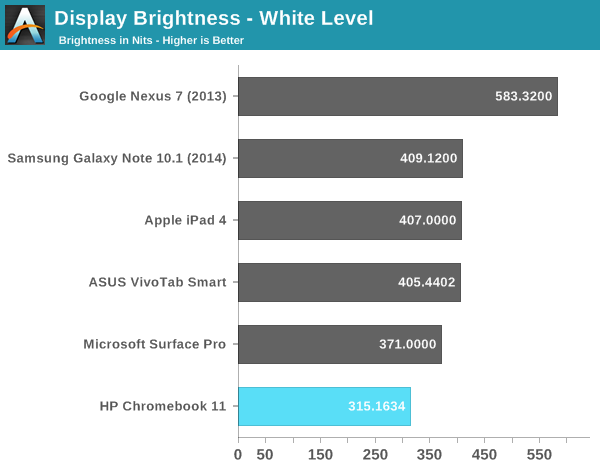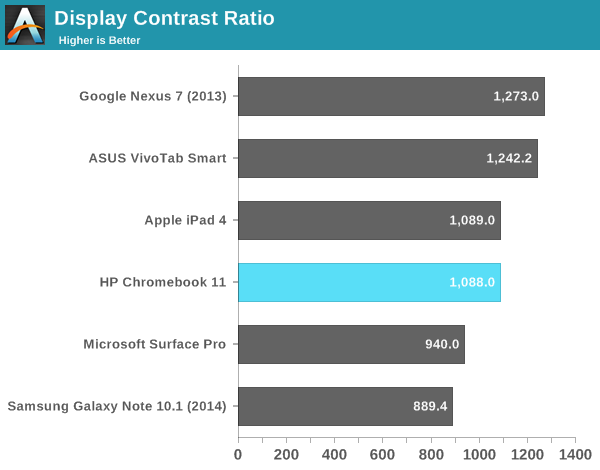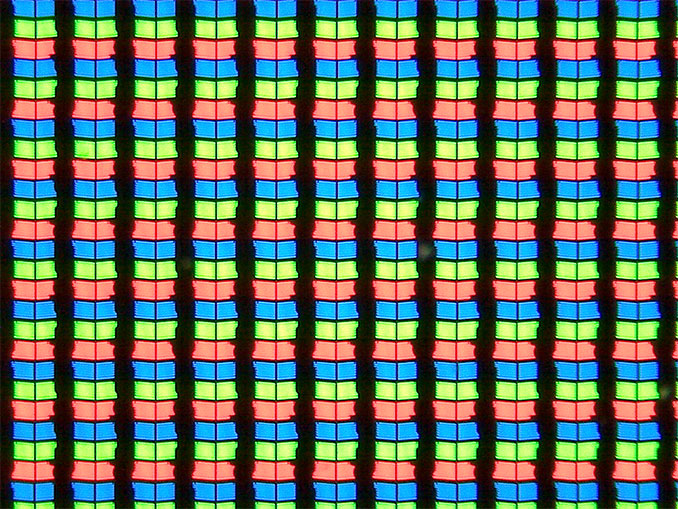 Color accuracy isn't anything to write home about compared to the new wave of factory calibrated panels, but for the price it's awesome. Hilariously enough, the Chromebook 11's display is about as accurate as the first generation Surface Pro from Microsoft, and in many cases offers better color reproduction than the panel used on the more expensive Chromebook Pixel. Compared to other notebooks in its price class (or even those twice its price), you're talking about a very good display.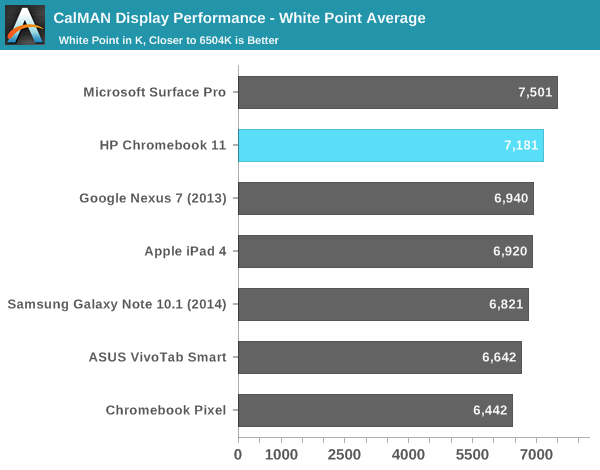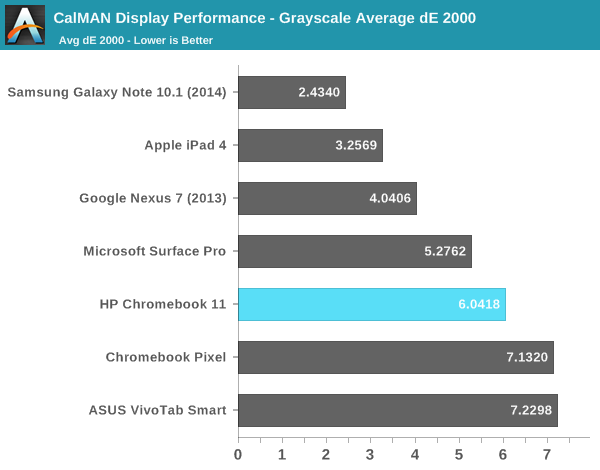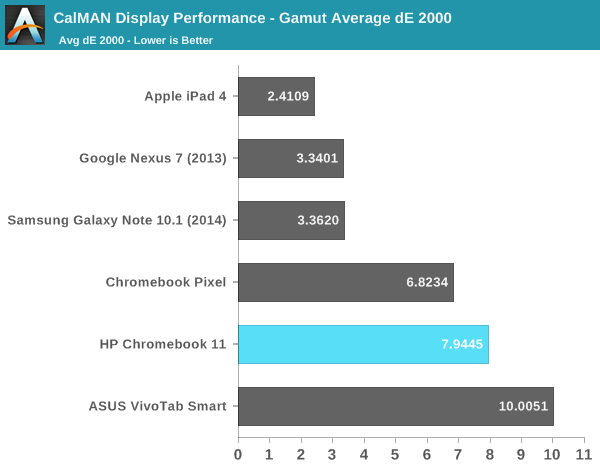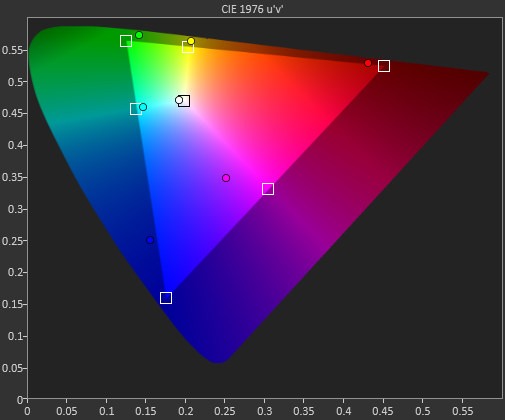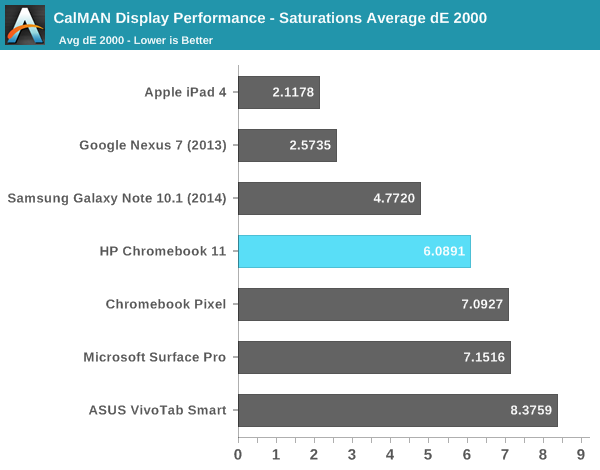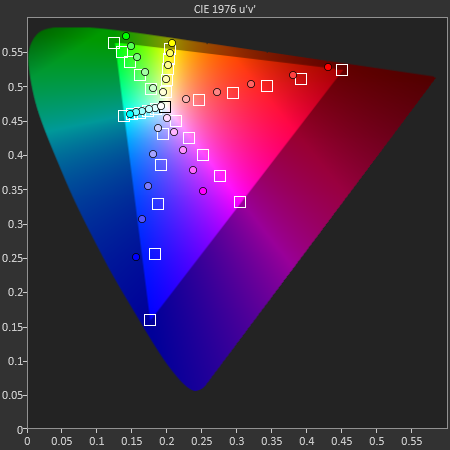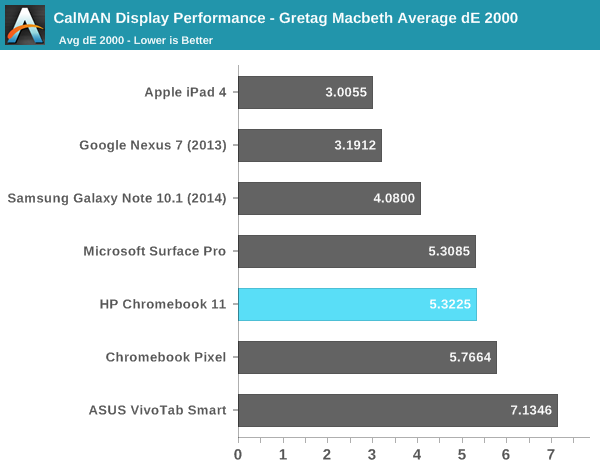 WiFi & Performance
WiFi on the Chromebook 11 is similarly well executed. There's a 2-stream dual-band 802.11n controller inside, capable of negotiating at up to 300Mbps link rates. Given how uncommon finding 5GHz WiFi support was in cheap PCs from not too long ago, it's good to see HP/Google choose properly here.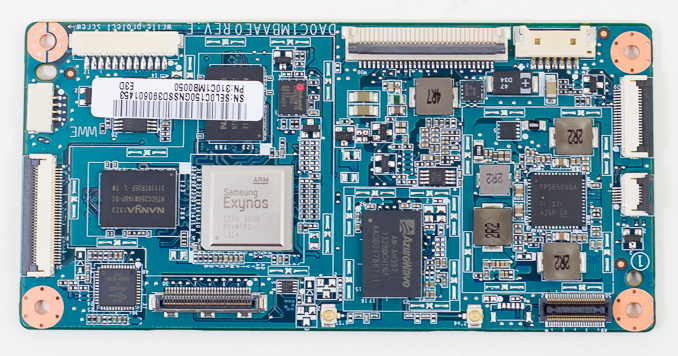 About my only complaint hardware wise on the Chromebook 11 is its SoC. HP settled on the same Exynos 5250 SoC that Samsung used in last year's 11.6-inch Chromebook. Unfortunately, the design hasn't aged well. Truth be told, there are far better options today than a dual-core 32nm 1.7GHz Cortex A15 design. I would've loved to have seen Bay Trail in the Chromebook 11, or at least a Snapdragon 800. I'll get to the power consumption discussion in a moment, but performance of the Chromebook 11 really needs work. For single tasking, the 5250 is ok. Hitting heavier websites or scrolling while having a graph search overlay in Facebook will cause serious drops in UI frame rate.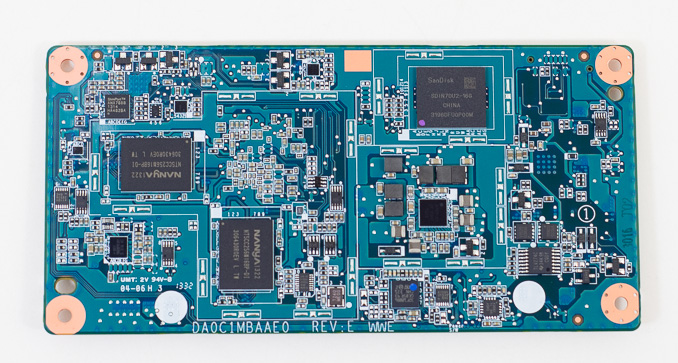 Playing back HD videos in YouTube is borderline too much for the machine. If you try to play videos in the background while you browse the web, expect serious lag on the input front. I ran Kraken both with and without a background YouTube video playing just to show the impact of multitasking on performance:
Multitasking Performance on Chromebook 11
Kraken
Kraken + YouTube Video Playback
% Increase in Kraken Completion Time
HP Chromebook 11
5262.4 ms
10997.3 ms
109%
Kraken took over twice as long to complete with YouTube actively playing in the background. The Chromebook 11 either needs more cores or better cores (or both) if you're going to be doing any sort of real multitasking/heavy web browsing.
Basic word processing using Google Docs is fine on the Chromebook 11, but again you need to make sure that you don't have anything too CPU intensive in the background. Multitasking with Pandora is ok thankfully.
Our traditional js benchmark suite shows the relatively decent performance of Chrome + ARM's Cortex A15 at lightly threaded workloads. Single tasking shouldn't be a problem for this platform, it's the heavier workloads that will be problematic.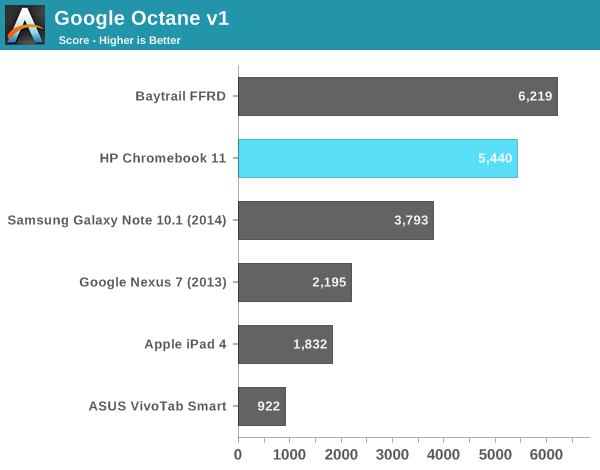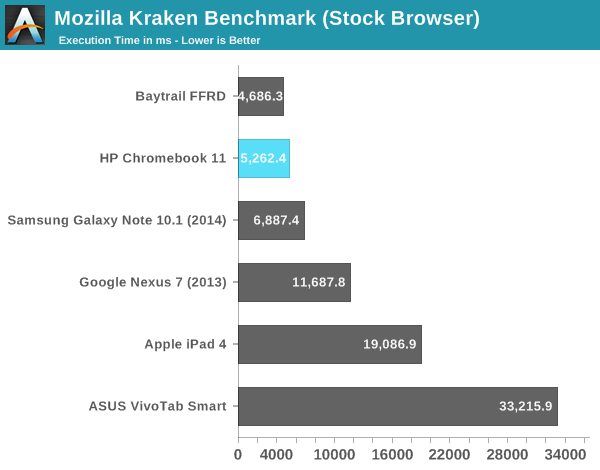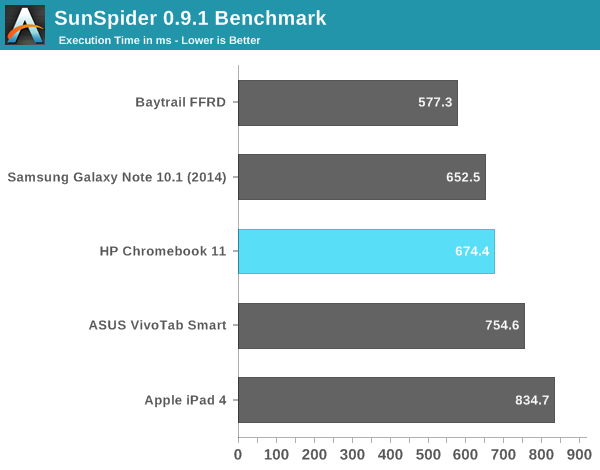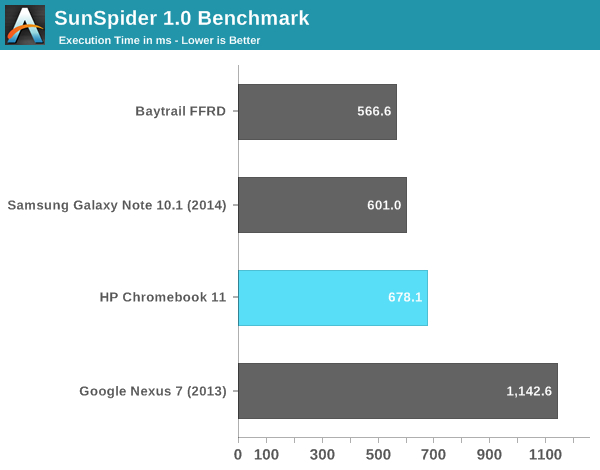 Battery Life & Charging
Chrome OS has never struck me as being particularly optimized for low power consumption. Despite using relatively power efficient hardware and being paired with a 30Wh internal battery, the Chromebook 11 barely lasted 5.4 hours in our web browsing battery life test. Local video playback was even worse at 4.8 hours.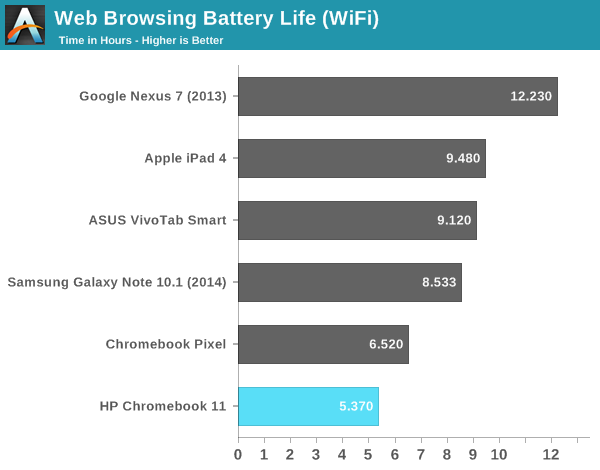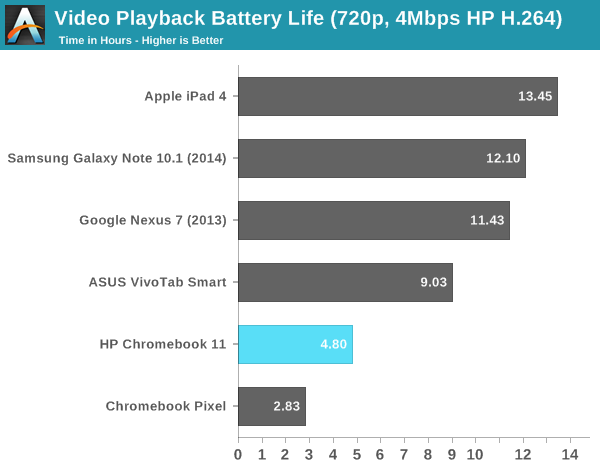 Under heavy multitasking scenarios I wouldn't be surprised to see more significant drops in battery life as well.
Charging is the other unique aspect to the Chromebook 11. Rather than a proprietary connector to an AC adapter, the Chromebook 11 features a standard microUSB connector for power. I asked Google if the Chromebook 11 implemented the USB Power Delivery specification, designed to deliver up to 60W over microUSB, unfortunately the answer there was no. There's a 200 kΩ resistor between ground and the ID pin of the Chromebook 11's charger serving as the signal that the charger can pull more current and supply up to 15.75W over the microUSB cable/connector.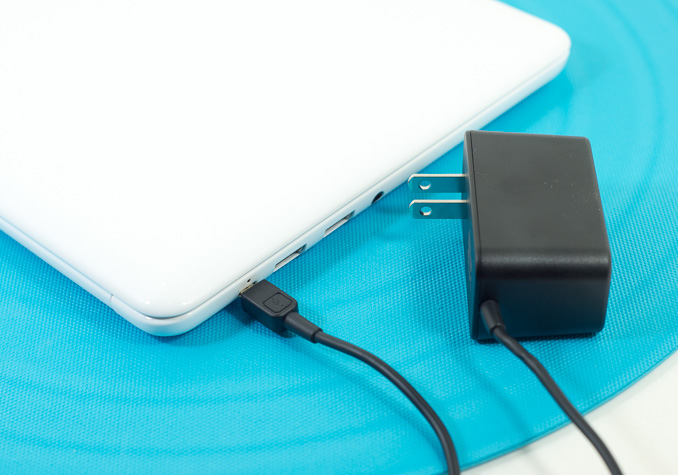 You can charge the Chromebook 11 using any microUSB cable + charger combo, although power delivery will be limited to whatever the charger supports. You'll also get a warning under Chrome OS: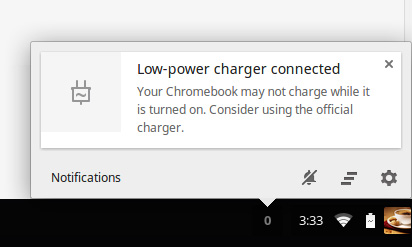 Similarly, the Chromebook 11's charger can be used to charge other microUSB devices but only at the maximum rate supported by the device.
When connected to the Chromebook 11, the bundled charger quickly ramps up to 3A @ 5.25V after a brief period, presumably where it confirms that the attached device is capable of handling increased current delivery.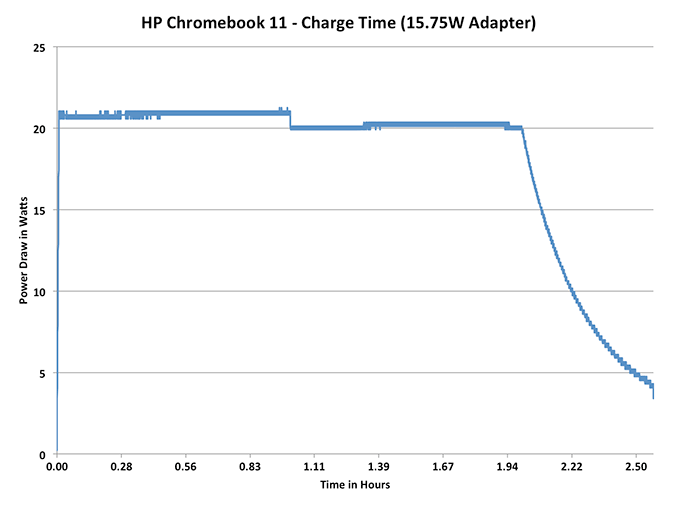 Charge time is incredibly quick thanks to the 15.75W charger. The adapter draws a maximum of 21W at the wall (just under 80% efficiency, no 80Plus certification here it seems) and can completely charge the Chromebook 11 in roughly 2.5 hours.
Final Words
A company that can very easily be held as complicit in the mismanagement and decline of the mainstream PC industry, HP did nothing short of a tremendous job with the Chromebook 11.
Under Google's influence, HP has built a near perfect example of what an entry level PC should be. It boots fast (< 13 seconds even in dev mode), has a great display, comes with dual-band 2-stream 802.11n WiFi, has good sounding speakers, looks stylish, is light and feels well built. The keyboard is great and even the clickpad isn't as bad as it is on far more expensive PCs. You honestly get one of the best examples of a portable machine for $279, and that's without even relying on the benefits of Chrome OS to help sell the bundle. Anyone looking for a glorified web browsing, email checking, internet terminal will be right at home with Chrome OS. Flash works and you obviously get what's arguably the world's best web browser. You don't have to worry about updates, malware or viruses, all of that is taken care of for you. It's the modern typewriter equivalent, a true entry level computer, and HP/Google have done an excellent job in bringing this to market.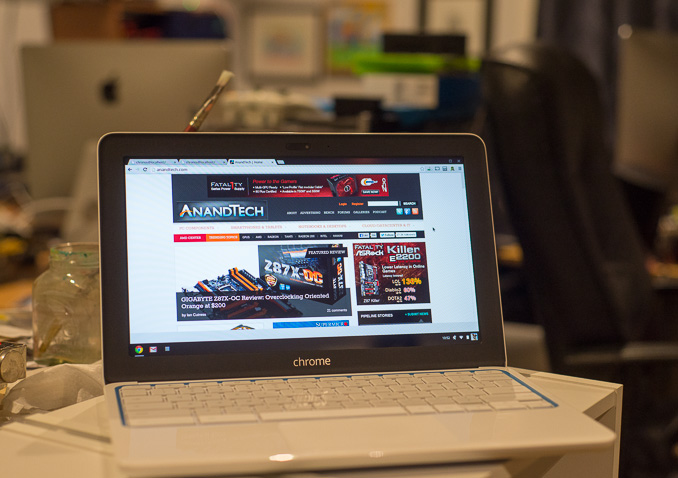 Chrome OS is extremely purpose built and it is something that should bring about great concern to those at Microsoft. I personally don't have a problem with Windows 8, but purpose built is hardly a phrase that applies to the OS - at least if you're talking about it on a more traditional PC. I suspect by the time we get to Windows 9, Microsoft will have a better answer to the critics of 8/8.1, but that gives Google and its Chrome OS partners at least another year of marketshare erosion. At the beginning of this mobile journey I remember x86 being an advantage for Intel, and we all know what happened to that. Similarly, I remember Windows/Office being advantages for Microsoft. If Microsoft doesn't find a quick solution for making low cost Windows PCs just as well executed as Chrome OS devices, it'll find itself in a world where Windows no longer matters to entry-level/mainstream users.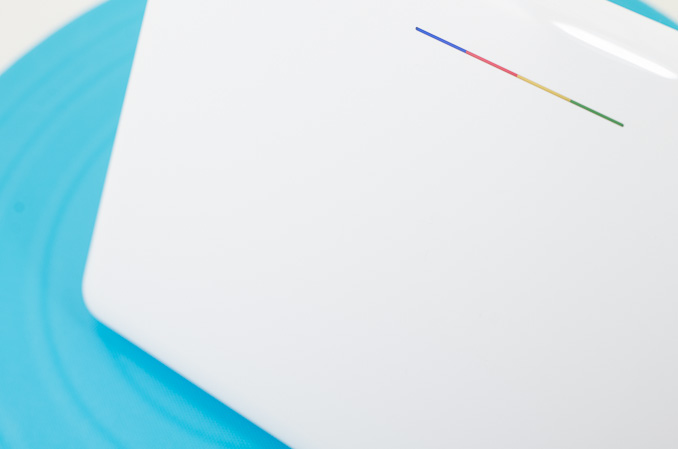 My only complaint about the Chromebook 11 really boils down to silicon selection. Samsung's Exynos 5250 is just too slow. A pair of Cortex A15s running at up to 1.7GHz draws too much power and doesn't deliver the sort of multitasking performance that we've come to expect in 2013. You can forget about having a good experience multitasking while playing YouTube videos. Streaming music in the background while you surf the web is about as far as you're going to be able to push the Chromebook 11 without incurring significant lag. There are clearly better options on the market today, either Snapdragon 800, a quad-core A15 based design or my personal pick for this type of a machine: Intel's Bay Trail.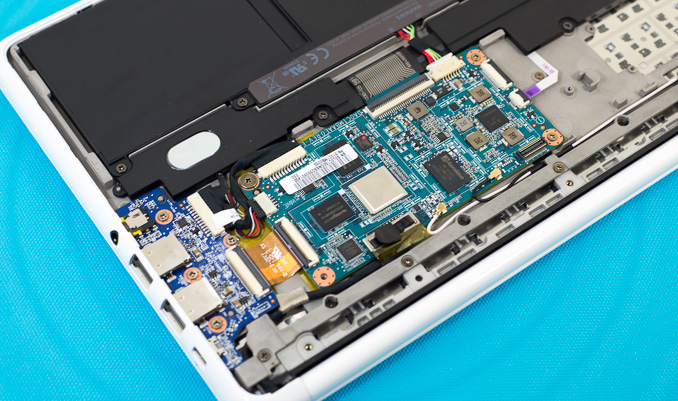 If you're looking for the Chromebook 11 to last you for 5 years, I'd be very concerned about you running out of CPU power well before then. For lighter use you'll be fine, but with things like the Haswell Celeron based Acer C720 selling for $250 it's clear that HP went a little too slow on the CPU front. I haven't seen the C720 in person but my guess is you're sacrificing display for CPU performance. HP got the mix nearly perfect with the Chromebook 11, with a faster CPU this wouldn't just be a great machine for light use but likely the perfect entry-level notebook.